Heads up! We're working hard to be accurate – but these are unusual times, so please always check before heading out.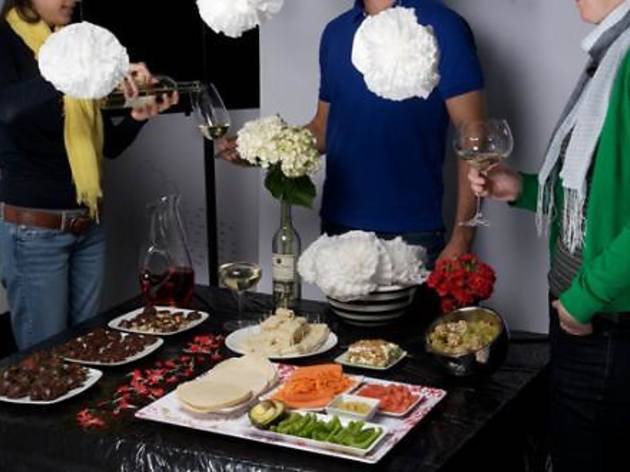 Throw a bash at home
1. Prepare to boozeYour first priority should be getting libations in order. For a massive selection and reasonable prices, head to Warehouse Wine & Spirits...
1. Prepare to booze
Your first priority should be getting libations in order. For a massive selection and reasonable prices, head to Warehouse Wine & Spirits (735 Astor Pl at Broadway, 212-982-7770). The staff won't wax poetic about the bouquet of a wine or the finish of a bourbon, but they'll have what you need to set up a basic bar. If you don't want to heft multiple bottles on the subway, place an order with Astor Wines & Spirits (399 Lafayette St at 4th St, 212-674-7500, astorwines.com). They offer next-day Manhattan delivery Monday through Saturday on orders of $75 or more ($100 for Brooklyn on Wed, Fri, Sat; $150 for Queens on Wed, Sat). Typically, the ordering cutoff is noon, but according to Nima Ansari, requests tend to get backed up as the holidays approach, so it's best to place your order as soon as you know what you need. If you're stuck on what to serve, food blogger and underground restaurant Supper Club mixologist Kelly Carmbula (thegoodcheer.co) touts a simple drink menu: beer, wine and a signature cocktail that can also be made nonalcoholic, such as spiked mulled cider. When it comes to quantity, Carmbula recommends planning on serving two drinks per guest for the first hour, then one drink per guest for every hour after that.
2. Ensure plenty of edibles
"A good way to plan a party menu is to make sure that most of the items can be made ahead of time and finished in the oven," says Diana Yen, of catering company The Jewels of New York (thejewelsofny.com, 718-360-1951). She also recommends starting with a cheese plate while you finish things up in the kitchen. "Wait until most of the guests have gotten there to bring out the hot foods," advises Yen. It's also a good idea to let partygoers relax a little before bringing out desserts and coffee. In order to keep your hosting stress to a minimum, Yen suggests making your celebration a potluck.
3. Maximize your space
Once you've got your drinks and food on lockdown, there's still one issue: How are you going to cram a party full of people into your humble NYC abode? "Adjust your furniture so that things lie flush against the walls wherever possible," says professional party planner Jessica Kepler Cloutier, who runs Brooklyn-based Être Events (etreevents.com, 718-744-5364). She also recommends utilizing flat surfaces (dining tables, desks, coffee tables) as serving stations, or investing in a small folding table you can turn into a self-serve bar. "Using a cooler for bottles or growlers of beer may be your best option, so guests don't have to negotiate with your fridge," says Cloutier. To further save counter space (and eliminate dirty dishes), Cloutier suggests using compostable plates, cups and cutlery. "Create a composting bin that you can later bag up and drop off at an NYC greenmarket."
4. Add festive decorations
Once your space is in order, spruce it up with some easy organic decor. According to floral designer Ariel Dearie (arieldearieflowers.com, 917-362-6441), take a trip to the Union Square Greenmarket, which offers the city's best deals on fresh flowers, fruits and foliage. "One of my favorite ways to decorate a holiday table is to scatter pomegranates, kumquats and other types of citrus along the center," says Dearie, who also recommends large vases of quince or red and golden pear-tree branches for a wintry vibe. If you want to fret less the day of your fete, create long-lasting arrangements in advance using branches with cotton balls or white tallow berries.
5. Clean the aftermath
Nobody wants to nurse a holiday hangover amid the debris of the previous night's debauchery. If you can, book a cleaning service, head out for a leisurely brunch and return to a sparkling home. Urban Maid Green (917-338-6102, urbanmaidgreen.com) can come to the rescue with a few days' notice, though a week is best. Most cleanings take about three to four hours ($102--$136), and the UMG crew brings its own water-soluble, eco-friendly, kid-and-pet-safe products. Holistic service Team Clean (718-866-5954, teamcleannyc.com) can also abate your postparty depression by returning your home to a spotless state with products from Seventh Generation, Mrs. Meyer's and Ecover, plus all-natural homemade concoctions.