Interview and DJ mix: PBR Streetgang
Bonar Bradberry and Tom Thorpe's PBR Streetgang head to Williamsburg.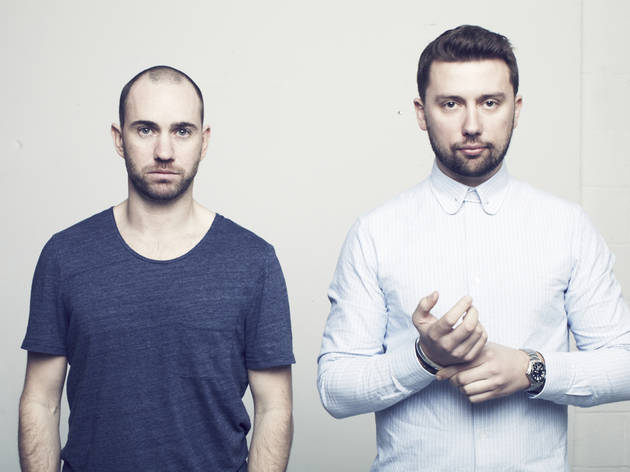 PBR Streetgang is coming to Output's Panther Room
to spin for the Autobrennt gang; Time Out New York caught up with the house heroes at their studio in Leeds, U.K., as they were recovering from a quick jaunt to Amsterdam's ADE conference and festival. Give the below mix, recorded for Manchester's Warehouse Project, a listen as well—it's a glorious hour and a half of dance-floor heaven.
Time Out New York: How did ADE go for you this year?
Bonar Bradberry: This was actually our first ADE, and it was great. We did a party with the Future Disco guys, and then we did We Love, which is the night that we're residents for at Space in Ibiza.
Tom Thorpe: That was at Club Air, which is a very cool venue. It's got two or three rooms; we played with Greg Wilson.
Bonar Bradberry: And with Todd Terry as well. We also did a little show-and-tell for [audio-interface company] Novation. We use a lot of their stuff, like the Bass Station and some synths and things.

Time Out New York: I've seen that you've given props to the Bass Station in previous interviews.
Bonar Bradberry: Yeah, it's a pretty useful tool. And we did a bit of networking while we were there, but it would have been better if we could have just hung around and spent the week there.
Tom Thorpe: Yeah, it was a bit of an in-and-out, wasn't it? It's such a great city, it would have been nice to hang out.

Time Out New York: You mentioned the We Love party in Ibiza. How did this past season go?
Bonar Bradberry: It was probably our best one so far, to be honest. We were on the terrace at Space, which fits a couple of thousand people, playing the late-Sunday–early-Monday slot till six or seven in the morning.
Tom Thorpe: It was up to us to finish off the parties.
Bonar Bradberry: Yes, it was up to us to be the last guys standing. [Laughs] But it was so good; it was a wonderful experience. We actually got to do the final set of the closing party, which was incredible. It was one of the best gigs we've ever done; it will stick with us for a long time.
Tom Thorpe: We went on about 5am, and we were only supposed to play for two hours—but we ended up playing till nine.

Time Out New York: Were there still people on the dance floor?
Tom Thorpe: Oh, yeah.

Time Out New York: Job well done, then. Let's back up a little bit: How did you come up with the PBR Streetgang moniker?
Bonar Bradberry: It was through a friend of ours, really, a guy who used to live in Leeds with us. We were watching Apocalypse Now, and toward the end of the film they put out a radio call for "PBR Streetgang." Our friend, in his very broad Irish accent, went, "That's it. That's your name."
Tom Thorpe: Up until that point, we had been doing back-to-back DJ sets just for fun, but we hadn't really gotten a name for ourselves yet.
Bonar Bradberry: A few weeks before, we had done something with X-Press 2, and they use that four-decks, two-mixers kind of setup. We gave it a try on their setup, and it worked really well, so we figured, Well, let's do that from now on. But we were looking for a name—and we weren't coming up with much until our friend John blurted that out.
Tom Thorpe: We were like, Yeah, that's okay.
Bonar Bradberry: But we didn't really think about it much—and ten years on, we're still calling ourselves PBR Streetgang.
Tom Thorpe: And he can't stop bringing it up. He tells everyone he named us.

Time Out New York: I hope he doesn't ask for royalties someday.
Bonar Bradberry: Yeah, so do we!

Time Out New York: You guys are based in Leeds, but you actually met in Birmingham, right?
Tom Thorpe: We met there about 12 years ago. I was down there working for a club based in Birmingham, Bonar was working for a different club there, and we met through some friends. But it was really through a record store that we were going to on the weekends that we started hanging out. We figured out we had similar tastes in music.

Time Out New York: The classic DJ-duo story.
Tom Thorpe: You're right!
Bonar Bradberry: And that's where the friendship began. But it wasn't for another year and a half or so that we started deejaying together. We had both gone up to Leeds by then as well.

Time Out New York: What precipitated the move to Leeds?
Bonar Bradberry: We were given the option of doing a night at the Mint Club in Leeds—and that club has such a great heritage in Leeds that we couldn't say no; funnily enough, the night we ran was called Heritage. That ran for about a year. After that ran its course, Tom started a party called Asylum with a guy named Steve Banks.
Tom Thorpe: And we're now doing the last Asylum, on its tenth anniversary. We decided to draw it to a close and end it on a bit of a high.

Time Out New York: I imagine that you guys are so busy nowadays that it's almost impossible to run a club night, or even have a regular residency.
Bonar Bradberry: That's true. We put a lot of effort into everything we do, and if you can't do it right, it's better to not do it. Asylum was a vehicle for a lot of Leeds DJs and producers, but we wanted to put our energies more on PBR Streetgang.
Tom Thorpe: This last party will be good, though. We have Kerri Chandler headlining, and then basically a lot of people who have played there over the past ten years, like Crazy P, Maxxi Soundsystem, the guys from the Futureboogie label and a lot of other people. And then, for the after-party, we have [Peace Division's] Clive Henry, who's a good friend—it's going to be an interesting and fun and long night.

Time Out New York: Even after you started deejaying together, it took a few years for any PBR Streetgang productions to come out, right?
Bonar Bradberry: That's right. I had put a couple of things out on my own, through a Croatian label called Red Music, run by this guy called Ilya Rudman.

Time Out New York: Oh yeah, he's great.
Bonar Bradberry: Yeah. Then we got in the studio with a friend of ours named Tom Gray, who's an amazing engineer. We learned a hell of a lot off him. That was around 2008.
Tom Thorpe: Don't forget the Red Music ones we did!
Bonar Bradberry: Oh yeah, that's right. Since I had already had the relationship with Ilya—and since what PBR Streetgang was doing wasn't so different from the music I had been making—I sent him some of our stuff, and he put out a couple of EPs early on. So we have to thank him for giving us the confidence to keep on doing this. It's really difficult to get things signed when you're just starting up.

Time Out New York: You said that PBR Streetgang's sound wasn't so far off from your own. How would you describe that sound?
Bonar Bradberry: I suppose it's pretty broad, really. Those first couple of releases were mostly 80–100bpm, with a more disco, 120bpm kind of thing on the flip side. But now it's more like house music, a kind of house that incorporates techno and acid as well. But we still reference disco a lot. It's a pretty wide spectrum.
Tom Thorpe: It really mirrors the kind of music that we collect, I think. And when we play out, we try to join the dots between all these different genres. We try to keep our sets from being too linear. We like to throw our sets about, so to speak—it kind of makes it more fun.
Bonar Bradberry: Which is perhaps a bit detrimental; it's easy to be recognized for doing just one sound, and doing it really well. But for us, that would be really boring.

Time Out New York: Do the kind of gigs that you play nowadays affect your productions? If you are playing somewhere like Space, for instance, you're probably not going to be playing much 80bpm material.
Tom Thorpe: Sure. There sometimes is a conscious effort to make things that we would want to play out at the kind of gigs that we get booked for. That's definitely come into play more than it used to. But we still play other kinds of sets as well—for instance, at ADE, when we were playing with Greg Wilson, that room had a kind of disco vibe. And we're still at home doing that kind of set.

Time Out New York: Earlier this year, you did a mix for Pete Tong's Essential Selection show on BBC Radio 1. When you do something as high-profile as that, do you notice any immediate effect? Do gigs start rolling in, for instance?
Bonar Bradberry: You know, I'm not sure we noticed anything specific that came out of doing that. I mean, it was obviously a big deal to do that, but I can't say that it really catapulted us anywhere.
Tom Thorpe: It's more like it's just another part of a snowball effect. Our releases, playing at clubs…it all adds up. But Pete has been extremely supportive; he's played lots of our releases over the years. And that's certainly helped.
Bonar Bradberry: I would say that he's opened us up to an audience that we might not have reached otherwise.

Time Out New York: Now that PBR Streetgang has a name for itself and has reached that audience, do you find that a lot of labels are coming to you for productions or remixes?
Bonar Bradberry: We're more in demand than we used to be–but I wouldn't say that we're inundated. [Laughs] We have had lots of nice offers, and the challenge is to pick the ones that will end up being interesting. And we also don't want to become oversaturated—if you're doing a remix every other week, eventually people will get sick of you. We tend to just work with people we like and people we respect. It's a trust thing more than anybody actively seeking us out or us seeking anyone else out. We like to let things develop as naturally as possible.
Tom Thorpe: We've been letting things grow organically.

Time Out New York: What's your current deejaying methodology?
Bonar Bradberry: That's changed a lot over the years. As we said before, we started out using four decks and two mixers. But eventually, that got to be logistically difficult as less and less clubs use turntables or are able to accommodate that setup. And a lot of DJ booths simply aren't big enough. For a while, we distilled it down to a combination of Ableton Live and turntables, but that got to be a bit restrictive. The next big change was to use CDJ-2000s, where we had the ability to link four of them together. We use that setup with a thing called the Q2, which is a kind of headphone monitor. It's basically an extra set of cues for a mixer, which means we can cue music up independently from each other, even though we're using the same mixer. It's an easy way to go back to the idea of layering sounds, loops, samples and whatever, and keep the energy rolling.
Tom Thorpe: It's really a method to play records we like in an interesting way.

Time Out New York: Do you have plans for a live set in the future?
Bonar Bradberry: If we can find a way to do it in a way that's not just us looking at our laptops, yeah. If we're gonna do it, we'd like it to be an actual show.

Time Out New York: So what is next in the world of PBR Streetgang?
Bonar Bradberry: Well, we've just finished an EP for Throne of Blood.

Time Out New York: A New York label—nice!
Bonar Bradberry: That's going to have a remix from Iron Galaxy, who's this great Canadian producer. And we've just finished a remix for the Culprit label, for a Lula Circus track.

Time Out New York: How about an album?
Tom Thorpe: We were just talking about that last week.
Bonar Bradberry: The question is: How do you make an album relevant? With dance music in particular, they can be completely irrelevant if you don't do them right. It's made more sense for us, with the kind of music we've been making, to put out four really strong EPs. There has to be something more to an album; it's got to be something with a beginning, a middle and an end. It'll be a lot of effort, and it has to be done right.
Tom Thorpe: We're also getting involved in setting up our own events. Like I said, we had gone as far with Asylum as we could—but now it's time to create some PBR–led parties, and do them in all different cities.

Time Out New York: If you want to take that international, New York will welcome you.
Bonar Bradberry: Sounds like a plan!

Ostgut Ton Nacht + Autobrennt with PBR Streetgang is at Output Saturday, Nov 2.
Follow Bruce Tantum on Twitter: @BruceTantum