Heads up! We're working hard to be accurate – but these are unusual times, so please always check before heading out.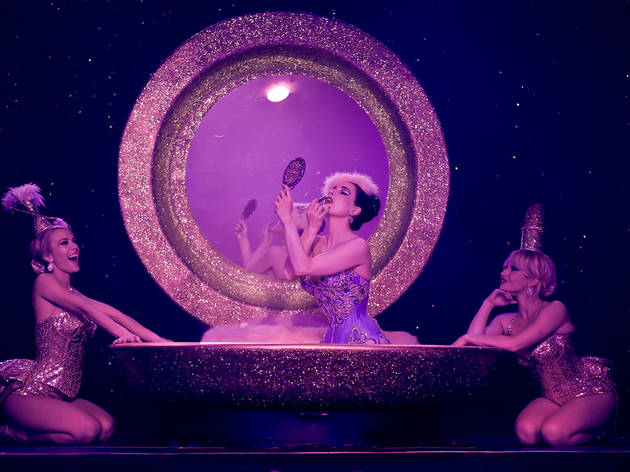 Interview: Dita Von Teese
Burlesque's biggest star, Dita Von Teese, brings her bump and grind gala to Gotham.
The superstar ecdysiast brings her onstage extravaganza, Burlesque: Strip Strip Hooray!, to NYC for a four-night run of burly-Q fun.

Time Out New York: You were slated to bring Strip Strip Hooray! to New York last fall, but Hurricane Sandy got in the way. Was that the first time you've had to cancel a show because of a hurricane?
Dita Von Tease: That was the first time I've ever had to cancel a show at all! I've even gone onstage when I've had a stomach flu. It was really distressing to have to postpone because of Sandy, but the biggest reason for canceling was because people wouldn't have been able to come into the city to see it. Otherwise, I would have put on the show anyway.

Time Out New York: The burlesque scene is as big and vibrant as it's ever been. Do you think that you can claim some of the credit for that?
Dita Von Tease: Well, I started performing 20 years ago; I was the first person performing burlesque for the fetish community, for parties like L.A.'s Fetish Ball and London's Torture Garden. I can remember the rumblings: "What does this feathers-and-rhinestones thing have to do with fetishisms?" There are a lot of people who have had a hand in bringing burlesque to the forefront, but I have been doing this for a long time. And while I hate tooting my own horn and all, I guess it's pretty obvious that, like it or not, I did bring it out of the underground. Some people are happy about that, and some people are not. In general, people who have been in the burlesque scene for a while are probably glad that I've done my best to keep its authenticity alive, to speak of it in an intelligent way, and to present it in the way that it should be rather than the way that the mainstream media might otherwise have it.

Time Out New York: Which way is that?
Dita Von Tease: They have a tendency to sanitize it and commercialize it. You know, like putting girls in feather boas and have them sing "Big Spender" or "Fever" yet again. That's not what burlesque is. I do hope that the burlesque community appreciates the fact that I'm doing my best to keep the risqué parts of burlesque alive and well.

Time Out New York: Quite a few burlesque performers whom I've talked to do seem to have a lot of respect for you.
Dita Von Tease: Well, all the ones I really like do. [Laughs] Most of them know that I didn't just fall off the burlesque truck or something.

Time Out New York: I want to find that truck.
Dita Von Tease: Yeah—fun truck!

Time Out New York: Strip Strip Hooray! features a couple of the New York scene's faves.…
Dita Von Tease: Yes, Murray Hill and Dirty Martini. What a pair! I've known Dirty for many years, of course; she's one of the people who's been at the forefront of the burlesque revolution. I met Murray when I was in Portland or Seattle, and he was emceeing a show there. I just remember being fascinated by Murray, and I loved the energy he brought to that show, so I approached him about emceeing my own shows. He's an invaluable part of Strip Strip Hooray!—and we have a lot of fun together backstage.

Time Out New York: Yes, Murray is a hoot.
Dita Von Tease: We have a serious flirtation going on. And Dirty brings down the house every single time. Even though I had known her for a long time, I had never really seen her show until fairly recently. Actually, I still don't really see her show; she goes on right after me, and I'm generally recovering right behind the curtain.

Time Out New York: You're a pretty tough act to follow, but if anyone can do it, it's her.
Dita Von Tease: Oh, she can follow me quite easily. I love following people that are fantastic, and I love being followed by people who are fantastic. The thing about this show is that every single act is a showstopper; there isn't a single lull. We've tried lots of different performers over the three years that we've been refining the show, and there have been some acts that were fantastic, but maybe couldn't bring the energy that the show demands. But now, we have a perfect combination of people, with each one bringing something different. It's a very diverse cast, and I think pretty much everybody can walk away having seen somebody they can relate to.

Time Out New York: Besides that diversity, is there anything else you look for in a performer?
Dita Von Tease: Basically, I want people who are bringing something new to burlesque. Along with the burlesque resurgence, you get a lot of people doing copycat shows. It's like, we don't really need another girl with black hair, pale skin and a beauty mark on her left cheek. That's become very popular.

Time Out New York: I'll bet it has.
Dita Von Tease: We could line up a four-hour show of nothing but that! But it's important for me to show that there are lots of different kinds of burlesque performers and acts. When I started performing, there was no Internet; I didn't really have anything to copy. I kind of had to just make up what I thought burlesque was, based on photographs of Sally Rand or whatever. Now, everyone sees what everyone else is doing, and there ends up being less diversity. But there's such an opportunity for evolution in burlesque.

Time Out New York: It's a wide-open art form.
Dita Von Tease: Well, like I said, as long as you don't do "Big Spender" or "Fever, " you're fine. That's our unspoken rule. [Laughs]

Time Out New York: You're the brand ambassadorfor Cointreau, which is sponsoring Strip Strip Hooray!, and you actually created a drink called the Cointreau Corset, which sounds pretty tasty.
Dita Von Tease: I did! And it is. A great thing about this cocktail is that they don't require a lot of ingredients, and this one is especially simple to make: Cointreau, fresh lemon juice and bitters. It's something you can make at home, but it's also very glamorous and delicious. I do love Cointreau—it's a historic French brand, and a lot of vintage cocktails are made with Cointreau. It's actually the basis of a lot of my favorite cocktails.

Time Out New York: You're a good brand ambassador—I'm getting thirsty! Speaking of booze, does your iconic martini glass make an appearance in Strip Strip Hooray!?
Dita Von Tease: It does. The martini glass is evolving. I've been doing it since the late '90s, and I've done it a lot of different ways with a lot of different glasses. The new version is covered entirely with Swarovski crystals, and the costume is a custom-made, haute couture tuxedo made in Paris by a designer named Alexis Mabille. I open the show with the latest version—so don't be late.

Time Out New York: Even though you are about as huge as one can get in the burlesque world, it seems like some people mainly think of you as Marilyn Manson's ex. Does that ever get frustrating?
Dita Von Tease: You know, I don't really mind it. He was a significant part of my life—I was with him for seven years and I married him—and I can definitely understand the fascination with him that people have. We've been divorced for about five years and we're friends. Five years ago, perhaps I wouldn't have been quite so okay. What's funny is that it seems like a lot of people haven't gotten the memo that we've divorced!

Time Out New York: People still ask you how your husband Marilyn is doing?
Dita Von Tease: Yes, sometimes! But he was a big champion of my career and loved what I did; he made a whole record that was about me and burlesque style. We were a great artist-muse collaboration for a time, and I'm grateful for him helping to put a spotlight on burlesque.

Time Out New York: As you said, you've been doing this for a long time—and yet you look almost exactly the same as you did back when you started. What's your secret?
IDita Von Tease: have a very young-looking mother. She was just here visiting me, and people kept thinking that she was my sister! So I think I have good genes, thanks to her. But I've never been a cigarette smoker, I don't get suntans, I get lots of beauty sleep, and I'm not a hard partyer. And I work out hard, and I drink my green juice smoothie every morning.

Time Out New York: It's not virgin's blood or something like that?
Dita Von Tease: Nope—a green smoothie, a concoction of 70 percent greens and 30 percent fruit. I swear by that thing. That in the morning, a little Cointreau at night—that's my beauty secret right there.

Burlesque: Strip Strip Hooray! with Dita Von Teese runs at the Gramercy Theatre Wednesday, March 6, through Saturday, March 9.
Follow Bruce Tantum on Twitter: @BruceTantum