Heads up! We're working hard to be accurate – but these are unusual times, so please always check before heading out.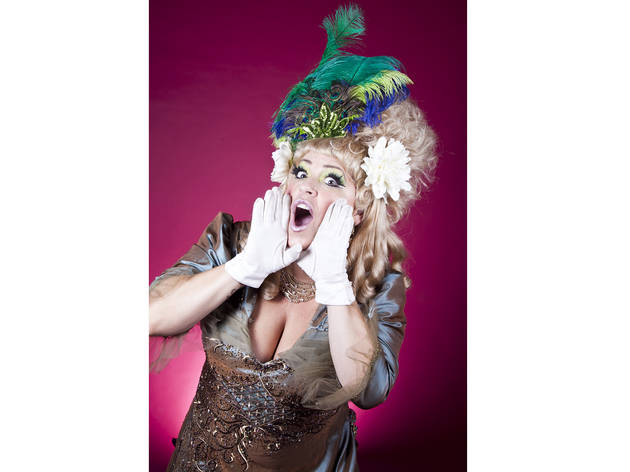 Interview: Shelly Watson
Shelly Watson, the artist otherwise known as the Singing Siren, hosts Gotham Burlesque.
The vivacious vocalist, comedian and burlesque-scene stalwart Shelly "The Singing Siren" Watson is one busy woman. Among many other activities, there's her nationally syndicated radio segment, the long-running Hip Hopera; there's her job as conductor of the New York City Burlesque Choir; and there's her role as one of the burly-Q world's busiest (and funniest) MCs. On Saturday, April 6, the talented Watson—a graduate of Juilliard's Master of Music program—hosts Gotham Burlesque at Stage 72.

Time Out New York: I knew you grew up in California and Nevada, but I just heard that part of your youth was spent on a reservation. True?
Shelly Watson: Yeah, I lived for a few years on an Indian reservation in Carson City, Nevada. Even though my dad had jet-black hair and really dark skin, I was this towhead blond kid, so I would get beat up for not being Indian. And I was the only kid on the reservation who was bused into school elsewhere, and I was also getting beat up for…not being on the short bus but being on the Indian bus.

Time Out New York: Sometimes growing up as an outsider forces people to develop a comedic personality, in order to keep from getting hassled so much.
Shelly Watson: That's exactly what happened. At that time, I was supposed to be wearing glasses, but my parents didn't get them for me. The very first fight I got into was because these girls thought I was giving them dirty looks—but I was really just squinting at them. They jumped me in the bathroom, going, "Why are you giving us dirty looks?"
I was like, "I'm not, I promise—I just can't see!" And then they started laughing, and we kind of became friends. A little humor always helps.

Time Out New York: Didn't you also move a lot? I would guess that humor would help in dealing with that.
Shelly Watson: Oh yeah, we moved around a lot. I went to 15 different schools before I graduated high school. You definitely have to learn how to be able to go up to people and go, "Hi—you're my friend!" Some people were okay with that, and some people are "Yeah…I don't think so." But I had to put myself out there.

Time Out New York: That's sounds like good training for a career in showbiz. As far as actually performing goes, I'm guessing that singing came along before anything burlesque-related.
Shelly Watson: Definitely. I was always in choir, and I honestly think choir is kind of what saved my life. A lot of performing artists who come from weird backgrounds or fucked-up families or whatever, we find our solace in music. Break out into a song! [Laughs] One of my high-school choir teachers said, "Listen, this could really be something for you," so I started getting really involved in the choir there, and she set me up with a community college, where I was also in choir. I was doing choir and weight training, actually; I was really into bodybuilding. Then I got a scholarship to go to Cal State, Northridge, but I didn't have any classes that could transfer.

Time Out New York: Bummer!
Shelly Watson: Yeah, they said that I couldn't go to school there unless you go back and get an associate arts degree. But then my choir teacher told me that there are schools you can go to where you don't have to take math or any of that crap. And that's how I found out about Juilliard. So I transferred from a community college with 22 credits of weight training and choir right to Juilliard. I mean, I couldn't read music or anything!

Time Out New York: They obviously recognized that you had innate talent.
Shelly Watson: To tell you the truth, if I had really known what the hell Juilliard really was, I would have been pretty freaked out. But I was like, Hey, it's the Fame school, man! I really didn't have any clue.

Time Out New York: It must have been quite a shock when you actually started attending the school.
Shelly Watson: I was on academic probation my first year. It was really hard for me. But then as the years went on, I began to flourish and started doing my own thing. I was the first person to get the InterArts award, for combining music, dance and drama. Nobody had ever done that before! I couldn't believe that no one was doing that, so I started a program where the playwrights would write a story line, and then would help the composers write a libretto, and then dancers would come in and choreograph it. Actors would come in and sing, singers would come in and dance—it was so much fun, and I loved doing that. And that's really what I'm all about now—interarts. Having everything!

Time Out New York: You are something of a triple threat, or maybe even a quadruple threat—but everything you do seems to possess a bit of a comedic edge.
Shelly Watson: Well, that's just me. I mean, look at my tattoos; they're pretty much all like cartoons. [She shows some of her ink, including one of a mermaid.] This is the siren from the Loteria cards.

Time Out New York: Why did you choose that?
Shelly Watson: Because I'm a siren, of course! And that's how I got my tag line. It's so funny—somebody said to me, "Singing siren is so redundant. Sirens are known to sing anyway.' "

Time Out New York: Yes, but then you don't get that alliteration.
Shelly Watson: Exactly. Those s's! "Shelly the Singing Siren"…it just sounds good.

Time Out New York: What's that bird tattoo you have there?
Shelly Watson: That's one that says "Joy is mine." It's a cross between a sparrow and a swallow. Sparrows are very family-oriented birds, and swallows travel very far and always come back. If you were an English sailor back in the old days and traveled more than 5,000 nautical miles, then you could get a swallow tattoo. Now, I've traveled around the world, and I've seen a lot of stuff. But sometimes I need to remind myself that other people's happiness is my happiness, too. I'm allowed to have it; I'm allowed to experience it.

Time Out New York: Why do you have to remind yourself of that?
Shelly Watson: Every single artist that I know has that deep, dark Sylvia Plath–Anne Sexton thing going on. Or Robin Williams in that Awakening thing. All comics definitely have that thing. Like, I was in the outreach program at the Metropolitan Opera, and singing for everybody there was such a joy for me, but they only saw me as one thing—as this hooker with the heart of gold, or maybe the crazy lady. I guess I'm like the Helena Bonham Carter type—but slightly less creepy.

Time Out New York: She is a little creepy, isn't she?
Shelly Watson: Not a little creepy—a lot creepy! We were just watching Mars Attacks! the other night, and I was like, "God, Tim Burton was with Lisa Marie for like 19 years! And then he went with Helena Bonham Carter?" But, you know, Prince Charles went from Princess Di to Camilla, so who can judge?

Time Out New York: Getting back to your tattoos, you definitely thought a lot about what to get before you had them done.
Shelly Watson: Well, there are definitely some on my lower extremities that were a big mistake.

Time Out New York: We won't get into that; let's talk about burlesque instead. How did you enter that scene
Shelly Watson: I had just finished my master's at Juilliard in 1998, and part of how I was paying for that was by being a dominatrix. So I was introduced to the fetish world, and I was hosting a lot of these parties where I would meet a lot of people. One of them was an artist who goes by the name Little Brooklyn; I'm sure you know her as a burlesque performer. At the time, she was doing a lot of painting, and she also had a boyfriend who was highly involved in the artistic aspect of the scene. They would bring their paintings to these events, and they would see me there being the host. They had also heard me sing. So one time, Little Brooklyn asked me, "Have you ever thought about hosting a burlesque show? You definitely should, and you should sing opera at it, too!" I was like, Why not? She got me my first burlesque job—that was at Starshine Burlesque around ten years ago or so. And it just went from there!

Time Out New York: And now you're one of burlesque's go-to MCs
Shelly Watson: The World Famous *BOB* and Miss Astrid—now, those are the two female MCs who do everything. They are icons, and in the beginning, it was insanely difficult to get any jobs. I was always like, "Whatever is left over, I'm over here! I'll take it!" Slowly, I've kind of worked my way in by letting my work speak for itself. But there's also the fact that a lot of clubs or shows want to have a male MC, for whatever reason. It's like they feel a need to have at least one penis in the show.

Time Out New York: Yeah—Bastard Keith, for instance, is a very busy burlesque host.
Shelly Watson: I was talking to somebody who said, "God, he's so mean!" I was like, "Well, he's not called Nice Guy Keith—he's Bastard Keith!" That's his persona. He's great. I'm definitely salty and slightly acerbic myself, but maybe in a weird way. I think that people don't always get what I say until a few seconds after I say it. Then, they're like, "Oh, God!"

Time Out New York: You're hosting the upcoming edition of Gotham Burlesque. Do you have any special plans in store for that?
Shelly Watson: Well, this show is really important to me. One of the stars of the show, Bettina May… I love her, love her, love her. I was talking to Gary [Beeber, Gotham Burlesque's producer], and I said that she has to be the star of the show. Part of the difficulty with booking these kinds of shows is that there are so many people who paved the way, and there are so many people who are on the way. And you have to try to find that balance.

Time Out New York: How do you do that?
Shelly Watson: You need to have names that people recognize, but you still want to turn people on to performers that are somewhat new. Now, Bettina's been around for a while, but she's on that second plane. You have people like Dirty Martini, Julie Atlas Muz and *BOB* in the top tier. And then there are people like Medianoche and Bettina May, who are slowly coming up from behind. Having the chance to have relationships with that group has been fantastic. I've been doing a lot of stuff with Bettina. Like, I was giving her voice lessons, and we did a barter that she would do a photo shoot for me in return.

Time Out New York: She's a great photographer.
Shelly Watson: She's a fabulous photographer, and she's a really great lady, and she's supersweet and she's awesome. Which makes a lot of people not like her! Anyway, I'm really excited about this show, because I asked to have almost everybody on the lineup, so I'm excited about that. I also like to do collaborative stuff with people in the show; I like to work out little skits, and I'm really going to enjoy doing that for this show.

Time Out New York: What else do you have planned?
Shelly Watson: I like to think of a show as a single production, from the beginning to the end. I always open and close a show with a song—always. I love that old-school thing, like with Ed Sullivan or Lawrence Welk, where they have all the music before the patter even starts. [Adopts Lawrence Welk accent] "And we have a wonderful show for you tonight…anna one, anna two!" I love that! And even after my last number, I like to have a song playing immediately, so that when everybody is clapping, the energy is flowing.

Time Out New York: It sounds like you put a lot of thought into these things.
Shelly Watson: I actually had somebody tell me, "Hey, Shelly, you don't really have to do so much. You can just say the performer's name and have them come on." So not everybody wants you to go on and on, and brevity and precision are very important. You've got to keep the show flowing. But I totally get off on doing those interludes. I'm like the feng shui artist of burlesque shows!

Gotham Burlesque, featuring Shelly the Singing Siren, Bettina May, the New York City Burlesque Choir and others, is at Stage 72 Saturday, April 6.
You may also like
Monday Night Bingo Hosts Linda Simpson ("In the know and on the go!") and Murray Hill ("the hardest-working middle-aged man in show business") team up for a night of alt-bingo mirth every Monday on the Lower East Side. Admission is free, but a game card will cost you two clams. Glitter Gutter This evening of old-school downtown entertainment (burlesque, comedy, sideshow performances and more) is fast and loose–and sometimes messy. Each week brings a unique show. Go to slipperroom.com for more info. Nuit Blanche: Dolls After Dark Dances of Vice brings a glamorous collection of glittering showgirls and exotic performers to the Meatpacking District for this burlesque affair, featuring three sets in an all-new production each week. This installment sees performances by Cassandra Rosebeetle, Donny Vomit, Rosy Cheeks, Hazel Honeysuckle, Jenny Rocha and Gigi Bonbon. A dance party with DJ Eve Salvail follows the performances, keeping the action coming till 2am. For dinner reservations, call 212-675-2400. (Or just imbibe a cocktail or three.) Nurse Bettie Burlesque Shelly "The Singing Siren" Watson hosts this night of burly-Q action at the intimate Nurse Bettie, which features both nightlife newbies and stars of the Gotham scene. Shaken & Stirred Breathtaking burlesque, gorgeous go-go, DJ Jess on the decks—and free shots! What more could you ask for? Sugar Shack Burlesque's RunAround Sue serves as the weekly soiree's host, and an array of burly-Q performers regularly stop by to wow th
See more in Clubs & Nightlife