Q&A: Velocity Chyaldd
The busy alt-burlesque performer Velocity Chyaldd gears up for a double dose of onstage action.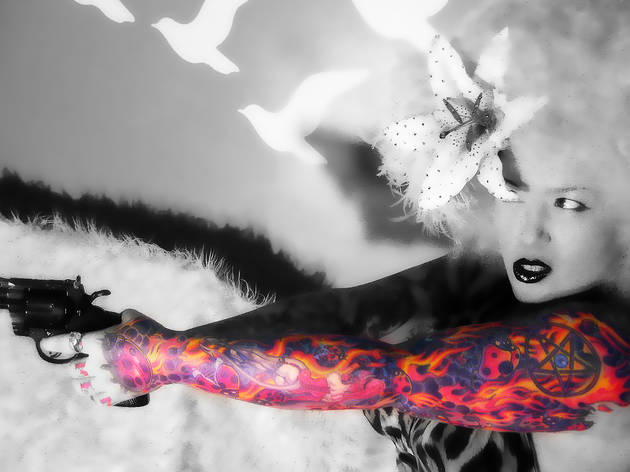 This week sees the busy underground star Velocity Chyaldd pulling double duty: She's presenting an edition of her !BadAss! Burlesque extravaganza at Coney Island on Friday, September 27, and two days later will be appearing at the final night of the New York Burlesque Festival.

Time Out New York: You're in New Orleans right now. What are you up to down there?
Velocity Chyaldd: I'm here for the New Orleans Burlesque Festival. I'll take any excuse to come down here; I love New Orleans.

Time Out New York: Who doesn't? I first ran into you through your band, Vulgaras. For those not familiar with that combo, can you explain what Vulgaras was all about?
Velocity Chyaldd: Well, I can tell you that I put it to bed on February 26, 2012.
Time Out New York: Wow—you know the exact date!
Velocity Chyaldd: Well, Vulgaras was like therapy, but cheaper. Scream therapy is really good, and it was like one long temper tantrum, one that ended with a swan-song heartache. Vulgaras was almost exactly ten years old when it ended.

Time Out New York: That's a pretty good run, actually—much longer than the Beatles, for instance.
Velocity Chyaldd: That's true. And we still have two CDs on iTunes.

Time Out New York: Does Vulgaras predate your burlesque career, or was it the other way around?
Velocity Chyaldd: Oh, I've been doing burlesque since 1995. This was before burlesque was getting popular again. They weren't even calling it burlesque; it was called "cabaret." I was doing performance art at the Blue Angel on weekends. And I was doing things at Mother, the same kinds of things that I do in the burlesque community now. I miss that place so much.

Time Out New York: You still work with [Mother impresarios] Chi Chi Valenti and Johnny Dynell, right?
Velocity Chyaldd: Yes—I did the Howl Festival this year, for instance.

Time Out New York: That's right—you did a great Mae West bit for them.
Velocity Chyaldd: And that's what I'm doing at the New York Burlesque Festival.

Time Out New York: Breaking news! But before we get into that, I wanted to ask you about the ten-day medically induced coma you were in earlier this year.
That was in January. I ended up getting severe sepsis—really bad blood poisoning. It started with a swollen tonsil. I was on a plane to London, and for whatever reason that swollen tonsil became septic. Within 24 hours of me landing, I had a 106-degree fever.

Time Out New York: Holy cow.
Velocity Chyaldd: I was ridiculously sick. I ended up in a coma for ten days. There was a wonderful period of psychosis after the coma, from all the drugs they pumped me full of. I thought I was being held hostage in some underground sex-slave ring, and they were trying to program me.

Time Out New York: On the positive side, you were getting good material to work with.
Velocity Chyaldd: Yeah! [Laughs] When I was actually in the coma, I thought I was in someone's art installation. I was dressed like Sleeping Beauty, and I was underwater. Through the water, I could hear this frustrated artist talking about how all of her subjects were drowning. I remember thinking, God, I have to get out of here! I kept escaping, I'd end up back in the hospital, there'd be some other freaky situation, and then I would try and run away again. It was like Groundhog Day.

Time Out New York: That all sounds a bit scary.
Velocity Chyaldd: It was very psychedelic, actually.

Time Out New York: I'm guessing it's safe to say that you are more from the alternative end of the burlesque scene than the classic end.
Velocity Chyaldd: Oh, I'm definitely on the alternative end, and it's too late to go back now. I'm too far down the rabbit hole, creatively speaking. It's how I express myself.

Time Out New York: Your upcoming New York Burlesque Festival performance will be the first time you've appeared at the fest, right?
Velocity Chyaldd: That's right. I'll be at the Golden Pastie Awards night.

Time Out New York: The festival is, to some degree, more oriented toward classic burlesque than its newer forms. Were you worried about getting accepted?
Velocity Chyaldd: Well, everyone has to apply—and much to my surprise, I was accepted. I got a letter and everything! How it happened was that I was at the Hawaii Burlesque Festival in June to perform—which is actually the first burlesque festival I had ever done. Chi Chi had just sent me the footage from the Howl Festival; my husband was with me, and he said, "You should send that to the New York Burlesque Festival." I was like, "Oh, I don't know.…" But then I saw on my Facebook feed that [burlesque star and NYBF cofounder] Angie Pontani had posted that it was the last day to apply. So between me being at another festival, getting the Howl footage and seeing that post—all on the same day—I thought that maybe I should actually apply!

Time Out New York: The Mae West performance is actually pretty traditional, so it probably wouldn't have scared anybody off.
Velocity Chyaldd: It's traditional on one hand—but on the other hand, I feel much more like I'm doing drag than burlesque when I do that number.

Time Out New York: Mae West had a bit of the drag queen about her, didn't she?
Velocity Chyaldd: Yes, but it's really all the heavy lip-synching that does it.

Time Out New York: You do it well—when I saw that act, I had to do a double take to make sure that you weren't actually channeling her somehow.
Velocity Chyaldd: I had practice. When I was eight years old, I used to lip-synch to "Hot Stuff" by Donna Summer all the time. She was one of my inspirations.

Time Out New York: The same weekend of the New York Burlesque Festival, you have another edition of your !BadAss! Burlesque show lined up.
Velocity Chyaldd: That's on September 27th, the Friday of the New York Burlesque Festival. It's at Coney Island, and it happens to be the final night of their burlesque season. The theme is "black and red," where we'll be paying tribute to Bettie Page and Jessica Rabbit.

Time Out New York: You had previously done a black-and-white one, where you saluted Page and Marilyn Monroe, right?
Velocity Chyaldd: That's right. That one was more about icons, and this one is more about sexuality and danger, and also the mental instability of the femme fatale.

Time Out New York: Those are themes that seem to resonate through your work. Do you have any kind of overarching theme or aesthetic, or does that change from show to show?
Velocity Chyaldd: I wouldn't call this a theme, but there is a consistent motivation. Growing up, I didn't have a lot of mainstream female role models; there weren't many people out there who were doing it for me. I always found women in the underground to be stronger, and I was always drawn to that world. There's something rebellious about a woman who isn't afraid to express herself sexually. Like, China Blue from Crimes of Passion is one of my heroes.

Time Out New York: You have another project, Alpha Fatale. What can you tell me about that?
Velocity Chyaldd: Alpha Fatale is a temple, and in that temple there are nine altars, and each of those altars represents nine different deities that I'll be creating. Each of those deities are going to have a song to represent who they are. There will be a lot of visual media built into the altars; there will be a variety of short films involved. It's basically about creating a female spiritual experience that doesn't make apologies, and is willing to say things that women aren't supposed to say. The name is a combination of alpha male and femme fatale, with no gender involved.

Time Out New York: That sounds like a project that will take some time to complete.
Velocity Chyaldd: I'm expecting it to be five years.

Time Out New York: You have a five-year plan? Very commendable. So perhaps you know what else you have lined up for the future.
Velocity Chyaldd: Oh, I'm going to continue to produce !BadAss!, of course. But 10 or 15 years from now, I think it would be really beautiful to live in Hawaii, and make movies and paint. They say that people live longer in Hawaii, you know.

Time Out New York: They probably have less stress to deal with.
Velocity Chyaldd: Yeah, but I'm more interested in Pele.

Velocity Chyaldd is at !BadaAss!Burlesque: The Black & Red Party on Friday, September 27, and the New York Burlesque Festival: The Golden Pastie Awards on Sunday, September 29. Find out more about Alpha Fatale at alphafatale.com.

Follow Bruce Tantum on Twitter: @BruceTantum