The best NYC nightlife events this summer
This summer there are sizzling soirees to keep you partying all season—keep tabs on every shindig with our guide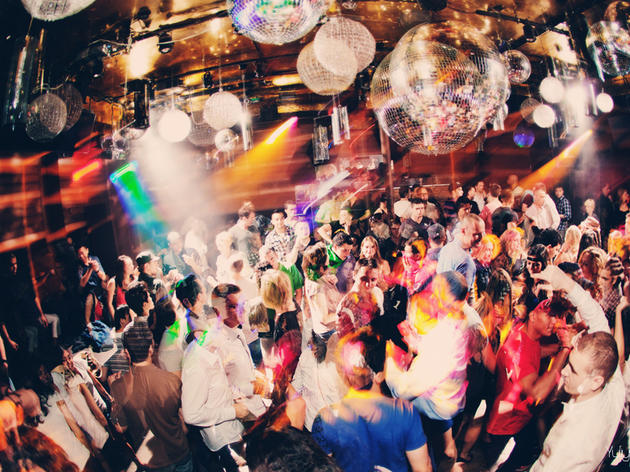 Get decked out in your kinkiest gear—or at least don't show up in an ironic tee and orange Pumas, hipster—for the city's biggest weekly fetish bash. Barbers help you achieve that sexy buzz-cut look, and bootblacks keep your kicks glossy while you chug cheap beer. Acceptable attire includes leather, rubber and uniforms. Check the website for more extensive info. And don't fuck it up—the doorman's decision is final.
Read more
The weekly hip-hop party features a different style on each of Webster Hall's four floors. In the Grand Ballroom, Just Blaze, NYC stalwart DJ Soul and their pals fling the funk. After-dark fixture Va$htie curates the 1992 party in the Marlin Room; Jasmine Solano and Melo-X's Electric Punanny party play reggae and dancehall in the Balcony Lounge; and the Brick Bandits—club kingpins DJ Sliink and Dirty South Joe—unleash their bass-heavy sounds in the Studio.
Read more
Two weeks ago, Will Guidara and Daniel Humm—the young guns behind Eleven Madison Park and the NoMad—launched this classy jazz series evoking old-school New York. Sink into leather couches and listen to live bands, such as Grammy nominee Stacie Orrico, through Feb13. Butter-dipped radishes and chicken-liver mousse, along with other fine-dining snacks, are available on the bar menu, along with serious cocktails and wine.
Read more
The '50s-pinup–inspired venue Nurse Bettie (named for Bettie Page, one of the 20th century's premier hotsy-totsies) is a natural setting for burlesque performers. This weekly get-together is produced by "Asian sexsation" Calamity Chang, and usually includes six or seven acts, as well as preshow go-go dancers. Prepare to get up close and personal in the small, intimate bar space.
Read more
Duane Park presents this weekly, feather-heavy salute to hot jazz and steamy burlesque. Cunio is among the night's rotating roster of hosts, the Duane Park house band plays the tunes, and stars of the NYC burly-Q scene (Gal Friday, Tansy Tandora, Essence Revealed and Peekaboo Pointe among them) work their onstage magic. Dinner is available for $80.
Read more
Jonathan Toubin and guests bring rock and soul to the Lower East Side every Friday, with an emphasis on prized vinyl recordings from the '50s and '60s.
Read more
Galapagos hosts this long-running, crowd-pleasing cabaret night, featuring a rotating cast of amazing artists, including resident dance troupe Jenny Rocha and Her Painted Ladies—expect burlesque, magic, trapeze and much more. After the show, a dance party keeps the fun coming till 1am. Check the venue's website for each week's cast.
Read more
Michael Formika Jones and the DL bring you this sprawling, tri-level shindig populated by nightlife stars and party people who are unafraid of Thursday mornings. DJs, hosts and performers are ever-changing, so check the Facebook page for the latest scoop.
Read more
This evening of old-school downtown entertainment (burlesque, comedy, sideshow performances and more) is fast and loose—and sometimes messy. Each week brings a unique show.
Read more