Heads up! We're working hard to be accurate – but these are unusual times, so please always check before heading out.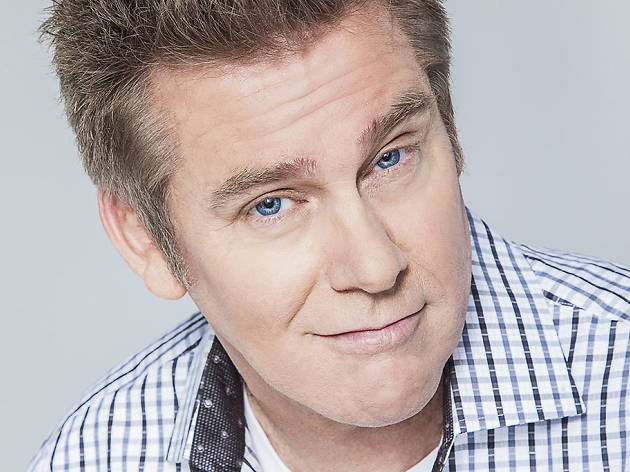 Brian Regan talks Letterman and Comedy Central's first-ever live broadcast
The network taps clean comedy superstar Brian Regan to make waves—airwaves, that is—live from Radio City Music Hall
While he has never quite broken out of the comedy clubs and theaters he endlessly tours, Brian Regan has played The Late Show with David Letterman 28 times, sells out venues like Red Rocks in Colorado and is endlessly praised by fellow comics such as Chris Rock. Like Jerry Seinfeld, Regan is a master of minutia extracted from the everyday. However, he serves up his observations with an affable goofiness, a playfully gawky physicality and a rubber mug that recalls Jim Carrey and Jim Breuer. On Saturday, September 26, when he plays Radio City Music Hall, Comedy Central will broadcast the show live—a first for the network. Time Out New York talked to Regan in advance of his big feat.
Why do a live special?
I recorded my last hour five years ago, and I wanted this one to be a little bit different, if possible. Who knows what could happen? You could have lighting problems, sound problems, or you could have some lunatic in the audience who wants to be a part of the show. That's part of what makes it exciting.
What's the best part about returning to the city to do a show like this?
New York City is where I turned the corner. It's where I went from a guy just struggling to find stage time to getting noticed. There were times when I couldn't even get in a comedy club in New York, and it got to the point where, wow, I'm one of these guys, where if I walk into a club, they'd be kind enough to just throw me on.
What made you want to record at Radio City Music Hall?
Over the years, my following has gradually gotten a little bigger and a little bigger, and this time around, my agents said, "What do you think of Radio City?" And I was like, "Whoa, I don't know." And they said, "We think we can fill it up." So the venue was already booked, and the idea for the special came after the venue. I lived in New York and never saw a show there!
How much pressure did you feel to deliver at Red Rocks, such a legendary venue?
It's kind of overwhelming. The first time I heard about the place was because of the famous U2 concert, and I had never seen a show there when I played it the first time in 2013. On one level, you have this amazing venue, and you think, "How fortunate am I to be here?" But as soon as you hit the stage, it goes right back to comedy. The audience is not just going to sit there and be amazed that this is happening. I still have to make them laugh for an hour, you know? I don't want to just stand there and say, "Well, here I am! Here I am for an hour." And then sip coffee and say, "Good night."

You work clean, which is a rarity in the current comedy scene. How do you think people look at you differently?
Because many comedians don't work clean, I think many people think of it as a mission statement on my part. Like I'm trying to show the world a different way or that I think that what I do is loftier than another kind of comedy. I don't feel that at all. Richard Pryor is probably the best stand-up comedian who ever lived, and he was very dirty. There are many comedians who work blue that I think are geniuses. It's just a different way. Some people describe it as being clean, but I don't even think about it like that. I talk about everyday things. I want to look at a water bottle and see if there's humor in it. I don't sit down in front of a blank sheet of paper and say, "Come on, clean jokes! Come on, lily white clean comedy, come out of me!" I find it weird that the dirty thing is still considered edgy when 90% of people are doing it.
How much do you think this Radio City gig could change things for you?
I'm not doing it for that reason. I did 28 Letterman [shows]. I never had anyone call me up the following day and say, "I'm Mr. Hollywood, I'm going to make you a Hollywood big shot!" I heard Steve Martin say that he felt he was ignored until he finally did his 16th Tonight Show. I read it while I was getting ready for my 18th Letterman! I ended up doing another 10 after that, and still no one's called me.

So many comedians—Jerry Seinfeld and Patton Oswalt, to name a couple—list you as one of their favorites. Does the adoration of your peers make up for the fact that no producer has said, "Here's your movie. Here's your TV show?"
There's an expression, "Playing to the back of the room." That means you're onstage and you just want to make sure the other comedians like what you're doing. I'm a creative pig. I want everybody to like what I'm doing. But the fact that people who get onstage, who know what it's about, tip their hats—it's a tremendous feeling. And yes, it does comfort me. I like what I do, audiences like what I do, comedians like what I do. If other people want to ignore it, that's up to them.
See the show
A lovably goofy and physical presence, Regan has gained popularity year by year through constant touring, Comedy Central specials and a great number of visits to The Late Show with David Letterman.