Heads up! We're working hard to be accurate – but these are unusual times, so please always check before heading out.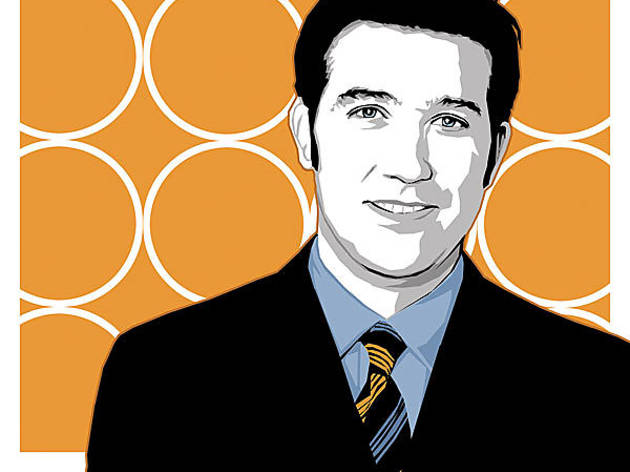 The Hot Seat: Craig Bierko
Always fast with the funny, the actor returns to quick-fire stage comedy.
Craig Bierko isn't a stand-up comedian, but the 44-year-old actor may as well be. The guy doesn't chat—he kills, spouting laugh-out-loud one-liners with enough rhythm and swagger to make Dennis Miller proud. Perhaps that verbal wit is a side effect of starring in the upcoming Broadway revival of To Be or Not to Be. The classic screwball comedy—about a WWII Polish acting troupe that's enlisted to capture a spy—marks Bierko's return to the New York stage after working the TV (Unhitched, Boston Legal and movie (Cinderella Man) rounds in Los Angeles for several years. After talking on the phone with him, we're pretty sure this Bierko dude is the happiest guy living (albeit temporarily) on the Upper West Side.
RECOMMENDED: Full list of Hot Seat interviews
Are you living in New York now?
I'm a man without a home right now. What I have in lieu of a home is storage space in New York and in Los Angeles. My home is America, my home is the wind....
Duly noted. How's To Be or Not to Be coming along?
We've only been at it for two weeks, so we're still forming and exploring.
During rehearsals, do you ever think, "God, this is never going to work"?
That's not a good place to go—that's not our job. We're like linebackers, keeping our head and shoulders down and pushing the line forward.
But how does it compare with your previous theater gigs?
It is similar in that eventually there'll be people sitting down facing us.
It says on IMDb that you're 6'5". Is that—?
No, technically that would be a monster. I'm six three and a half. In the '80s I was probably about six eight with my hair; I had a stovepipe mullet. The '80s were a car crash for me, hair-wise. I didn't know what the hell was going on. And I never tried to address the problem.
You do have magnificent plumage. When you go to the theater, do people gripe about the tall guy in front of them?
Well, when I go to a show, I'm like, "Were people only ten inches tall when they built this theater?" It's like flying coach but not as roomy. I've got to go do Bikram yoga beforehand to loosen up enough that they can fold me into a seat.
Is it true you were the original choice for Chandler on Friends?
Yes, that's true. You only get to see the pilot for these things. Nobody walks into the room and says, "You know, this thing is going to replace Christianity." You just have to go with your instincts. I got the part, but I chose another show.
What show was that?
Hilariously enough, it was called Best Friends. See, Friends wasn't called Friends back then. It was called Six of One.
Were you resentful when Friends became a phenomenon?
It was hard not to be. But I had to be honest and remind myself that I wasn't going to do that show. Because I was going do Friends in the same way that I was going to be Pope one day.
You started acting in school, right?
I was such a terrible student, and it was something I felt I was good at. And that's where all the girls were! I was like, "God, I hope the guys on the soccer team never find out about this—the girls are all here. In unitards!" If I had known that earlier, I'd have gone into ballet. It was just a ridiculous gold mine in high school, when your glands are activated like a Cessna airplane.
Were you big on musicals back then?
I did like musical-theater music, because I grew up with so many cast recordings lying around. But I wouldn't say I was a musical-comedy guy. I was more of a Beatles nut.
So the Beatles are pretty important for you, huh?
Yeah, they're pretty major for me. I'm now living just a few blocks away from the Dakota. I can't walk past it. I keep saying I should, but I just can't do it.
Have you ever met one of them?
If I met one of the Beatles, I don't think I'd be able to handle it. I'd have to be wearing a diaper if that happened.
To Be or Not To Be begins previews on Sept 11 at the Samuel J. Friedman Theatre.
You might also like
See more Hot Seat
See more in Theater