Heads up! We're working hard to be accurate – but these are unusual times, so please always check before heading out.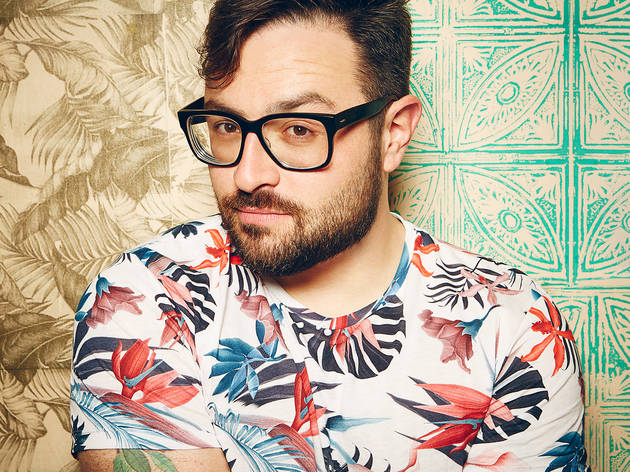 Eliot Glazer talks about his show Haunting Renditions Live
We chat with the Broad City actor and writer about his musical comedy show Haunting Renditions Live
Turning trash into treasure is Eliot Glazer's specialty. In his live show Haunting Renditions—based on his same-name web series—the Younger, Broad City and New Girl writer takes bad pop songs—from the likes of Ashlee Simpson and Hootie & the Blowfish—and rearranges them into band-driven operatic ballads. On September 17, Eliot is teaming up with his sister and fellow Broad City resident Ilana Glazer and Girls' Jon Glaser for an All-Glazers edition of the concert series, as part of the Eugene Mirman Comedy Festival. In the Haunting Renditions spirit, the gay comedian spoke with us about the relics of pop-culture garbage that he loves.
How do you select songs for the show?
It's kind of varied. I love picking through the annals of recent history and reminding everybody how bad the lyrics to "Mambo #5" are – how completely senseless or off the wall some bombs are. There's the song "Too Close" by Next, which was an R&B hit in the mid-nineties. I was an adolescent. I knew all the lyrics to that song, as did my friends, but I don't think we ever stopped and realized that it was literally about pushing your erection onto a girl on the dancefloor. That is insane, and the fact that it was a huge song and it's about boners basically went unchecked. That has such a rich history and irreverence to it that basically gets lost on an audience until you contextualize it for them. And that's really fun.
I was watching the video of you performing "Too Close," and when you are singing the lyrics to your female co-performer, you are kind of sweet about it, which wasn't expected.
Exactly. That's the point: to take these plainly graphic and almost rapey lyrics and sing them as romantic jazz standards. That turns the song on its head and gives the audience a new way to appreciate it.
You are a pretty prolific writer and actor, but it seems like music is your favorite way to express yourself.
I like doing all of it. I love acting and I love writing. But Haunting Renditions for me is the no-brainer version of live performing. It's just as fun as engaging in other mediums, but I think for me as a stand-up comedian, it's the most comfortable I could possibly be on stage. Sometimes it goes really well, and sometimes it's just totally lost on the audience. I don't always get the reaction that I want, because sometimes people are more engaged with the music than they are with the comedy, or the humor is a little too absurd for them. It feels like a risk, but it's a risk I want to take.
So I wanted to ask you to give certain things the Haunting Renditions treatment.
It's really funny. I think that the love and appreciation of camp has sort of gone mainstream in the last few years. And I think things like reality TV and Gay culture really sort of being pushed into the has made camp a little more acceptable to people-
-But nobody can outdo you because you have the Bea Arthur tattoo.
Right. That's not camp. That's genuine, true, earnest affection. It's not tongue and cheek. For me, I have always loved the subversively funny or weird. And as a comedy writer, I realize now that my love for true camp that isn't supposed to be campy but actually has humor in it is the most special stuff in the world.
Is there a bad movie you love?
I feel like every comedy that comes out with Diane Keaton that isn't a Nancy Meyers movie tends to be completely mind boggling and confusing, because you're just not even sure what you're watching. It's not even that it's bad; it's bizarre. I love when a movie is not even so bad that it's good: it's so bad that it's weird.
You're referring to Because I Said So.
That's the one where she's like in Maine or something.
That's the one with Mandy Moore. It's complete gibberish.
Yeah, these movies that are complete gibberish. There's a movie she did recently with Michael Douglas.
And So It Goes.
And So It Goes. It's like nobody checked to make sure that the movie is legible or lucid. It's just mind boggling. Nothing in life feels better for me. Nothing is more exciting than for me to go "What? What is this? What is happening? Where are we?" I love things that make me feel like I'm tripping on drugs, even though I'm completely sober, and I can just take away complete utter confusion and delight.
And to that point, that's my favorite thing to do with Haunting Renditions: leave the audience delighted and laughing, but also confused. I love when people come to me after a show and say they didn't know what to make of it, or that they didn't know why a Katy Perry song made them tear up.
And what about bad music you used to hook up to?
Well, I lost my virginity to Frou Frou, which is so telling of where I was in the early aughts. I was very, very emo about sex, and I remember hooking up to Iron & Wine. I mean, don't get me wrong, I love Iron & Wine, but it's like, dude, chill out and put on Aaliyah like a regular person.
And your worst style choices?
There are too many to count: flip-flops in winter, straight-ironed hair, bootcut jeans well into the 2010s, newsboy caps tipped just to the side, like I could audition for American Idol at the drop of a hat. My friends will never relinquish a picture of me wearing jeans that I spray-painted with neon green, pink and gold. I looked like an urban clown.
Lastly, can I ask about your most beloved, most disgusting food?
"Little Debbie Zebra Cakes! I don't know what they are or why they would earn such a weird name, but I used to live in Ditmas Park, Brooklyn, around the corner from a very limited bodega that basically sold maxi pads, Red Bull and Zebra Cakes. You could track my drinking patterns to their stock. Honestly the more drunk I got, the [fewer] Zebra Cakes they had in their inventory. It was really a numbers game."
Haunting Renditions Live: All-Glazers Edition is at the Bell House September 17 at 9:30pm.
See the show!
New Girl and Younger writer and Broad City resident Eliot Glazer takes trashy pop hits of yore and adapts them into band-led operatic spectacles. For the Eugene Mirman Comedy Festival's All-Glazer edition, Eliot welcomes his sister Ilana Glazer and Girls' Jon Glaser to join him in musical merriment.