Heads up! We're working hard to be accurate – but these are unusual times, so please always check before heading out.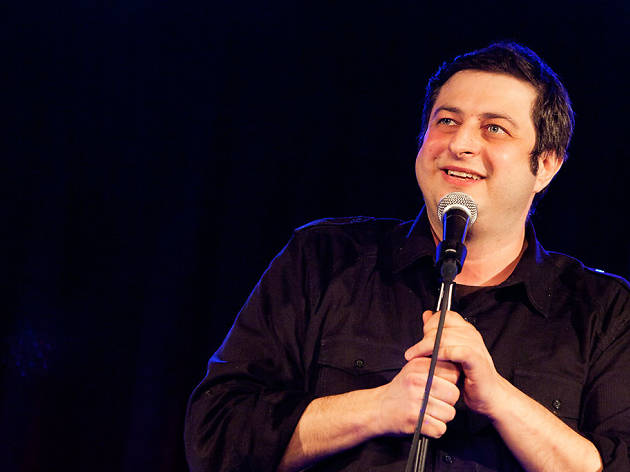 Eugene Mirman talks comedy festivals, Park Slope and StarTalk
We catch up with the Brooklyn comic before the eighth annual Eugene Mirman Comedy Festival and talk about some of his latest projects
Eugene Mirman is considered by many to be the godfather of Brooklyn comedy. He's busy these days—he cohosts popular podcast StarTalk with Neil deGrasse Tyson, voices the lovably sunny Gene on Bob's Burgers and just released his second stand-up special, Vegan on His Way to the Complain Store, on Netflix. But the annual Eugene Mirman Comedy Festival, which kicks off September 18, remains a time for the Park Slope resident to gather his favorite comics and friends for a week of silliness. We caught up with the comic about the fest.

The EMCF seems to be more of an excuse for a social event than it is a commercial proposition. When you imagined it, how much of it was focused on this community aspect?
A lot of the festival is a celebration of the comedy community and a lot of it is people hanging out. The truth is, the first time we did it, it was a joke. We were like, we'll put on these four shows, or maybe more, and it ended up being very fun. It isn't as profitable as just me doing a show. But it's very fun.

How much do you think about funny show concepts? Is it harder to think of silly ideas to spoof festivals now that you've been doing it for eight years?
Our goal basically always is to put on a really fun show that slightly teases something, while still being a really good show. Our first year we did a show called One of Each, and the idea surrounded one of each type of ethnicity, religion, sexual orientation. The show was awesome. I think at the time it was Aziz [Ansari], Hannibal [Buress]…if you looked at the lineup now, you'd think, "Oh, that's what comedy is right now." This year, we've got a show that's Entertainment from People with Black Glasses, and it so happened that [John] Hodgman, Ira Glass and Janeane [Garofalo] were available.

The festival has never just been about the shows. Which sort of post-show gags and happenings work the best, and why?
The things that are very simple, very clear, funny to experience and funny to see. For a few years, we had the bouncy castle with a therapist inside. That worked out really well—people would legitimately bounce and get advice. We also had a CPA dressed as a clown, of whom people asked tax questions. The eye contact booth has always been pretty fun—when people walk in they see a big sign that says, "Eye Contact Booth," and when they look, they can kind of tell that it's my eyes, and then they think, "I think Eugene's sitting in a cardboard box outside the venue." And I am.

How do people react to the weirder things? I remember sitting next to the sad mime on the Awkward Party Bus a few years ago and thinking, This is just as advertised.
I definitely had people come up to me and say, "You know there's a girl crying on the party bus?" and I was like, "Oh!" But really, I was like, Of course I know, it's Theresa, she's an actress we hired to cry on the bus. I didn't say that but I was like, "Yeah, it's awkward."

Are there any aspects of comedy festival culture that you've wanted to play with, but couldn't think of the right way to do it?
The festival is pretty warm; it's not like a mean thing. But we always joke about having a show called Nice Guy, Terrible Comic. I wish I could think of a way to do it.

You've been in Park Slope for 15 years now. What brought you and kept you here?
I realized I had to move here if I wanted to succeed in comedy. When I first moved, I remember thinking, "One day I'll move to the Village…and I'll be Bob Dylan!" Then, after living here for a year and a half, I was like, "I'm never doing that. I'm going to stay in this lovely part of Brooklyn where everything is open until four in the morning but also is much quieter than the city."

What are the best and worst aspects of the influx of people and money into the neighborhood?
The best are a handful of great restaurants like Al Di La and Talde. In the time I've been here, Union Hall and Bell House have opened. The Bell House is one of my favorite places to see a show—great sight lines, not too crowded.

And the worst?
An unnecessary amount of middle-of-the-road Thai/Sushi places. There's nothing wrong with them, but there's also 28 of them.

What about the uptick in price?
Nobody needs me to tell them about rents increasing, but I've seen it go from expensive to comically expensive. My mom—she meant this warmly—but when she saw my apartment, she was like, "It's a really nice student apartment." And the funny thing is: She's 100% right. I mean, I'm very happy, I have a couch and a TV and a little outdoor space. But it shouldn't be $1 million to live in a place that makes you a little sad.

How much of the material that you cover on StarTalk do you remember?
If I listened to the episode, I'd be like, I remember that! For example, I am aware of a thing called the Drake Equation, which was brought up by a guest in our San Francisco show. I remember he thought we were getting better and better at sending signals to Goldilocks planets—planets that are in a similar orbit around another sun that could be vaguely Earth-like—and this guest thought we would get a signal back from a world that was basically as advanced as us in the next 25, 30 years. You'd have to look it up, I'm explaining it quite poorly. I wish I remember what the Drake Equation was, but I do remember that it is something.
Attend the festival!
This annual Kings County event, conceptualized by the titular Brooklyn comic, continues to be a fall highlight of the local comedy scene. This year's happenings include a recording of StarTalk live with Neil deGrasse Tyson and showcases with titles such as Comics We Think Ruth Bader Ginsburg Would Enjoy and the already-sold-out An Evening of Entertainment from People with Black Glasses.