Heads up! We're working hard to be accurate – but these are unusual times, so please always check before heading out.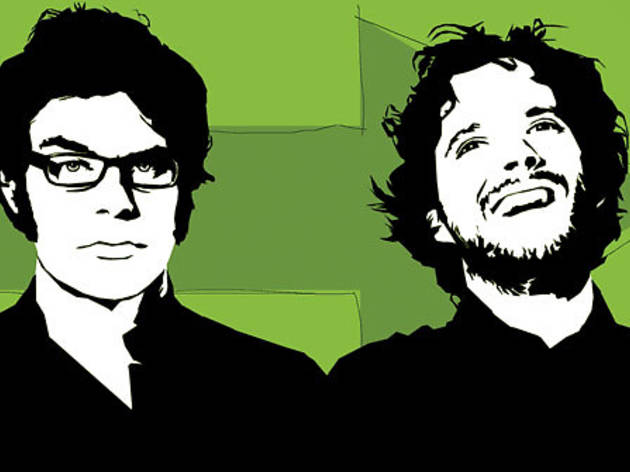 The Hot Seat: Flight of the Conchords
The Kiwi comics are No. 1 in Brooklyn!
They came from New Zealand armed with songs about killer robots and racist dragons—and, improbably, they scored. Since June 2007, when their cultish musical-comedy show debuted on HBO, Jemaine Clement and Bret McKenzie, better known as Flight of the Conchords, have garnered a Grammy, two Emmy nominations and a No. 3 spot on the Billboard album chart (for their self-titled debut). Plus, this week's cover! In advance of the January 18 launch of the second season of their HBO series, we spoke to Clement and McKenzie on the Flight of the Conchords set in Greenpoint.
RECOMMENDED: Full list of Hot Seat interviews
Time Out New York: The new season debuts just two days before the presidential inauguration. How have you changed to pander to the Obama generation?
Bret McKenzie: The second season's more optimistic.
TONY: Is that because of Obama, or is it because your album went to No. 3?
McKenzie: Well, it was No. 1 in New Zealand.
TONY: That changes everything. How many copies need to sell to earn that honor?
Jemaine Clement: Two.
McKenzie: There are only 4 million people in New Zealand.
TONY: Well, that's bigger than Brooklyn.
McKenzie: So by that measure, our album was No. 1 in Brooklyn.
TONY: A lot of your fans are female. How many hearts have you broken?
McKenzie: Seven hearts. That's combined.
Clement: It's sad.
McKenzie: Jemaine's more the heartbreaker. He's broken four.
Clement: Bret's trying to catch up.
TONY: You used to be so much chunkier when you were performing under the name Tenacious D. How hard was it to lose all that weight?
Clement: HBO insisted on liposuction.
McKenzie: That's funny. We met [Tenacious D's] Kyle Gass in L.A. and he said, "You guys are like a skinny version of us."
TONY: How often do you hear the comparison?
McKenzie: Not as often as we expected when we first started over here.
Clement: Yeah. When the previews started, everyone said it. There were lots of "Tenacious D Light" comments. But it disappeared after the show debuted.
TONY: Like the D, you guys bill yourself as a duo. But you're more of a quartet, if you count Jemaine's sideburns.
Clement: Are you saying that my sideburns are two extras? I haven't really thought about that. I'm so used to them that I don't think of them as people, I suppose.
TONY: Bret, you appear as an elf in the first Lord of the Rings movie for, like, four seconds.
Clement: If that.
McKenzie: Well, five.
Clement: Have you really timed it?
McKenzie: No.
TONY: There's a fan site describing your character, Figwit, as "perfect, pouty and gorgeous." Wow.
McKenzie: Yeah. A group of fans from all around the world flew to Edinburgh to meet me and to watch us play at the Fringe Festival.
Clement: It was a little creepy because they'd get so nervous. They would be quivering. Jealous much, Jemaine?
Clement: Nah, I wasn't jealous.
McKenzie: Yeah, he was jealous. He just got over it, like, five years ago.
TONY: How did the Concorde plane crash in Paris in 2000 affect the band?
McKenzie: We had the name before the terrible Concorde crash. But we were worried that people would think it was a joke based on the tragedy. Which it had nothing to do with.
Clement: I think some people did think that. But we soldiered on with it.
McKenzie: We just didn't play in Paris.
TONY: Are you bummed that the Concorde is no longer in service?
McKenzie: It's a shame. I always wanted to do a photo shoot with us in the Concorde. We'll have to do that on Photoshop now.
TONY: Do you ever miss the days when no one knew who you were?
Clement: We shot a scene yesterday, a gig at a bar, where there was only this one guy and his shopping bags. At the end, they turn the lights on and there's no one there. That was based on a real gig that we did in Canada.
TONY: That must have been painful.
Clement: Yeah. We don't even know when that person left.
Flight of the Conchords premieres Jan 18 at 10pm on HBO.
You might also like
See more Hot Seat
See more in Film