Heads up! We're working hard to be accurate – but these are unusual times, so please always check before heading out.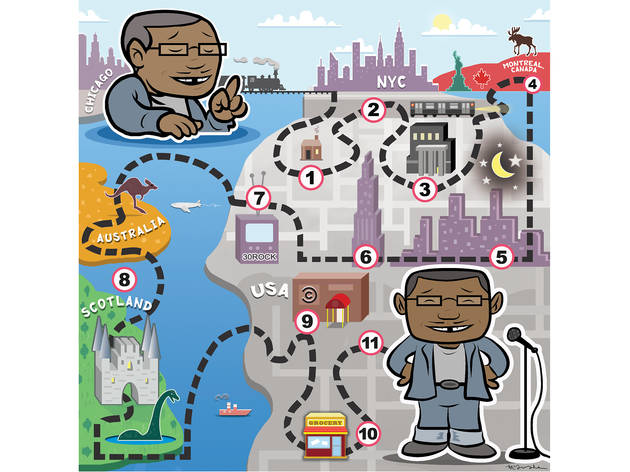 Hannibal Buress
The hardworking comic details his circuitous journey from Chicago to Carolines, step by step.
1. I took Amtrak from Chicago, and the day I moved here in '08, I went straight to this open mike in Chelsea around 4 o'clock with my luggage. From there, I went to the mike at Sal's Comedy Hole. Then I barked [tried to lure customers inside] and got on for their regular show at night. I went home at 3 o'clock in the morning after doing three shows with my two huge bags.

2. The first real show I got booked on was Drink at Work at Siberia—a dingy-ass, horrible place, but it was a good crowd. I also remember the Bowery Poetry Club open mike on Mondays was fun, because there were stand-ups, musicians, people being weird—all types of shit.

3. Booking a solid show—when everybody crushes—is amazing and [Comedy at KFBK] has become a real event in the 'Burg. As long as I'm based in NYC, I'll put it together, but if good comedians are there, I don't need to be there. People will come.

4. I didn't expect that Montreal [the Just for Laughs fest] would take me to stardom, but I thought it was going to take me to being a comedian without a day job, and it didn't do that. It introduced me to people, but it didn't take me into making $30,000 a year. I thought it would! [Laughs]

5. The talk shows were all different. [The Late Late Show with Craig] Ferguson was important because it was my first TV in the States. Then [Late Night with Jimmy] Fallon, and that really got me into the business. That got me into writing and meeting actors, producers, directors. [Late Show with David] Letterman was fun. I got bumped my first time. It was De Niro—he wasn't even talking that much, he was just being a weirdo. But I know I did a better set than I would have done if I hadn't been bumped because it gave me time to work it a little bit more. And I was more comfortable because I thought, Oh, they might bump me…because that's what they do to people here. [Laughs]

6. Saturday Night Live was my first writing gig; they reached out to me after I was on Fallon. It wasn't like I had a mentor or anything; I knew how to write a sketch, but not how to write something that fit the show. I didn't get into my comfort zone until late in the second half of the season. The one thing I got on ["Barkley Golf," about the athlete's horrible swing] wasn't even my idea, it was my cousin's! That's on the record, put it in there: His name is Percy Wilson.

7. I wanted to get on camera at SNL, but it didn't work out. When 30 Rock hired me as a writer, they wrote a homeless dude into an episode, and when I read it at the table read, it got a laugh. Someone said, "Why don't we have Hannibal do the homeless dude?" Then somebody else wrote me into another episode, and then someone else wrote me in, and I figured Tina [Fey] would be like, "Enough with the homeless dude." But there were more! It's nice to have people thinking of you and writing for you.
8. I got Edinburgh [the Fringe Festival] after I did Melbourne [the Comedy Festival]. Edinburgh is such a different experience, because you're doing an hour every night for a month with no opening act. It made me really strong; I came back to do shows in the States, 15 minutes would go by, and I'd think, Oh, I'm getting the light already?

9. It was good to be on 30 Rock for a year, but I wanted to focus on stand-up and touring and becoming a better comedian. I toured after we wrapped 30 Rock last March until December, when I shot [a forthcoming hour-long Comedy Central special]. I toured so hard and my show was tight. The jokes have been polished and rewritten; if people don't like it, it's because they don't like me.

10. The Eric Andre Show is going to be crazy. We shot the pilot in an abandoned bodega in Bushwick and I didn't think it was going to be anything. But then Adult Swim ordered ten episodes. I'm in every episode, interviewing guests with [Andre], improvising most of it. Sometimes I'm the straight man, but it depends on how the guests feel about us—he's a maniac.

11. When people see your face on the posters, it's a big deal. I'm excited—[headlining Carolines] is a New York comedy milestone.

Hannibal Buress plays Carolines Thu 12–Sun 15.