Heads up! We're working hard to be accurate – but these are unusual times, so please always check before heading out.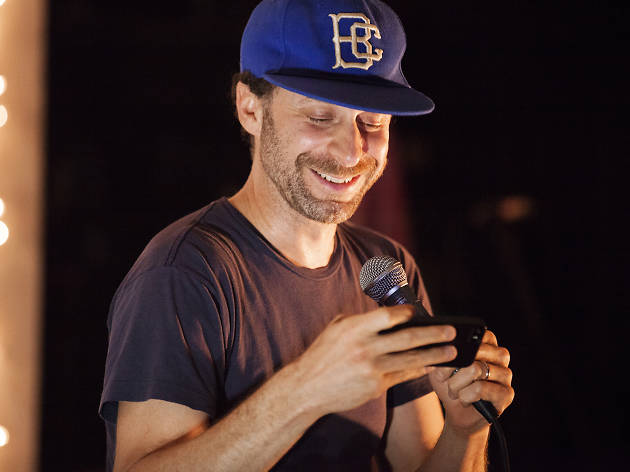 Jon Glaser on playing jerks and the new season of Neon Joe
Jon Glaser talks Jon Glaser Loves Gear and his insanely funny Adult Swim show Neon Joe: Werewolf Hunter
When Jon Glaser first told Jimmy Fallon on The Tonight Show about his new project Neon Joe, Werewolf Hunter, he was joking; there was no TV show about a tattooed werewolf slayer. But when Adult Swim called his bluff, the series became a reality. Now the very funny New Yorker—recognizable as Girls' Laird and Parks and Recreation's Jeremy Jamm—is preparing for Neon Joe's second-season premiere on May 22. Before hitting the Bell House on May 19 for a free screening party and comedy show, the goofy genius talks to us about being immortalized in comic books and playing a jerk.
You introduced Neon Joe on The Tonight Show Starring Jimmy Fallon and played a version of your Delocated character on Conan before making it a series. Will your next character also debut on a late-night talk show?
If I get to keep making TV shows based off arbitrary jokes, that'd be awesome. I should go on Fallon and just make another stupid joke and see if a TV show happens. I think if I came up with something like Deep Space Johnny and Baloney 6, we could figure out the rest.
With the second season of Neon Joe, it seems like you're really adding to the show's mythology.
One of the things that I really like about the season is that it's very, very different from the last season. The look is different, the cast is different, the whole tone is different. But there's the same stupidity.
DC Comics adapted Neon Joe into a comic book. What is it like seeing yourself in ink?
They make you look cool, they make you look tough. They gave me ripped muscles, and I look like a competent badass who can win in a fight, as opposed to a skinny weakling who would be destroyed. But seeing yourself as a superhero, aside from the narcissistic joy of "I look amazing," is also just cool visually.
What interests you in playing these overconfident jerk characters like Delocated's Jon and Neon Joe?
I love playing a high-status asshole, or somebody who views themselves as high status, when really they're just incompetent and dumb. You get to write a lot of really good-slash-annoying lines to say. It's fun playing the confident loser—the smug asshole. You get to say stupid shit, and there are no repercussions for it. It's all fiction.
But what about when you appear as yourself on Jon Glaser Loves Gear?
Oh, yeah, playing an asshole version of myself is very strange. It's already cutting way too close. Even when I was editing Delocated, one of the editors said to me, "It's a good thing you're married." And I said, "Why? Because I play an asshole character and no one would want to date me because they think I'm an asshole?" And she was like, "Yeah. Kind of!"
See the show!
Join the delightfully off Jon Glaser and show director John Lee for this special screening of the bizarre new season of Neon Joe: Werewolf Hunter. After the episodes, join a Q&A with Glaser and grab giveaways, including Neon Joe comics from DC.
Looking for more comedy shows?
Sure, you could stay home and watch the best stand-up comedians' specials, or you could head out to the best comedy clubs in NYC and see some world-class performances in person. Below you'll find our picks of the absolute best shows happening this month, from improv to open mic nights and everything in-between.