Heads up! We're working hard to be accurate – but these are unusual times, so please always check before heading out.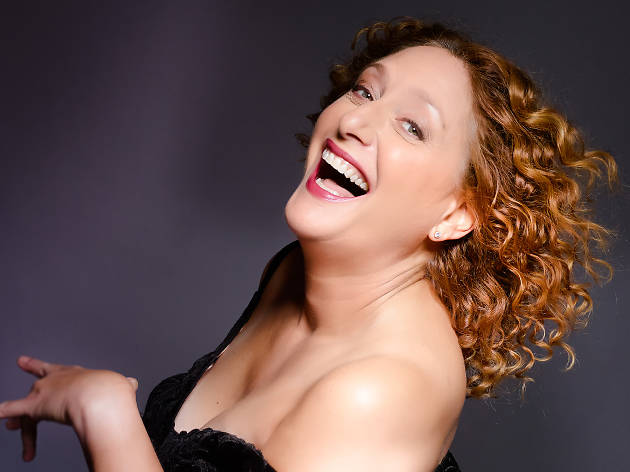 Judy Gold talks Trump, Hanukkah and 2017
Before her Merry Hanukkah show at Carolines, the stand-up and Search Party actor shares her opinions on politics
We as New Yorkers have a way of making our voices heard. And no one is more outspoken than Judy Gold, whether she's skewering politicians on Twitter or onstage. After a year of appearances on Broad City, Search Party and more of our favorite TV shows, Gold is wrapping up 2016 with her Hanukkah show Merry Hanukkah at Carolines from Thursday December 22 to Saturday December 24. Before she the show, the very funny New Yorker shared some opinions with us.
What is pissing you off today?
You know what's pissing me off? It's that that idiot is going to be President! He is probably the only native New Yorker who has never been to therapy, and he needs it more than anyone I've ever met. And I hang out with comics, okay? That fucking asshole, get out of New York!
It's been crazy to see how he engages with comedians like Rosie O'Donnell.
She's a comic. And comics say shit about people in the news. We're social commentators. So grow a set of balls that someone can grab, you fucking asshole. He must have the tiniest.… I don't know that much about penises, but his is inverted. And Mike Pence going to see Hamilton when the lead [Javier Muñoz] is HIV positive, and he wants to take all the money for HIV and AIDS and put it toward gay conversion therapy! Apparently [the therapy] worked so well for Mike Pence that he wants to fund it.
Have you seen your audience shift?
It's interesting because there's now this backstage thing of: "I just want you to know that there are some people from the Third Reich here who have found you funny in the past, so be careful." It's ridiculous!
Does that worry you?
I don't really worry anymore, because I've been doing this so fucking long, and both of my parents are dead. So I've been through enough. You're not going to have any control over me.
Can comedy help people deal with a shock like this?
Humor is the most palatable way to get a point across, even if it's a subversive point or it opposes someone's beliefs. The thing that makes me less petrified is when I turn on the TV and see that there are other people who feel the same way with a voice and a platform. That they can artistically entertain us, and at the same time, say fuck you to it.
Do you think you can get back the fans you've lost due to political division?
I don't know. I've never seen it like this. You know how many friendships it's broken up? Here's what it's like: I'm a gay person. And for my entire twenties and thirties I fought for marriage equality and AIDS [healthcare] funding. It was a very hard time for Gay people. And we fought and fought and we've come an incredibly long way. And now I feel like people who aren't a minority have an inkling of what it feels like to be shoved aside with no dignity. That's just the first time. We've gotta get angry. Where's the rage from us? We can be angry too! I don't want to be as offensive as he is, because he's the lowest common denominator. But someone needs to say: look you fucking asshole, this is wrong!
As a gay, middle-aged Jewish woman, do you fear that you won't be appreciated by broader audiences?
Funny is funny. I've made plenty of older white male guys who were Trump supporters laugh. I've been doing this more than half of my life, since I was 19. I have a skill—and that's it.
What do you have cooking for 2017? You were on every show geared toward twentysomethings this year.
And finally people are going to say, "Wow, these twentysomethings love her. We should give her a fucking comedy special because she's so fucking funny and does stand-up four times a week." Thank you. I do it more than that, but whatever. I want to be a regular on a show. And I want to laugh. We need more laughter. It's so depressing, isn't it? [Laughs].
Have you gotten a lot of blowback on twitter since the election?
I get unbelievable tweets – someone wrote: "they should have a second Holocaust just for you." And I was like: "you're going to kill all those people just to kill me?" So now I can say whatever the fuck I want, because that motherfucker says whatever he wants. You better come to this show!
Merry Hanukkah with Judy Gold is at Carolines Thu 22 at 7:30pm and Fri 23 and Sat 24 at 10pm. $32.
See the show!
The ferocious and fearless stand-up returns to Carolines for her annual Hanukkah show, which is guaranteed to be stacked with celebrity takedowns, Jewish satire and Trump takedowns. There's no better way to end your year.