Heads up! We're working hard to be accurate – but these are unusual times, so please always check before heading out.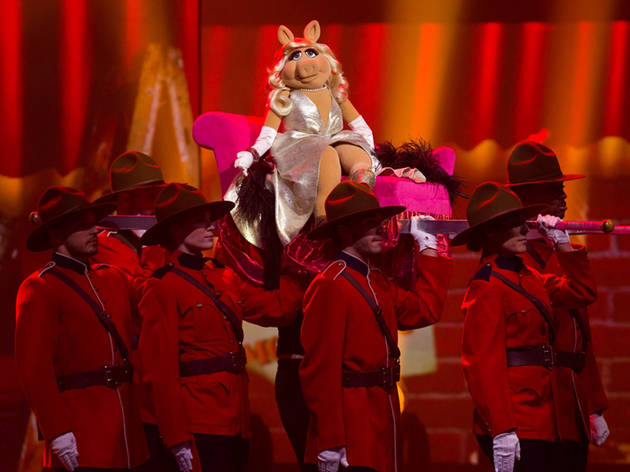 Just for Laughs 2012 wrap-up
The sprawling 30th anniversary of the festival offers family-friendly fare, crass nastiness and everything in between.
A look at the schedule for the English week of Just for Laughs, which celebrated its 30th year in 2012, revealed a banquet of events that offered funny business for just about any taste. There were shows featuring superstars and as-yet unrepresented comics alike; comedy both filthy and family-friendly; podcast tapings and film screenings; and events in venues ranging from concert halls to strip clubs. With only four days and two legs, TONY took in as much of it as we possibly could. What follow are some of our favorite moments from the weekend.

Most transporting
It's hard to overstate the degree of unexpected, childlike delight we felt at the opening of a televised gala hosted by the Muppets. Once the curtain rose and Kermit et al. started singing their theme song on a facsimile of the original Muppet Show set, we suspect that anyone who didn't look like a starry-eyed 12-year-old had probably just keeled over from a poutine-induced heart attack (much like the Swedish Chef did later in the show).

Best reemergence
We've seen Chappelle's Show cocreator Neal Brennan kill in small rooms here in New York, but it was exciting to see him in Montreal firing on all cylinders. (Not to mention that the night we caught his Midnight Surprise show, his cast—including Jerrod Carmichael, Chelsea Peretti and Tommy Johnagin—all did great.) It prompts the question: Why don't we see Brennan headlining NYC's big clubs?

Most intriguing proposal
After last year's keynote address from Marc Maron, a fiery kiss-off to a comedy industry that had never truly embraced him, Patton Oswalt's conciliatory speech—which encouraged comics to utilize technology to create on their own terms, and tastemakers to become "fans" rather than "gatekeepers" to avoid being left behind—offered a utopian middle ground. Given that Maron's WTF is now on NPR and he's currently making a show for IFC, there would seem to be room for compromise on both sides.

Best upstaging
Before Andy Kindler gave his annual "State of the Industry" speech, James Adomiantook the stage—as Andy Kindler. In his animated performance, he nailed the lifer comic's twitchy self-consciousness and elliptical, highbrow references so well that Kindler himself kept lapsing into Adomian's impression of him. Witness one of Adomian's running gags: "Am I right? Am I wrong? Am I a third conclusion?"

Best reunion
At the infamous Nasty Show, longtime guest Mike Wilmot had his family in the audience, apparently for the first time. As he began to simulate performing cunnilingus on his wife, he paused, revealing just a hint of vulnerability as he confessed how hard it was to do in full view of his kids. "They're fine," he said, waving it off. "They have kids."

Most portentous exit
One night at about 3am, a young woman was hauled out of the hotel bar by bouncers, struggling and hollering about rights for Guatemalans. A bunch of comics, including Aziz Ansari and Joe Mande, tromped after her and hovered around the ongoing train wreck with their camera phones. Don't civilians know it's in their best interest to maintain sobriety around several hundred comics if they'd rather not become an Internet meme?
Best latecomer welcome
When a white teenager arrived late to a live set from sketch duo Key & Peele, the two were ready to pronounce him an "honorary black man" for being tardy and talking on the phone at the same time. When the kid confessed he was on the line with his dad, Jordan Peele rescinded the invitation: "Oh, well, that's not black; we have no idea where our dads are."

Best of the New Faces
Half of the stand-ups performing in these young-talent showcases were New Yorkers, so (unfairly to them) we felt at times like we were in a Brooklyn bar. Still, it's worth noting that Jared Logan destroyed with a precision that made it clear he should have been in New Faces three years ago. Of those we'd never seen before, we really enjoyed Brent Morin's focused observations and Junior Stopka's unique, unglued perspective.

Best deconstructive bit
While pretending to be a representative of the festival at the Paul F. Tompkins and the Hilarious Trinity (Plus One) show , Canadian stand-up and sketch star Mark Littledonned a track jacket and a big, fake mustache to defend the overtly colloquial, ubiquitous preshow announcement mentioning, among other things, that recording the show would be "kind of a dick move." According to Little's fictional fest rep, he only wrote the intro to connect with his verbally abusive son, who's always saying things to his mother like, "Pass the salt and suck a ball."

Most deserved admonition
During Ari Shaffir's late-night storytelling show about inebriation, Sean Patton told a bizarre tale concerning a potential one-night stand. She began smoking crack while they watched a video of her with a roman candle in her vagina, firing its contents at a dozen onlookers all dressed as Casper the Friendly Ghost. After little more than a muted giggle from the crowd, Patton rightly announced, "That was a reeeally pedestrian response, Montreal."

Best sets
Though no one show blew us away from start to finish, there were plenty of great performances (Patton Oswalt), evidence of comics growing (Amy Schumer) and fun solo shows (Sam Simmons). The range of tones on display—despite our rather white-male-heavy wrap-up—was a testament to the programmers; in the years ahead, we can only hope for even more international fare, more women, and maybe eight legs to carry us to their shows. You might also like See more in Comedy
You might also like
See more in Comedy