Kathy Griffin chats about New York celebrities
Stand-up comedian Kathy Griffin dishes about Donald Trump, Taylor Swift, Suze Orman and Anderson Cooper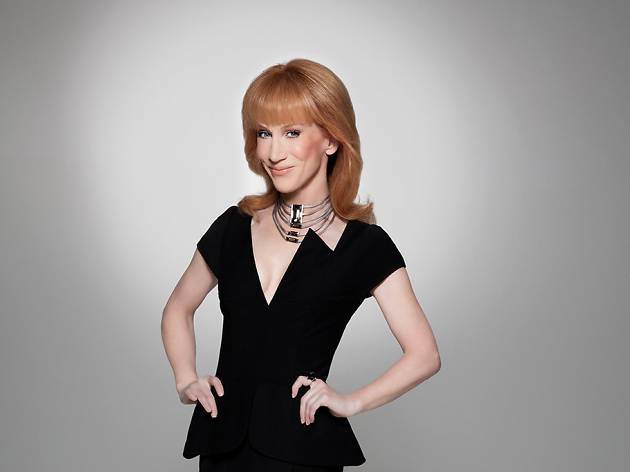 Kathy Griffin is both the fastest-talking and hardest-working woman in comedy. The Grammy- and Emmy-winning comedian, who has had a record-breaking 20 televised stand-up specials, is making a stop at Carnegie Hall for the New York Comedy Festival. During her 80-city "Like A Boss" tour, Griffin is delivering the goods that made her famous: juicy celebrity gossip that's as funny as it is outrageous. Griffin never writes down her complete sets that dish on her L.A. neighbors, but chooses her dozen-jokes-per-minute material based on whatever struck her earlier that day. That means when she takes the stage at Carnegie Hall (and we'd be remiss if we didn't mention that she's one of only five female comedians to ever perform there), Gotham and its celebs will be on her mind. Kathy chatted with us about some of her favorite—and least favorite—New Yorkers.

RECOMMENDED: See all New York Comedy Festival coverage.
I love her and do whatever she says. Look, I'm ready for Hillary, don't get it twisted, but my dream ticket is Hillary Clinton/Suze Orman. That's how we turn this country around, dammit! That's how everything is taken care of across the board. I've been trying to convince Hillary and Suze to run together. We take away the job of vice president altogether and we have the first female copresidency. Think about the way the Coen brothers direct many Academy Award–winning films; we have the first female copresidency, and there you go: Boom!
Of course, I'm planning on seeing Anderson! I've been known to show up at the CNN studio. The security at CNN knows that when Mrs. Kathy—and yes, I refer to myself in the third person—when Mrs. Kathy comes through, Anderson has about a 20-second warning. I've barged in on him many times.
Do you get that President-elect Donald Trump is the new Amanda Bynes? Remember when she was melting down and someone would tweet something about her and she would just go, "You're ugly." Trump is no different. God forbid you criticize him in anyway; he'll just call you ugly. Congratulations, you're the Amanda Bynes of the Republican party.
I love Taylor Swift, and I'll tell you why: I texted Lena Dunham yesterday, because they're friends, and I said, "I love going for your pal, Taylor, because she clearly hates me, and she doesn't find me one bit amusing." Yet I'm a little bit on a mission to become friends with her this year, because I really do admire her; I just think she doesn't know what's funny about her. As a 54-year-old stand-up comedian who has been duking it out in the world of male-driven comedy, I just find it amusing that Taylor—who doesn't even have to be on Spotify if she doesn't feel like it because she's so rich and successful and beautiful—writes songs about her struggle. There's not a lot for her to shake off. She is in my act, and she's not happy about it, but that's the way it has to be.
See the show!
The Emmy-winning Bravo reality show My Life on the D-List helped bump Griffin's celeb status to, say, a B—and the end of the series hasn't slowed down this shameless spitfire. She cranks out chatty and gossipy stand-up specials at a ridiculous rate and pops up anywhere she can embarrass Anderson Cooper.