Heads up! We're working hard to be accurate – but these are unusual times, so please always check before heading out.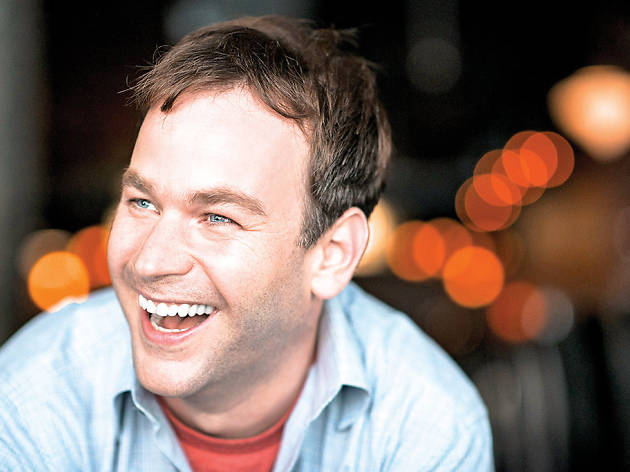 Mike Birbiglia talks Trainwreck and Orange Is The New Black
It looks like it's finally the summer of Mike, although the stand-up and actor remains unconvinced
It's a busy time for Mike Birbiglia. The stand-up—whose special My Girlfriend's Boyfriend made our list of the best stand-up comedy on Netflix right now—is completing a 100-city tour of the country while starring in the new season of Orange Is The New Black and Amy Schumer vehicle Trainwreck, along with its accompanying stand-up tour. So does he finally feel like he's made it?

You have so much going on over the next few months. Is this the summer of Mike?
I don't know. I feel like I've been told it's going to be for about 10 years but it never happens. It's wild, I'm directing my second film, I just had a short role in Gillian Robespierre and Jenny Slate's pilot for FX, but let me assure you, I've been told again and again, it'll be the year of Mike, the summer of Mike, the fall of Mike, and it never ever happens.

The fall of Mike doesn't sound as good.
[Laughs] Yeah, that has happened.

Will you know when it is the summer of Mike? Or will it be something you realize five years later?
I think that's the only way you could experience something like that. It is the year of Amy Schumer, without a doubt. There's no way you can read a magazine or surf the web without finding Amy Schumer there and having an opinion. That's how it becomes the year of someone, when they create so many things simultaneously that you can't have a conversation at a party without someone weighing in on that person. Louis C.K. became that five years ago, Lena Dunham had that two or three years ago. It's a fascinating phenomenon and something very few people ever attain in show business period.

What was it like to be cast in the new season of Orange Is The New Black?
I've had the weirdest experience—when I was cast in that show, it was literally on the CNN homepage. My mom called me, saying, "You're on CNN!" It was really thrilling to work on a show that I've seen every episode of and that my wife is obsessed with. When people found out I was going to be on the show, literally half of them would go, "Oh, so I guess you're a prisoner on the show?" That was the running joke. But it's a nice group of people, some great working actors. It's a cool bunch of people and it's so well written.

You're taking part in the Trainwreck tour: You, Amy Schumer, Judd Apatow, Colin Quinn, Vanessa Bayer and Dave Attell walk into a bar. What happens next?
That's a really good question, but I don't know! I'm assuming we're all going to get along, that's my dream. The lineup is almost too good to be true, so I'm just going to try to shut up as much as possible socially and try to take it in.

What's Judd Apatow's stand-up like these days?
It's really good! It's very personal, it's very him—he's a very neurotic guy who overthinks everything.

You're finishing a 100-city tour right now, how far through are you?
Last year I did 80 cities of the 100, it looks like I'll end up doing the final 20 in the first half of 2015 and then bringing the show to an Off-Broadway theater and filming it for a special.

Are you sure you'll have it honed enough by then?
I am! I actually have an ongoing argument with my agent about that. He wanted me to shoot my next special before directing the movie, but I'm like, it doesn't work that way! Comics should consider spending four or five years on their specials. People think that because Louis C.K. makes a special every year that everybody should make a special every year, and in my experience, yeah, everyone can make a shitty special every year [Laughs] and Louis can make a great special every year. When Seinfeld released I'm Telling You For The Last Time, that was 20 years of preparation! He just honed that hour for years and I would put that head to head with anyone's hour, ever, in comedy.
See the show!
With the release of her Judd Apatow–directed movie, Trainwreck, just weeks away, the hilarious Inside Amy Schumer star brings together comedians from the film and Apatow himself to perform stand-up as part of this promotional tour. The lineup includes Mike Birbiglia, Colin Quinn and Dave Attell.