Heads up! We're working hard to be accurate – but these are unusual times, so please always check before heading out.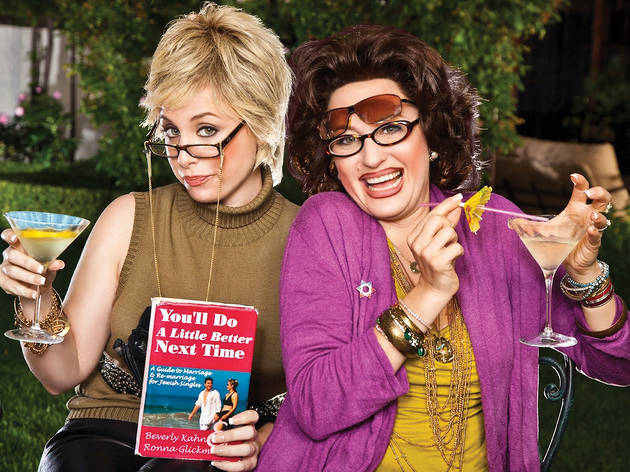 Podcast queens Ronna and Beverly on doing NYC in style
Ahead of their show, comedy's most notorious and sassy Jewish mothers share their plans for a classy trip to the city
Podcast addicts have worshipped the wisdom of Ronna and Beverly—the demented alter egos of Jessica Chaffin and Jamie Denbo, respectively—since 2011. Before they take the stage on Thursday, June 16, with Julie Klausner, Ellie Kemper and other guests, the ladies shared tips for bringing their Marblehead, Massachusetts, elegance to the Big Apple.
Brunch!
Ronna: "If it's a Monday and Barney Greengrass is closed, I go to Sarabeth's on Central Park South or Café Sabarsky at Ronald S. Lauder's (son of Estée, excuse me) Neue Galerie. It's a Viennese patisserie, and I insist: [It] absolutely transports you to Vienna circa 1900. I swear to God, Sigmund Freud was sitting next to me last time I was there."
Beverly: "First, I hit the continental breakfast spread at the Marriott Marquis in Times Square by claiming that I'm staying there (which I am not). Then I head down to Canal Street to stock up on knockoff Chanel bags and Gucci wallets. I then stroll through Little Italy clutching my purchases as if they will be yanked by a 'street rat' at any moment. After eating a cannoli, I become disoriented and ask a man who looks JUST like Tony Soprano for assistance getting a cab to my hotel. I go to my room, take four Xanax, nap restlessly for an hour and then wait for Ronna, ready for whatever the afternoon brings."
The theater!
Beverly: "My favorite show is The Color Purple because Oprah was in the movie, which I proudly tell everyone in line at TKTS. I can't get tickets to Hamilton (Ronna and her son Jordan are seeing it this weekend for the fifth time!), so I decide it must be overrated and who cares? Nothing will ever top Les Miz anyway."
Ronna's son Jordan
Ronna: "He's fantastic. He's going to be a senior at Tisch next year and really hitting his stride. He's decided to stay in the city. He had to turn down shadowing on the set of Billions, because excuse me, he's developing digital content for Kanye West's sneaker line.
Hotels!
Ronna: "I'm coming in a day early to meet up with Elaine for a few meals and a private tour of the Frick Collection; I'll be at The Lowell on 63rd between Park and Madison. After Beverly arrives for the shows it'll become more of a downtown trip, so I'll check into the Greenwich, where I'll begin my stay with a rub-down at the Shibui Spa to reorient myself. I hope to run into Bob DeNiro at the bar. He's always so nice."
Beverly: "I found a 'boutique' hotel near Times Square on Expedia with reviews like 'an OK stay' and 'great location, but…' I spent several hours complaining to the manager that it looked bigger' online and somehow secured myself an additional 15% discount. The toilet is broken, but there's a Starbucks on the corner."
Ronna and Beverly are at the Bell House Thursday, June 16 at 7:30pm and 10pm; and at the Greene Space Friday, June 17 at 7:00pm.
Interested in more comedy?
Whether you're looking for stand-up, improv, free shows or anything else in the world of New York comedy, you've come to the right place