Rapper and comedian Jean Grae spits jokes at Union Hall
If it's not careful, hip-hop just may lose one of its best MCs to the world of punch lines and Web series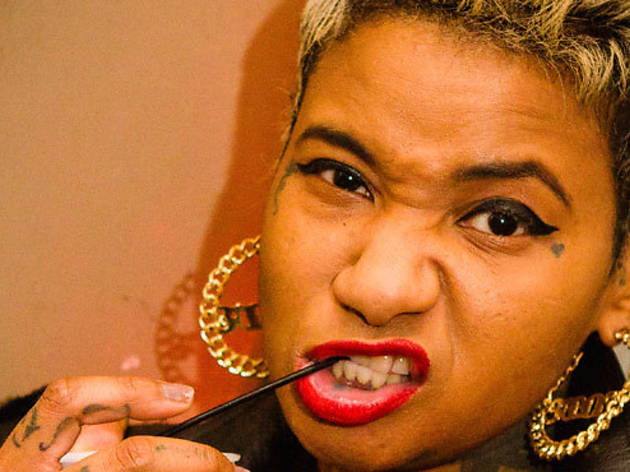 hip-hop
phenom Jean Grae is funny, but it's become evident that the warm, self-effacing underground star can act and tell
jokes
, too. Comedy lovers should thank their lucky stars: If she had been carried off by mainstream rap success by now, no one would know that she's also a comedian.
Grae's songs, dense with allusions and delivered with playful precision, prove she can write clever lines and make them pop. Even if you've never heard her music, some album titles (
Attack of the Attacking Things
) give an idea of her sense of humor, while others out her as a well-versed stand-up fan—her mixtape Cookies or Comas is a spin on the famous
Eddie Izzard
bit "Cake or Death."
Disillusionment with the rap industry has been creeping into Grae's work for years; to extrapolate one of her recent tweets, she now gives "minus pi fucks" about working within the confines of the music business. In addition to self-releasing EPs on her website, Grae edits her own videos, produced a reflective audio-essay collection (
The State of Eh
) and created a loose, charming Web series (
Life with Jeannie
). And she's a demon on Twitter ("If you haven't sat down and told your audience that you've ripped your leggings open in the ass area, you haven't lived. I have lived").
In the last year, Grae has been pushing personal boundaries onstage: She hosts her own interview show, the White Hot Room; participated in the recent recording of
The Thrilling Adventure
Hour at The Town Hall; and makes the rounds at comedy showcases such as Wyatt Cenac's Night Train. What succeeds in her music—her revealing honesty, relatable persona and switchblade-sharp wit—translates perfectly to live appearances, making it clear she's just begun to tap her potential. Let the hip-hop mainstream have its Iggy Azalea; we'll take Jean Grae.
The White Hot Room with Jean Grae plays Union Hall on Fri 23.