Heads up! We're working hard to be accurate – but these are unusual times, so please always check before heading out.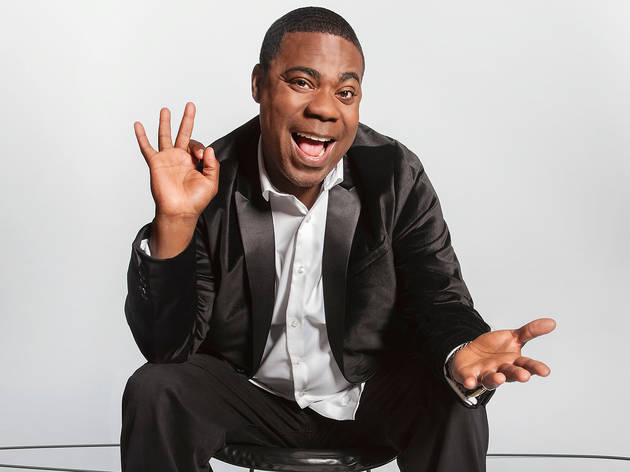 Tracy Morgan on his journey back to life
The hilarious comic tells us about his triumphant return to comedy, his new material and what it's like to face your maker
After surviving a horrific car crash on the New Jersey Turnpike in 2014, Tracy Morgan, fresh off a comedy tour, takes the stage at Carolines this week. The star of 30 Rock, one of the best comedy TV shows of all time, tells us why he's been crying, where he is in his recovery and what it's like on "the other side."
What was it like to nearly check out?
It was unbelievable. You have no idea what it was like, and you're lucky. I went to the other side and came back. It was unreal. You have to come see me live for all of the details. I can't tell you that now, but you will find out as long as you come out. You can bank on the most amazing story you'll ever hear.
How has it changed you?
It's changed me a lot. I have a different perspective after going through that. I've been crying. The reason I cry now is that the world lacks love. Love is the strongest thing in the universe. When I came out of that coma, I knew what my duty was. I need to make people happy.
Seven years ago, you invited me to the opening game at the new Yankee Stadium. You had four extra tickets and you said, "We're going to scalp them and take the money and go to a strip club."
I remember that. We were kickin' it! I'm guessing that we're not going to go to the strip club after any Yankees game now. I have my wife and daughter to think about.
You've matured offstage, but you're still about the funny onstage.
Absolutely! It's my outlet. I'm not going to be up there being serious. I'm about making people laugh. I want to make people feel good.
How is your recovery going?
It's been hard, and I'm not fully recovered yet. I still have a way to go, but I'm getting there.
What was it like on the set of "Fist Fight," your first film since the accident?
It was literally like getting back on a bike. I had no issues and I had a great time with everyone. Ice Cube and Charlie Daly are very funny people, who made it easy for me to start this up again.
The long awaited Richard Pryor biopic, ("Richard Pryor: Is It Something I Said?") has finally received the green light. How are you preparing to play Redd Foxx?
I just hope I can do Redd Foxx justice. He was one of the all-time greatest and he inspired me to try comedy. I want to do right by him.
Foxx pushed the envelope and so do you. A couple of years ago you got grief for talking about sex in Columbus.
They said I was too immature in Columbus. I'm talking about sex. I'm in a college town, all teenagers think about is sex. I'm talking about how kids are out of whack. I grew up watching Eddie Murphy joke about Ralph Kramden doing Ed Norton, and it made me laugh. But now everybody is super sensitive. I just don't get it.
When you were growing up in the '80s in the turbulent, hard-scrabble Bronx, wasn't sex your means of escape?
Absolutely. We really didn't have anything. We had sex. We didn't go on trips. We weren't going to Hawaii like the upper class. We had no way to really escape, so we had sex. The lower class has no say, and the guys running the show don't care what the lower class thinks.
No wonder your comedy is free of politics.
I just don't think about it. Maybe it has something to do with my upbringing. It wasn't part of my world then, and it's not now. People ask me about President Obama and that's not my thing. Yes, I know he's black, but he's off of my radar. I'm not a political comedian, and it's okay.
During past interviews you would talk about how important your Uncle Fatty Love was. What do you remember about him taking you to Yankees games during the 'Bronx is Burning' days?
That was a huge highlight for me. There was nobody like Fatty Love. He was so good to me. The Yankees were right across the street from me, but they were a world away.
Tracy Morgan is at Carolines on Broadway Friday, June 3 at 7:30 and 10pm and Saturday, June 4 at 11pm.
Looking for more of the city's best comedy?
Whether you're looking for stand-up, improv, free shows or anything else in the world of New York comedy, you've come to the right place