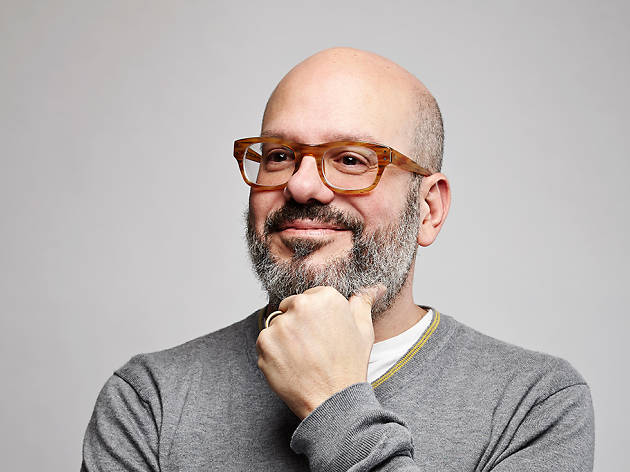 We talked to comedian David Cross about his new stand-up tour
David Cross takes a break from TV to travel the nation and make people laugh with Making America Great Again
Though probably best known for acting on some great comedy TV shows, as Tobias Fünke on Arrested Development or his subversive characters on Mr. Show with Bob and David, David Cross delivers brutal honesty as a stand-up. On his current tour, Making America Great Again (take that, Trump), the Dumbo resident and Georgia native doesn't shy away from controversial topics (atheism, presidential candidates and America's decline being a few), yet still delivers observational comedy at its finest. We talked with him about Brooklyn's best comedy clubs and why people walk out of his shows.

It's been a few years since your last stand-up tour. Is this show similar to your past work?
I think contentwise it's quite similar to a lot of the stuff I've done. Roughly a third of it is silly, pun-based wordplay jokes, and then roughly a third of it is topical and political, wherein I talk about gun control or religion, and that stuff tends to be a little harsher; and then a third is anecdotal, like something that happened when I went to visit my family. It's not that it's some kind of formula that I try to achieve—it just kind of shakes out that way when I'm putting stuff together. I have so much material, and I [can identify], Okay, that's enough silly stuff at this point, let's see if there's something a little more substantial and shocking. And then I also know, Okay, you've pushed it quite a bit; now it's time to dial it back to the fun stuff that everyone is going to enjoy.

I hear you get walkouts with your political material [especially on gun control].
Oh, yeah, every single show. Not a lot, but a handful here and there, which I regret onstage sometimes, but I doubt that will happen in New York. I think there's a number of people who, even though I have eight-plus hours of stand-up to check out, don't know about my stand-up and are like, "Hey! Tobias is in town. I didn't know he sold jokes, it's probably all pratfalls and spoonerisms. Let's go check it out!" And then they're horrified 35 minutes into hearing what I'm saying. I'm preaching to the converted in New York, but when I'm in Lincoln, Nebraska, or Spokane [, Washington], you get a handful of people who thought I was funny in Scary Movie and then go see me.

When in Brooklyn, you do a lot of drop-ins at stand-up shows. Do you have a favorite room?
I really like Wyatt Cenac's show [Night Train] at Littlefield. I also love downstairs at Union Hall and the Bell House. I did UCB a bunch, too, but when I'm in Brooklyn, it's mostly in those places. That's where I did most of my stuff [when] getting ready for [Making America Great Again].

You're in L.A. a lot for work—why not move there?
I've been in New York for 15 years and I lived in the East Village for 11 years and moved to Brooklyn four-and-a-half years ago. You know, my wife is from L.A.—born and bred in Santa Monica—and I don't think she'd have a problem with moving back to L.A., but I really don't want to. I really don't like L.A. It's depressing, and I think it's kind of boring, and I hate the weather, and the people aren't that great. I like my day-to-day in New York much better. I love riding the subway every day, taking the ferry, and I love the weather.
See the show!
Absolutely bizarre, joyfully innocent and hilariously quick, David Cross has made quite an impression on shows like Arrested Development and beyond. The comic returns with his first stand-up special in six years.