Explore dance history at three NYC archives
Dance history: From correspondence by George Balanchine to interviews with Martha Graham, we look at three archives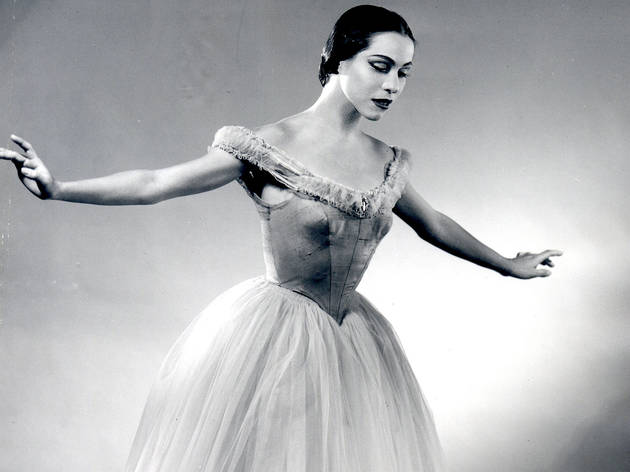 Dance history is alive and well at three New York City archives. Dig into dance history by seeing correspondance by George Balanchine or photos of ballerinas at New York City Ballet. Look at a Labanotation of Serenade at the Dance Notation Bureau. Or listen to an interview with Martha Graham at the Jerome Robbins Dance Division Oral History Archive and Project at the New York Public Library for the Performing Arts.
Dance Notation Bureau
Many dancers learn roles by copying movements from grainy videotapes—or if they're lucky, from a seasoned artist who performed the role in the past. But there's an alternative: A nondescript file room in the Financial District holds the encyclopedic collection of the Dance Notation Bureau, which has translated about 800 works of theatrical and vernacular dance into Labanotation. Invented in 1928 by Hungarian dancer and theorist Rudolf Laban, this written language consists of a series of symbols that indicate the qualities of a movement, from direction to duration. Decoding the writing can be tricky, but the system applies to all movement vocabularies, whether a dance calls for a tendu or a swingout. Since 1940, DNB notators have attended rehearsals and performances to record choreography and verbal cues, which are used to compose a score that resembles a piece of music. "A five-minute piece can take up to two months to notate," says Mei-Chen Lu, the archive's director of library services. The collection contains notations of works by Doris Humphrey, Martha Graham, Antony Tudor and William Forsythe, to name just a few. Notators are currently collaborating with Mark Morris to score a yet-to-be-titled work set to Carl Maria von Weber's Grand Duo Concertant (Op. 48) that will premiere in April at the Mark Morris Dance Center. The archive is open to the public; call ahead so that librarians can track down the notation that you want to see. 111 John St between Cliff and Pearl Sts, suite 704 (212-571-7011, dancenotation.org)
New York City Ballet Archives
"I'm a bit of a junkie for the '30s black-and-white photography," says NYCB archivist Erin Hestvik. The company's massive archive has no shortage of swoonworthy photos, including performance shots and more intimate ephemera—check out glamorous modeling pictures from the personal collection of Tanaquil Le Clercq, one of Balanchine's fabled muses (and his polio-stricken fourth wife). Of course, there's also a lot pertaining to Mr. B. himself, including correspondence, performance programs and an honorary doctoral robe he wore at a commencement ceremony. Other standouts include sumptuous ensembles by couturier Barbara Karinska, who designed costumes for more than 75 ballets during her four decades with the company. She pioneered bias-cut bodices and powder-puff tutus, which allowed dancers new flexibility of movement. Most of the elaborate getups are stashed off-site in a climate-controlled unit shared with the Metropolitan Opera, but you might catch a glimpse of Darci Kistler's Diamonds costume from Balanchine's Jewels or a Don Quixote dress once worn by Suzanne Farrell. The archives are viewable by appointment only, but the company also displays new and historic photos on various levels of the David H. Koch Theater. Various locations; contact NYCB for more information (212-870-5570, nycballet.com)

Jerome Robbins Dance Division Oral History Archive and Project at the New York Public Library for the Performing Arts
You're probably familiar with Martha Graham's razor-sharp cheekbones and angular contractions, but you might not recognize her voice. Since 1974, the dance division's Oral History Archive has preserved and recorded hundreds of interviews with choreographers, writers, production staffers and performers, from Graham and Gene Kelly to the belly dancer Morocco. During the '80s and '90s, interviewers collected narratives from dancers and choreographers battling HIV and AIDS, including choreographer Arnie Zane and former Joffrey Ballet principal dancer Burton Taylor. Other gems in the collection include Ruth St. Denis chatting on a 1964 radio broadcast about the influence of Hindu temple dances on her work. The oral histories are just one portion of the Library's huge collection of dance materials, which includes more than 42,000 books and 1 million manuscripts, but these recordings give voice to a silent art form, offering listeners a rare chance to discover the stories that unfolded both onstage and off. No appointment is necessary; just head to listening stations on the library's third floor (transcripts are also available). Can't make it to the library? Starting September 1, select audio and video clips will be accessible online. "These three-to-five-minute excerpts are an opportunity to give people a taste of the collection," says Susan Kraft, the dance division's Oral History coordinator. Some clips will be culled from the Speaking of Dance Project, which focuses on artistic interpretation and includes interviews with dancers Wendy Whelan and Ethan Stiefel, and critic Alastair Macaulay. 40 Lincoln Center Plaza at 66th St (212-870-1657, nypl.org)
You might also like
Michael Novak is on the rise at Paul Taylor Dance Company
Leah Morrison talks about dancing with Trisha Brown
Donna Faye Burchfield discusses her time at Hollins University
See more in Dance
Missing Time Out magazine?
You can still read our latest issue from the comfort of your couch
Read online