Heads up! We're working hard to be accurate – but these are unusual times, so please always check before heading out.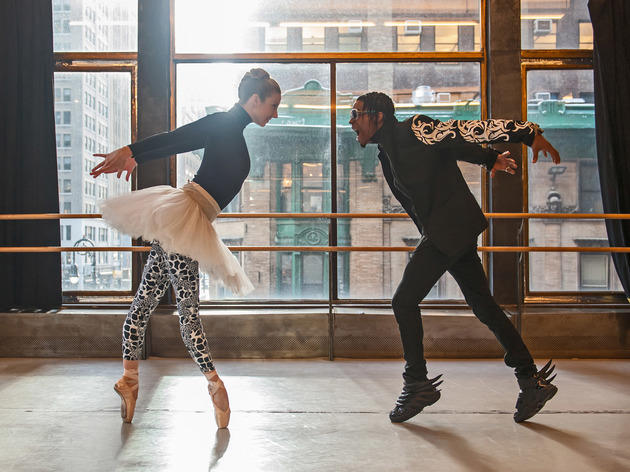 Michele Wiles and Jay Donn talk about their new dance
What happens when ballet and flex meet? Don't miss the collaboration Something Sampled at New York Live Arts.
This season, BalletNext artistic director Michele Wiles is trying something a little different. Or as the flex dancer Jay Donn likes to say, "Jumping off a cliff—no parachute and building the plane on the way down." Wiles, who left her principal-dancer position with American Ballet Theatre four years ago to strike out on her own, is collaborating with Donn and cellist composer Chris Lancaster on the new Something Sampled. Lancaster brought Donn and Wiles together; in the premiere, a group work featuring live music, flex—a fluid, contortionist street dance that originated in Brooklyn—and ballet meet head on, culminating in a battle of the dance forms that transforms into a pas de deux. Who knew a ballerina and a flex dancer could pull off a fish dive?

How did you two meet?
Michele Wiles: One day in Zvi Gotheiner's ballet class, Chris played electric cello. I thought it was the most amazing thing ever. I wanted to collaborate with him. He invited me to Brooklyn to see the show that he was putting together with flex dancers to go to Copenhagen.
Jay Donn: We were going to perform in Denmark, because Chris had put together something for us. That was my first time choreographing flex dances for dancers outside of my crew, Ringmasters. Michele saw the piece we were putting together.

What did you think?
Wiles: I was completely blown away by the energy and the passion to dance and was particularly blown away by Jay's leadership and choreographic skills and theatricality. We were coming up on a three-week residency at Kaatsbaan, so I asked Chris if Jay would be interested in collaborating with us on a group piece. At the time, I had no idea what that was going to be. For me, it was just going to be an experiment of getting everyone in the room and throwing out ideas and building a relationship.

How did it go in the studio the first time?
Donn: I arrive at Kaatsbaan. I've never spoken to Michele before. We were running through Chris. When I arrived, she was already in rehearsals with [choreographer] Peter Quanz. I was in a room with just three girls and Chris. That's it. No one said anything. Chris was setting up his cello. I see these three beautiful girls. They're pinning up their hair and putting on their shoes, but this lasts for a good 15 minutes, and I'm wondering, What's going on? What am I supposed to do? It dawned on me to do what I do best. I like to create new things. I'm like, I guess my whole purpose to be here is to be a choreographer. I didn't even think that I was going to be a dancer. When two hours was over, I had a five-minute piece. Michele and Peter came in and in that two hours, they had a minute piece. I was amazed, but really hurt—now I know [what I made that day] was a great thing. But I didn't know what pirouettes were and I don't know the terminology for ballet. So when Peter and Michele came with their one-minute piece, it hurt me because I knew that he took a lot of time and it was really technical. I knew technique-wise, I wasn't there yet. I was mentally breaking myself down. I think I do that a lot as a creator.

But hadn't you accomplished more?
Donn: Yes and no. I didn't know how technical my stuff was. I just looked at it as, What do I do in this time period? If this was a show, right there on the spot, we would have had a five-minute piece, but this was not that world. This is a world where everything is broken down.
Wiles: It's a different approach. When I would listen to Jay explain the piece that he had just choreographed, it was all in these images. It was all big-picture thinking without the absolute ballet—after that was done, we came in and filled in the blanks with the dancers. I've never worked that way. It's fascinating.
Donn: I don't have the knowledge, I just know the imagination side of it.

Why didn't Jay know he was meant to choreograph?
Wiles: Because I didn't know Chris or Jay very well, I wanted to leave it free, because I knew that these guys were extremely creative, and I wanted to learn from working. I wanted them to know that I trusted their expertise and their knowledge. I wanted to take that in.
Donn: That's the truth. It took until probably the fifth day when they were like, "You know you can dance—you can be in this." [Laughs] I had no clue. I thought the purpose of me being up there was not to choreograph, but to share dancing. Like the last section of the piece, the duet. I thought it was going to be one of those things.

I'm glad it's more than a duet. Did you plan that?
Wiles: It's very honest and very true to how the collaboration unfolded. It's true to Jay being in the room with the three dancers, because that's how the piece starts and Jay is going to have a part during intermission, and it's going to be bare-bones. No music, no lighting—it introduces people to him.
Donn: This is so you can understand what I'm about.
Wiles: Instead of just putting him in a piece…
Donn: …And showing people, This is flex dancing. Of course, they know ballet, but they don't know what my work is, so it's a sample of what flexing's about.
Wiles: I make an entrance and that's the first time you see a flickering of stage lighting and it's bringing Jay into this room with the three women.
Donn: And it's somehow putting me in a space where, Am I sleeping? Is this a dream? That's why you see me waking up from the floor.
Wiles: I think it was a question of how flex and ballet can exist together, and it's within Jay's fantasy or his experience of coming into this world, which is pretty major. I feel like there's so much—this is the beginning of a lot more that we have to say.

Does the piece change every time?
Donn: When it comes to our duet.
Wiles: Everything else is constructed.
Donn: Our duet is choreographed improv. Who wouldn't want to see a battle? How do we look against each other? And how do we fuse together?
Wiles: One day you said, "I thought you were going to make me dance ballet."
Donn: No joke. I didn't know if I was coming as a flexer. It's never too late. So what it was going to do for me was expand my horizons, give me an open mind, think, How can I combine them? It actually ended up happening right away; I got to learn ballet and choreograph at the same time.
Wiles: You took barre every day. [The warm-up class before rehearsals.]
Donn: They had no idea I was going to take barre. One time we took it, and then I thought that's what I was supposed to do. Michele just kept giving me this smile. I never knew I was making her proud that I was waking up early to come.
Wiles: So the warm-up class became part of the piece. In that section, each time Jay walks by he gives us a touch. He transfers that energy.
Donn: What Michele really doesn't know is that by me touching her or the other dancers, I grab their juice. They're together, they're having class—how could I possibly know their routine? So I kind of steal their juice and they steal mine.

What did you learn in terms of flex?
Wiles: Jay taught us a lot of the arms. It's a style called "connecting," and that's what we're doing in the beginning.

How difficult was it to learn?
Wiles: Oh, God. My hands were shaking.
Donn: It's like yoga. That's what flexing is for me in some ways. Depending on how you do it, it can put you in a mind-state. I don't think any dances give time to breathe; you can simply take your time. It's the only way I feel like you're going to figure out what you're doing when it comes to flexing. You can't just jump into that. When it comes to yoga, you're not even moving anywhere; it's a mind game to stretch even more, not to let your body do it for you.

How did your duet develop?
Wiles: We knew that there needed to be a battle, and when we first jumped in an improv, it was a real battle.
Donn: There was nothing planned. We didn't hold back. We let every move we had in our body go.
Wiles: Then as the process went on, we started to communicate more.
Donn: We knew what we liked about each other. 

Wiles: It was like, Wouldn't it be great if we could mime something or speak to one another and then, what if we actually partner each other—which can be a little complicated because we have different languages, but as the relationship developed the pas de deux developed. It's interesting.

How do you react to Michele during the piece and decide what to do?
Donn: It all depends on how much energy she's pouring out. I will never be surpassed when it comes to energy—I'm only running off of how much she has. If she spins until her bobby pins are flying out, I know I have to do something so amazing—something that you've never seen. After the battle is over, we come back together. I have to then tell myself, This is no longer a battle—I need to look exactly like her twin to get back on board. That's where we're making sure it reads well.
Wiles: We're getting there. We've added a partnering section.
Donn: It's the last thing you expect to see.
Wiles: It's like a new way of doing a pas de deux.
Donn: I have her flexing, so it makes sense that when we come together that I do some type of ballet.
Wiles: I had [New York City Ballet's] Chase Finlay and Zach Catazaro in to rehearse Nutcracker. Jay watched our rehearsals every day and he discovered the triple tour. He did a triple tour.
Donn: If someone had explained it to me, it would have made it more difficult. I just went for it.
Wiles: The other thing I found fascinating about Jay coming into the group was every morning before class, he would walk over and hug everyone. It was this amazing community-building thing that you don't normally get. He came in and was open and supportive and positive.
Donn: It was tough on me coming into a class like that and knowing what they go through. I know their bodies are beat up, man. I beat my body up in so many ways, I destroyed my body, but I did it the way I had to do it in order to get it to be where it is now. Every flexer destroys their body.

You have to break yourself in a sense?
Donn: Yeah. It's not too far off from where she comes from, but I didn't get broken up by a teacher. You do it yourself. That's what I'm doing with them now. All the things that she tells herself she can't do, it's like, Just break yourself up, because you have nobody to break you up anymore. Now you push yourself.

Because Michele isn't in a company?
Donn: She is the company. But you're right—there's no one to tell her what to do. It's another world.
See the show!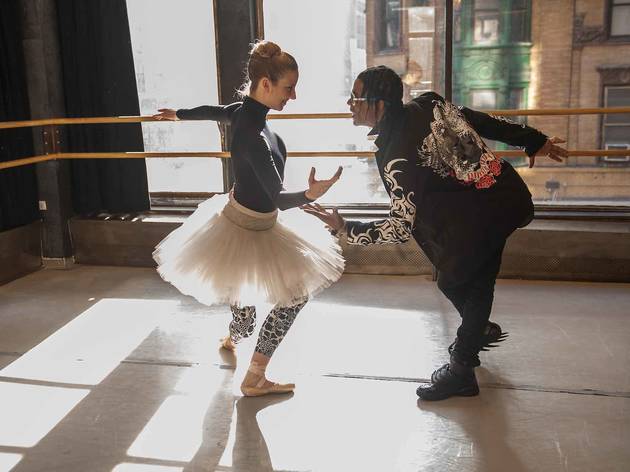 Artistic director Michele Wiles presents "Baroque'd," a program of three new works, set to different takes on Baroque music. Two pieces are by Peter Quanz and Wiles, in her choreographic debut. The program also includes a collaboration among Wiles, the Brooklyn flex dancer Jay Donn and cellist Chris Lancaster.