Heads up! We're working hard to be accurate – but these are unusual times, so please always check before heading out.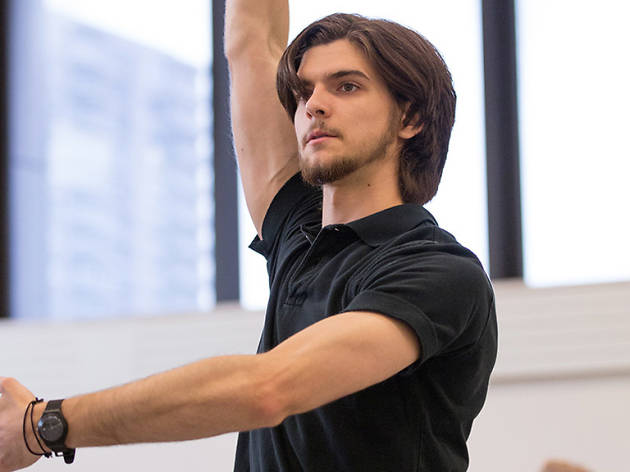 Peter Walker talks about new dance at the School of American Ballet
The New York City Ballet dancer shows off his choreographic finesse at the SAB's Winter Ball
Who knew? New York City Ballet member Peter Walker spends his free time dappling in choreography. For the School of American Ballet's Winter Ball—last year, Silas Farley did the honors—he choreographs Inverno, which is set to a classical-guitar score by Thomas Kikta. Walker, who first got the urge to make new dances by being cast in them at the school (as a student at the School of American Ballet, he appeared in one by Lauren Lovette), isn't close to being done with dancing. "I'm 22," he said, "and I still have a lot of growing to do as a dancer." In advance of the performance, set for March 9 at the David H. Koch Theater (at Lincoln Center), Walker discusses his new work.

How did you choose your music?
Emily Kikta is a dancer in the company, and her father is Thomas Kikta, a classical guitarist and professor I've worked with in the past. During my first summer [choreographic] institute, I had a CD of his music, and there was a snippet that I really liked. I contacted him and he said it was just a thing he wrote for a TV show, but had performed it in a longer version in concert. I ended up using that piece. When I was approached about Winter Ball, the first thing I thought about was live music. I thought it would be exciting. Tom had some time off, and he ended up writing this music, which is the best stuff I've heard him play. It's very sophisticated and deep even as far as counts—there's some crazy stuff going on.

When did you start choreographing?
At the student choreography workshop, which I did my last year at SAB, I did a little pas de deux for Harrison Ball and Chloe Sherman. It ended up that Harrison hurt himself in rehearsal, so I danced in his place. I had also danced in the student workshop before; it was the first exposure I had to dancing new work, and that's what got me thinking about choreography. When I got my apprenticeship, Peter Martins asked me to choreograph for the summer institute. The following summer I was injured, so I asked to do it again. And Emily and I started doing some musical projects and video that bled over to choreography; I've choreographed a couple of videos. We made one in an empty apartment when Emily was in between apartments; it seemed like a shame to waste an empty apartment, so we threw together this little piece. We talked about it Wednesday in class, and her apartment was gone on Sunday. Neither of those would translate to stage, but my steps are in there. Winter Ball is a little different than anything I've done before because the kids are younger than anyone I've ever worked with.

How many dancers are you working with?
I have 10 guys and 19 girls. It's the biggest cast I've ever had. The performance happens on the promenade of the theater.

How is classical guitar and ballet a good fit?
When I listen to orchestral music, all I hear are ballet steps. That's what you grow up seeing and performing and listening to in the classroom. So when I was started, I was always like, I don't want to use to that music—all I see and feel are classroom steps. I wanted to find something that would make me take it out of the box.
See the show!
The school, the training program of New York City Ballet, hosts its annual black-tie dinner dance. The evening includes a performance by SAB's advanced dancers, choreographed by NYCB corps dancer Peter Walker. Artist Rob Wendt draws inspiration from Pop Art and the '70s to decorate the theater's promenade level.