Heads up! We're working hard to be accurate – but these are unusual times, so please always check before heading out.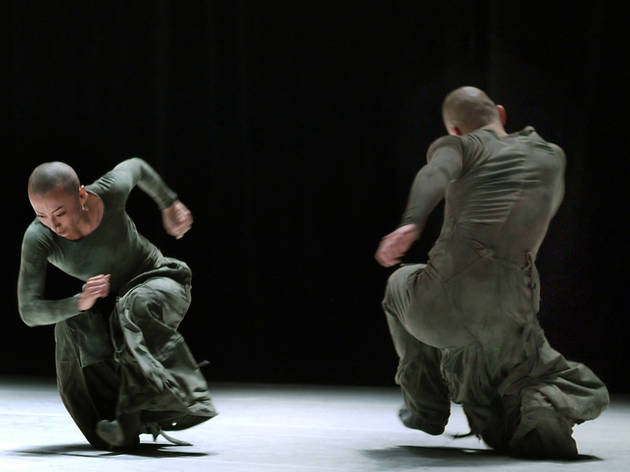 Tao Ye talks about TAO Dance Theater
Choreographer Tao Ye talks about TAO Dance Theater in anticipation of its performances at Lincoln Center Festival
TAO Dance Theater is the newest dance event to grace the Lincoln Center Festival on July 25 and 27. Choreographer Tao Ye talks about his dances, what it's like to be an artist in China, his respect for Shen Wei and why categories pertaining to Eastern or Western dance don't matter.
RECOMMENDED: All Lincoln Center Festival coverage

As the Lincoln Center Festival continues, there is another dance highlight in store: TAO Dance Theater. The company explores minimalist movement in two rigorous works by Tao Ye: 2, a duet for two men, and 4, a quartet for four women. In advance of his performances, the Chinese choreographer fielded questions via e-mail.

Time Out New York: What first attracted you to dance?
Tao Ye: I was born with a very flexible body that surprised myself and my family when we first discovered it. So basically, I started my dance training simply because my family thought I was dancer material due to my natural flexibility.

Time Out New York: What opportunities were there for you as a young boy?
Tao Ye: The kind of dance training we get in China does not encourage you to think for yourself, but is rather like duck-feeding. The acquisition of skills and techniques is the focus of such training, and nothing much is taught in order to enhance your body awareness or your ability to think independently as a dancer. That made my life as a young boy easy, as my natural flexibility was almost designed for such vigorous, technical training. However, I always felt something was missing.

Time Out New York: How old were you when you started dancing, and in what style?
Tao Ye: I started dancing when I was 12, when my grandmother discovered how flexible my body was when she saw me imitating some yoga movements. In the dance schools in China, we are trained in three styles: Chinese traditional dance, Chinese folk dance and ballet.

Time Out New York: Could you elaborate on your early dance training?
Tao Ye: The kind of dance training I received was not professional at all. I remember once we were asked to stay in the plié position for 30 minutes! The turnover rate of the teachers in my school was very high, and most of them were too young to teach. The students all came from rich families and didn't really care about what they were learning. So it was not a very supportive or competitive environment, and I didn't need to make much effort to be recognized as an excellent student.

Time Out New York: You have said that unhappiness and violence led you to dancing. What do you mean?
Tao Ye: Dance provided me with a way to release and channel my emotions. I grew up in a family with domestic violence, so for a very long time I was feeling depressed and angry, not knowing what to do. But after I started dancing, I felt that I discovered a nonverbal way to express myself. Sometimes you don't need to know why you are moving or what makes you move. What's important is the process itself.

Time Out New York: How did you discover modern dance?
Tao Ye: Once, when I was still a dancer in the People's Liberation Army, a dance teacher who used to dance with the Shanghai Jin Xing modern mance troupe was invited to give a modern dance class to us, and I was immediately impressed by the training methods she introduced.

Time Out New York: How do you define modern dance?
Tao Ye: I think the best definition is without definition.

Time Out New York: Could you tell me about the creative process for 2 and 4?
Tao Ye: For 2, my wife, Duan Ni, and I spent a very long time researching the body and the movements it generates. The choreographic and rehearsal process was much shorter, though, as after the extensive research we did for the piece, we felt very ready to create and our ideas just started to flow. As for 4, the opposite was true. The creative process took about two months, but rehearsing took four months, because we used two new dancers; we needed to first train them in the techniques that are required to realize this piece.

Time Out New York: How did you begin each work, and what were you interested in exploring?
Tao Ye: I like to use a specific movement quality as a starting point from which various possibilities are developed and then selected to form the final work. Before I start to develop from a single idea, I must make sure that it is unique and is not something that has been worked on before. I've always been interested in exploring ways to achieve the particular visual effects I was looking for. The creative process is a process of self-criticism and reflection. What I find satisfying today might be rejected by myself the next day.

Time Out New York: Are you inspired by choreographers like Lucinda Childs and Anne Teresa de Keersmaeker, who also are known for minimalist, repetitive movement?
Tao Ye: I can be inspired by everything I consider as outstanding and of high quality, but I also avoid influence from the good stuff.

Time Out New York: I feel like the Western world has been inundated with the work of Chinese choreographer Shen Wei: How do you feel about the path he's paved? Are there incorrect preconceptions about your work because of him?
Tao Ye: I believe that true art transcends geographical or cultural boundaries, and can touch people's hearts and influence the way people think regardless of its place of origin. It doesn't matter whether it's Western or Eastern. Trying to label something as either Western or Eastern only shows how limited human perception is. In my eyes, both [Taiwanese choreographer] Lin Hwai-min and Shen Wei are among the greatest artists of the era, and I have tremendous respect for them. I don't care about whether there are any preconceptions about my work because of what people think about them. I don't think that's very important.

Time Out New York: What artists or choreographers from any part of the world do you align yourself with?
Tao Ye: First of all, I don't want to categorize myself as an Eastern or a Chinese choreographer. In today's world, the East is no longer strictly Eastern and the West is no longer purely Western. My audience finds it hard to put me into any existing "box," and that's also how I see myself.

Time Out New York: What are your hopes for modern dance in China in terms of training and choreography? And for yourself and your career?
Tao Ye: My hopes for modern dance in China are reflected in exactly what I'm trying to realize in my own work. Be the change you want to see.

Time Out New York: Why do you choose to stay in China? What are the positive and negative asectes of living and working there?
Tao Ye: China is a place full of potential and opportunities for changes. The negative is that you feel very lonely in such an environment, as most people find your stuff irrelevant and see you as an alien. The environment cannot be changed by just one single person. I'm waiting for the time to come for the changes to happen, while I continue doing what I do. Maybe that's the meaning of staying.

Time Out New York: Is there more freedom in China now than there used to be?
Tao Ye: There might be as many definitions of freedom as there are people. We are doing what we want to do, and we can choose not to do what we don't want to do. Maybe we have more freedom than you think we do.

Time Out New York: What are you working on now? What are your choreographic concerns?
Tao Ye: Right now, I'm focusing on the environment for modern dance in China. It has been really difficult to find dancers who have the techniques required to perform my works; therefore, I'm now mostly concerned with the question of how to cultivate better dancers and maybe also how to create a better environment.

Time Out New York: Where do you live in China? What is the artistic climate like there?
Tao Ye: Last year, we finally got a physical home for our company where we live and work. It's in a rather quiet art district in a suburb in Beijing where many independent artists live and work. The atmosphere there is very suitable for creative work.
Time Out New York: Do you spend much time with experimental choreographers on the European circuit?
Tao Ye: No. And I don't think I'm experimenting. I'm pretty sure about what I want.
TAO Dance Theater is at Alice Tully Hall July 25 and 27.