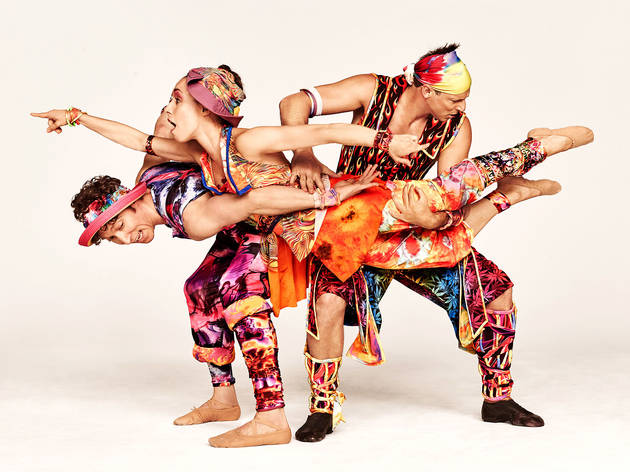 Twyla Tharp tells us about her 50th Anniversary Tour
The renowned choreographer talks about her two new works coming to Lincoln Center—just don't call them new
The superstar choreographers who make the leap into the pop culture stratosphere can be counted on a hand and a half. In that way, Twyla Tharp is a throwback: She's our Jerome Robbins (famous for her Broadway razzle-dazzle like Movin' Out); she's our Agnes de Mille (taking serious dance to the masses in film after film); she's our Martha Graham (an iconic revolutionary who suffers no fools).
But after having choreographed nearly 150 works, winning a Tony, a Kennedy Center Honor and 19 honorary doctorates, she's not resting on her laurels. In fact, she's on fire—for her 50th Anniversary Tour, the 74-year-old Tharp has built another pair of works that ask her customary questions about the interrelatedness of dance forms: Preludes and Fugues (set to Bach) and Yowzie (set to jazz titans like Fats Waller). The "Tharpian" is a melting-pot style, characterized by precision and vaudevillian showmanship—the liquid hips from jazz seducing the elegant lines of ballet. How will the mix work this time? The only thing you'll know to expect: The dances will be ebullient, contagious, athletic.
Tharp herself speaks with a wry growl. She makes you back up if you give her a compliment—"Let's hear that again"—and she has a wonderfully tart way of making you feel like an unproductive snoozer. Tharp still works out for two hours every morning; she doesn't really understand why you don't too. She spoke with us from Chicago, from the tour.
What inspired the two shows that make up this 50th Anniversary season?
It's two dances, one show. I made the two together so that they can ask, "Okay, so it's 50 years later. Where have you gotten to?" The Bach deals with more formal matters—what do they communicate in terms of ethics and aesthetics?—and then Yowzie is a narrative. There I'm asking, "How have your skills progressed in terms of story?" Fifty years ago, I couldn't have started works like these. I didn't have the tools of counterpoint; I hadn't done three Broadway shows in a decade.
Are these pieces examining a new question? Are they a continuation of the questions you've asked before?
"New and fresh" is a concept that doesn't really exist! Everything's been done before! In my book The Creative Habit, I talk about the reality of making art—it isn't formed from the head of Zeus. It's slow working day after slow working day. This contrast in musical styles I've been doing for a long time—since [1971's] The Bix Pieces when I paired ['20s jazz composer] Bix Beiderbecke with Haydn. One is the vernacular, one more rarefied. One is life; one is a life of beauty. Many composers have thought the same way. They use popular street tunes, and once they're done with them, they become a huge edifice.
What is it that you're forming into an edifice?
I feel a calling to give an audience a sense that dance is bigger than what they think it is—it has a political content, an ethical content. My work might allow an audience to think about elements of justice and propriety, bigger questions than would normally be associated with a dance. Ultimately, it offers to us all—an audience conjunct with the dancers onstage—a way to be communicating about love.
Do you have advice for those who want to keep creating at this level?
Do your daily practice. I'm still working myself in the studio and the gym. This is the "new and fresh." Every day you have a new—no, wait, not new!—you want to understand things differently, you want to have learned things. Right now, I'm working on another book—I'm a year late. Up until it's done, it's a fantasy. I don't want to talk about it, because I don't like to think of myself as a liar. But I'm still working. Every day is a new opportunity to work.
See the show
The legendary Twyla Tharp celebrates her golden anniversary with two premieres: the linked Fanfare and Preludes and Fugues, set to Bach's The Well-Tempered Clavier, and Yowzie, a jazz-infused celebration of music by titans like Fats Waller and Jelly Roll Morton.