Heads up! We're working hard to be accurate – but these are unusual times, so please always check before heading out.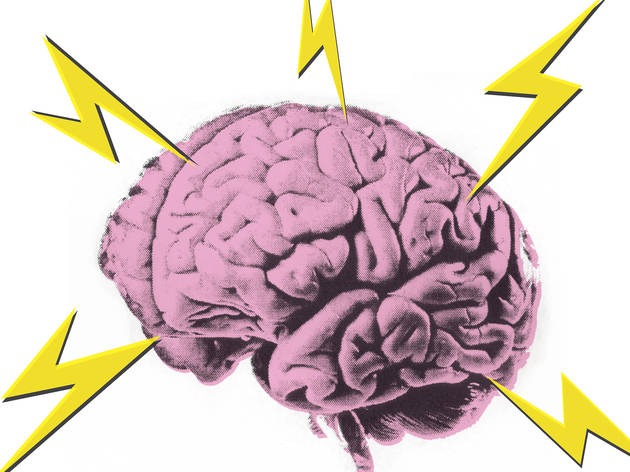 Feed your brain
Give your neurons a workout at three mind-blowing events.
15th Annual USA Memory Championship
These Olympic-style games pit more than 50 "mental athletes" against each other in a series of timed challenges. Among the trials: Competitors must correctly spell the first and last names of 99 people using pictures of their faces, re-create an exact sequence of 52 playing cards from an shuffled deck, and recall an unpublished poem—complete with line breaks and punctuation. This year's field is tough, with a pair of former winners in the mix: Nelson Dellis, who broke two tournament records in his title run last year, and two-time champ Ron White. Competitors this year also include teams of high-school students, as well as a squad of five of their moms, all from Hershey, Pennsylvania. While the morning rounds are mostly quiet, exam-style trials, excitement mounts after 1:30pm when eight finalists go head-to-head onstage over three rounds.
The game-show theatrics provide an underlying mission to educate the public about preserving mental health. "Memory is definitely something you can improve, no matter your age," says event founder Tony Dottino. "More and more research is being done about Alzheimer's, dementia and other memory challenges that people have, and it's crucial that there's some kind of cognitive exercise to maintain brain function." Audience members won't have to go far for tips—after every round, the top three finishers in each challenge will share the secrets to their success. Con Edison Grand Auditorium, 4 Irving Pl at 14th St (usamemorychampionship.com). Sat 24 8:15am–4:30pm; free.
Moonwalking with Einstein
At this reading a former Memory Championship titleholder, Joshua Foer recounts how he bulked up his brain. His best-seller Moonwalking with Einstein: The Art and Science of Remembering Everything, Foer chronicles how he went from being a journalist covering the 2005 games to winning the event's top prize the following year. He also describes how he met tourney winner Ed Cooke, a U.K.-based, internationally competitive steel trap who offered to train the writer. Armed with Cooke's tricks of the trade and interviews with cutting-edge neuroscientists, Foer explored the inner workings of the mind. He also developed some serious memorization skills, breaking a tournament record in the speed-cards event. He'll be speaking about his experience researching the book, as well as explaining why recollection still matters in the age of smartphones. BookCourt 163 Court St, between Dean and Pacific, Cobble Hill, Brooklyn (718-3677, bookcourt.com). Thu 22 at 7pm; free.
Brainwave
Remembrances take center stage for the fifth year of the Rubin Museum of Art's cross-disciplinary program, which pairs neuroscientists and neuro-psychologists with writers, entertainers and artists. Some programs delve into the mind, as with a screening of the documentary Caris' Peace (Sun 25 at 4:30pm; $15), chronicling actress Caris Korfman's (Broadway's original Amadeus) short-term memory loss due to a brain tumor. Others take an interactive approach, like a conversation and tasting with food writer Ruth Reichl and psychologist Paul Rozin to explore the Proustian "madeleine syndrome," in which senses such as smell and taste evoke powerful flashbacks (Apr 23 at 7pm; $25). Another highlight features actress and author Marilu Henner (Taxi), one of only a handful of people in the world who possess a superior autobiographical memory, which allows her to recall the actions of every day of her life since childhood (Apr 28 at 2pm; $30). The museum turns itself into an interactive memory palace for the season finale (May 2 at 6:30pm; $80). Ed Cooke (remember him?) will lead 80 participants in a brainy boot camp, demonstrating how special mnemonic devices use visual and spatial associations to help recall information. Meanwhile, a pair of fragrance specialists will tap into the link between smell and cognitive ability by suffusing each floor of the museum with a specific scent. "[Memory] has nothing to do with a prodigious ability, it's all about an imagination and a technique," says series producer Tim McHenry. Afterward, newly trained pupils can test their mental skills while distractions, such as a magician, attempt to break their concentration. Rubin Museum of Art, 150 W 17th St between Sixth and Seventh Aves (212-620-5000, rmanyc.org/brainwave). Dates and prices vary.