Heads up! We're working hard to be accurate – but these are unusual times, so please always check before heading out.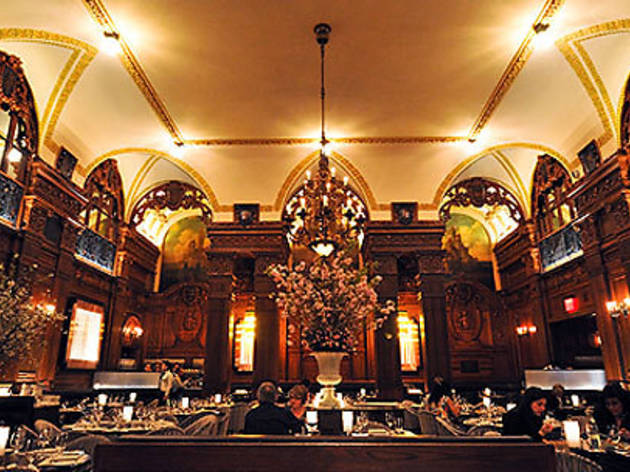 50 things to do in New York City on a Sunday
Close out the weekend in style with these Sunday musts.
Enjoy Sunday music at the Frick
Few experiences in New York City can compare with taking in a lieder concert, piano recital or chamber-music performance in this stately old mansion's elegant music room, where scores of prominent musicians have made their first local appearances. 1 E 70th St at Fifth Ave (212-288-0700, frick.org). 5pm. $30.
Watch movies outdoors at Habana Outpost in Fort Greene
Every Sunday from May through October, the Brooklyn eco-eatery hosts alfresco films like Batman (Oct 17) and Elvira (Oct 24). 757 Fulton St at South Portland Ave, Fort Greene, Brooklyn (718-858-9500, habanaoutpost.com). 8pm; free.
Blow off end-of-the-weekend steam at Body & Soul
New York veterans Joe Claussell, Franois K and Danny Krivit pack the massive dance floor of Webster Hall's main room with deep and soulful house, classics, Afro-Latin rhythms and anything else they feel like at their ever-popular monthly Sunday tea dance. Webster Hall, 125 E 11th St between Third and Fourth Aves (212-353-1600). 6pm.; $25, advance $15.
Draw a burlesque queen at Dr. Sketchy's
"Dr. Sketchy's is what happens when cabaret meets art school," says founder and artist Molly Crabapple. A boozy good time is what happens when you and your $10 meet free cupcakes, booze and prizes, say us. Various locations, visit drsketchy.com. 4pm; $10.
See free stand-up comedy at Beauty Bar
Vince Averill and Jesse Popp have built a following at this East Village bar, which books some of the local scene's brightest rising stars. 231 E 14th St between Second and Third Aves (212-539-1389, myspace.com/vinceandjesse). 9pm; free.
Go for a walk at 78th Street Play Street
The Jackson Heights Green Alliance initiated this program, which adds a block of open space to the area around Travers Park. "It's the only park in the neighborhood, so this is a nice addition," says JHGA member Donovan Finn. The alliance teamed up with the Jackson Heights Beautification Group to host events, like biking lessons for newbie cyclists of all ages. The Jackson Heights Greenmarket will also set up on the block. 78th St between Northern Blvd and 34th Ave, Jackson Heights, Queens (jhgreen.org). 6am--8pm, through Nov 1.
Join a queer book club at the LGBT Center
Every third Sunday of the month, the LGBT Center in Chelsea hosts a book club for lesbians only. Call the Center at 212-620-7310 to find out what's on the syllabus, and then all you have to do is read and show up. The group, originally part of Slope Activities for Lesbians, has been meeting for ten years, and the selections tend to be distinctly female-focused (duh). 208 W 13th St between Seventh and Eighth Aves (212-620-7310, gaycenter.org). Free.
Take an art workshop at the Queens Museum of Arts First Sundays
Trek to Queens the first Sunday of every month for free admission and all-ages activities, including a studio workshop, tours, and live music and dance. New York City Building, 111th St at 49th St, Flushing Meadows--Corona Park, Queens (718-592-9700, queensmuseum.org). 1--4:30pm; free.
See great theater for under a buck
On Sundays, shows at Soho Rep, one of our favorite Off Broadway theaters, cost only 99. Just make sure you're on the ball when they go on sale; since performances are typically $30, these tix understandably disappear fast. 318 Van Brunt St at Pioneer St, Red Hook, Brooklyn (212-941-8632, sohorep.org). 99.
Be cool at the Oak Room's jazz brunch
There may be no sweller way to spend Sunday in New York than with brunch and cool jazz from world-class performers like Barbara Carroll. The Oak Room at the Algonquin Hotel, 59 W 44th St between Fifth and Sixth Aves (212-419-9331, algonquinhotel.com). Sun 1pm (show), brunch served from 11:30am; brunch and show $70, show only $35 plus $25 minimum.

Watch free film screenings at the Brooklyn Public Library
The borough's flagship library branch presents a free monthly silent film series on Sunday afternoons. Typical offerings include the slapstick antics of Laurel and Hardy and the swashbuckling of Douglas Fairbanks, which is made even more enjoyable by the stirring music of MoMA's silent-film accompanist, Stuart Oderman. All films are archival quality, projected onto a six-by-eight-foot screen.1 Grand Army Plaza, Prospect Heights, Brooklyn (718-230-2100, brooklynpubliclibrary.org). Sun 1:30pm; free.
Make a playlist for the NYC Mixtape Exchange at Double Down
Share your extensive musical knowledge at this chance to swap playlists at LES dive bar Double Down. Check its website for the month's theme and get as creative as you can. 14 Ave A at Houston St (212-982-0543, myspace.com/nycmixtapeexchange). First Sunday of every month 8--9pm; free.
Listen to Poetry at Cake Shop
Wordsmiths invade this LES bakery, bar and performance space one Sunday every month. 152 Ludlow St between Rivington and Stanton Sts (212-253-0036, polestarpoetry.tumblr.com). Schedule varies, visit website for details. 5pm; free.
Scream at Alley Pond Park Adventure Course
Thrill seekers should head to this new jewel in the Parks Department's crown, a series of obstacles designed for team building and scaring the crap out of you. Live out your Indiana Jones fantasy by scaling a bouldering wall, whizzing down the zip line, balancing on a high wire and getting catapulted from the "Human Swing Shot," a device that lifts you 45 feet in the air before sending you into free fall. UnionTpke at Winchester Blvd, Bayside, Queens (for reservations: 718-217-4685, nycgovparks.org). 10am, 1:30pm; free. May--Nov.
Get brunch at Wave Hill
Think of Wave Hill as the weekend house you'll never afford. It's that fantasy getaway with woodland walks and nap-ready patio furniture—except it's in the Bronx, costs just $8 for grounds admission and is accessible via the 1 train. The Sunday brunch buffet offers local, organic produce from Katchkie farm and both indoor and outdoor seating, so you can enjoy Hudson Valley views. Brioche French toast, Applewood smoked bacon, and free-range eggs with chives making early rising worth it. Wave Hill, Bronx (718-549-3200, wavehill.org). 11:30am--1pm; $22 plus grounds admission.
Shake it at Sunday Mixx...
Join the Latina ladies of LaReinas's weekly lesbian dance party, shimmying to the sounds of hip-hop, reggae, salsa and merengue. Alibi Lounge, 116 MacDougal St between Bleecker and W 3rd Sts (212-254-9996, lareinas.com). 10pm; $5.
...or at 718 Sessions
At this ultrapopular monthly tea dance, the great Body & Soul man Danny Krivit spins his top-shelf deep house and classics for a crowd that's ready to work it on the dance floor. The night also sees a deck set from Tokyo clubland godfather DJ Nori and an onstage turn from the lovely AK, who just happens to married to Krivit; she's finally making her NYC debut after years of stardom in Japan. For more info, go to dannykrivit.net. Santos Party House, 96 Lafayette Street, Ground Floor, between Walker and White Sts (212-584-5492, santospartyhouse.com). 6pm--midnight; $20, before 7pm $5.
Party like Sunday's the new Thursday
Nightlife legends Susanne Bartsch and Kenny Kenny host a new brand of Sunday night hedonism—Vandam Sundays. Joining the clubland fun are their preening, prancing crew of crazies: Chuck Attix, Ladyfag, DJ Johnny Dynell and mean old door lady Cynthia. Greenhouse, 150 Varick St at Vandam St (212-807-7000, greenhouseusa.com). 10pm; free.
See the Comedians at Pianos
Adam Lowitt (The Daily Show) and Matt Goldich (The Late Show) attract quality headliners such as Todd Barry, Sarah Silverman and Demetri Martin to their weekly showcase. 158 Ludlow St between Rivington and Stanton Sts (212-505-3733, pianosnyc.com). 7pm; free. Starting Nov 7.

Climb on board for the Brooklyn Food and Tasting Tour
Get a taste of Brooklyn on this culinary bus tour, offering kosher deli fare in Williamsburg, chocolate from Jacques Torres in DUMBO, and a Cuban-sandwich picnic lunch in Sunset Park. Meet on Cornelia St between Bleecker and W 4th Sts, (212-209-3370, thebrooklyntour.com). Sun, Mon, Fri 11am; $95, children under 12 $75.
Eat a home-cooked meal without the work
The stove-top-impaired can find solace in Sunday Suppers, the dinner party/cooking class hybrid from photographer and culinary enthusiast Karen Mordechai. A few times a month, guests gather at her airy Brooklyn loft; each person tackles a different job to create the seasonal menu. The unique charm of the resulting meal is in the details: custom-designed menus, elaborate floral arrangements and enticing parting gifts, such as homemade preserves, plus a stack of recipe cards for the next time the urge strikes to tie one on (an apron, that is). To make reservations, e-mail info@sunday-suppers.com or visit sunday-suppers.com. $85 and up.
Drop dollah dollah bills (and get beer!)
Like $2 Bud drafts? If you're nodding yes—or even if you think you do but aren't quite sure, get thee to gay bar Eastern Bloc's Love Hangover's Sunday Beer Blast, where you can drink away that headache and bop your head to soul and Paradise Garage/Loft classics with DJ Gant Johnson. 505 E 6th St between Aves A and B (212-777-2555, easternblocnyc.com). Free.
See improv comedy
* Sunday Improv Night, Tom Soter's short-form-improv jam session, features a rotating cast of his favorite performers. 78th Street Theatre Lab, 236 W 78th St at Broadway. (212-353-7716, sundaynightimprov.com). 7pm; $10.
* ASSSCAT 3000
NYC's long-form-improv royalty (including UCBT and SNL folk) play pickup-game style in this famous, long-running show. And the late show is free! 307 W 26th St (between Eighth and Ninth Aves (212-366-9176, ucbtheatre.com). 7:30pm, $10; 9:30pm, free (a limited amount of tickets are distributed at 8:15pm).
Tour a historic Brooklyn 'hood
You'll need your sneakers for this one: Mauricio Lorence leads a three-hour excursion through some of the borough's oldest and most charming neighborhoods, including Fort Greene, Clinton Hill, and Brooklyn Heights, with a focus on historic sites, ethnic enclaves and municipal institutions. Meet at the New York Marriott at Brooklyn Bridge, 335 Adams St between Tillary and Willoughby Sts (718-789-0430). Fri--Sun 2--5pm; $25.
Eat swine at Boqueria
Tuck into a portion of Bev Eggleston's whole suckling pig, roasted each week by chef Seamus Mullen for Sunday dinner. 171 Spring St (between West Broadway and Thompson St (212-343-4255, boquerianyc.com). Dinner served 5:30pm--11pm.

Eat a Slice of Brooklyn
Can you endure riding with tourists for the chance to sample some seriously good pies? Brooklyn's best pizzerias are revealed on this four-hour bus tour, along with some of the borough's most famous movie locations and other landmarks. Meet on Fourth Ave between 13th and 14th Sts (212-209-3370, asliceofbrooklyn.com). 11am; $75, children under 12 $65.
Drink cocktails at House of Brews
They not be obvious drink choices at a specialist beer bar, but on Sunday afternoons martinis, cosmos, margaritas and manhattans will cost you just a fiver. 302 W 51st St between Eighth and Ninth Aves (212-541-7080, houseofbrewsny.com). 363 W 46th St between Eighth and Ninth Aves (212-245-0551). Until 7pm.
Explore the city's best brunch spots...
When it comes to everyone's favorite in-between meal, TONY's got you covered. From the best dim sum spots to the tastiest brunch cocktails, you'll find options to suit all tastes in our Your Perfect Brunch feature.
...or skip the brunch lines
Good Enough to Eat too crowded? Head instead to equally delectable Fred's, a neighborhood joint whose abundance of space—two sizable dining rooms, a bar area and a wraparound outdoor patio—ensures you'll never have to wait. Come for the Sunday prix-fixe brunch menu; stay to ogle at the framed photos of puppies that litter the walls. If you're a pup hater, check out this list of more no-wait brunch spots. 476 Amsterdam Ave at 83rd St (212-579-3076, fredsnyc.com)
...or have jazz/classical brunch at One Fish Two Fish
If you've passed down the corridor of the 14th St A/C/E station at night, you've probably heard Melvin Greenwich breaking it down on his cello. Every Sunday, One Fish Two Fish hosts Melvin and band for "Jumping Jazz and Classical Music Too". It goes from 1:30 to 3:30pm, and the restaurant offers a $10.95 brunch special that includes either a half carafe (Bloody Mary/screwdrivers/OJ) or two beers/champagnes/mimosas with your meal. 1399 Madison Ave at 97th St (212-369-5677, onefishtwofish.com)
Watch football at a sports bar
Sunday is the day to order a few pitchers, munch on some wings and watch your favorite team take the field. If you don't have a go-to spot, or you're just looking for a change of pace, try one of the options on our list of the best bars for watching football.
Comedy at KFBK
The smooth and delightfully understated Hannibal Buress, who's writing for SNL, attracts friends and cohorts to this new Brooklyn branch of a Manhattan staple. Knitting Factory Brooklyn, 361 Metropolitan Ave at Havemeyer St (347-529-6696). 9pm; free.
Catch the Earegulars
The Earegulars usually include local singer-guitarist Matt Munisteri and cornetist Jon Kellso, but the two have been on the road sporadically as of late. Even if they don't show, you can expect a well-honed crew for this free Sunday night jam session. , 326 Spring St between Greenwich and Washington Sts (212-226-9060). 8pm; free.
Get funky at the Funkbox
Veteran mixtape master Tony Touch helms Sunday nights at Sullivan Room, where he and top guests get the crowd dancing to soulful house, classics, Afro-Latin funk and more. 218 Sullivan St between Bleecker and W 3rd Sts (212-252-2151, sullivanroom.com). $10, before 10pm $5.
Tour the sites of Gossip Girl
Spotted: Gossip Girl fanatics touring the sites made famous on the CW's teen soap opera, including Henri Bendel, the Palace Hotel and Blair Waldorf's palatial Fifth Avenue building. The three-hour bus tour hits more than 30 locations featured on the show. OMFG! Meet at the Palace Hotel, 455 Madison Ave at 51st St (212-683-2027, screentours.com). Fri, Sun noon; $40.
See some magic
Where? At Magical Nights, held each Sunday at Feinstein's at Loews Regency. At 5:30pm, the rotating cast of prestidigitators will perform their sleight of hand close-up at your table. They retreat to the stage for a formal show at 7pm, so their white rabbits won't get mixed up with your veal. 540 Park Ave at 61st St (212-615-64320). $25--$65 plus $25 minimum.
Catch the Peter Mazzo Trio
You've got to know your stuff to play in one of the city's swankiest guitar rooms, and local jazz guitarist Peter Mazza certainly does. The Bar Next Door (downstairs at La Lanterna di Vittorio), 129 MacDougal St between 3rd and 4th Sts (212-529-5945). 8--11:30pm; $12 plus one-drink minimum.
Tearing the Veil of Maya
Every week, Eugene Mirman and Michael Showalter host a collection of their comedian pals at this super-fancy neighborhood venue. , 702 Union St between Fifth and Sixth Aves, Park Slope, Brooklyn (718-638-4400). 7:30pm; $7.
Treat yourself to a spa day
You partied too hard and the thought of Monday morning is threatening to ruin the day. Take a load off with one of these spa experiences for $50 or less. Grab a quick scalp massage and facial, or take your sweet time at Spa Castle (131-10 Eleventh Ave at 131st St, College Point, Queens; 718-939-6300, nyspacastle.com), a Six Flags--esque modern bathhouse that is all about the hot tubs. Choose from dozens, featuring different temperatures and targeted jets that hit every spot—there's even an outdoor oasis open year-round. Multiple sauna rooms boast so-called healing materials, such as gold, LED lights or mineral salt, and a wet room with additional tubs and saunas is attached to each locker area for an au naturel dunk. A required uniform of shorts and a T-shirt and basic toiletries are provided, and treatments like scrubs and reflexology are available at an extra cost (reservations are suggested).
Shoot pool for free at Brady's Bar
Swing by Upper East Side sports haunt Brady's Bar on Sundays. This nearly 47-year-old saloon offers complimentary pool all day long (it's $1.50 otherwise), as well as $4.25 bottles of Miller. 1583 Second Ave at 82nd St (212-861-6070, bradysbar.com). Free.
Hear the Harlem Gospel Choir Brunch at B.B. King Blues Club &amp
B.B. King's sees a lot of big-name bookings, but the Harlem Gospel Choir buffet brunch always raises the roof. Tuck into the Southern soul food at the all-you-can-eat buffet and let a bit of Harlem come to you. 237 W 42nd St between Seventh and Eighth Aves (212-997-4144, bbkingblues.com). 12:30--2:30pm; $40.
Watch queer-themed films for free at Cinemarosa in Queens
The only queer film series in Queens offers great themed screenings every month. Queens Museum of Art, New York City Building, 111th St at 49th St, Flushing Meadows--Corona Park, Queens (718-592-9700, queensmuseum.org). 3pm; free.

Eat free bagels at Brazen Head in Cobble Hill
This neighborhood beer haunt serves up free Sunday breakfast in the form of all-you-can-eat bagels and cream cheese. Add a Bloody Mary or mimosa ($5) to make it a proper brunch. 228 Atlantic Ave between Boerum Pl and Court St, Cobble Hill, Brooklyn (718-488-0430). Noon; free.
Catch a Sunday concert aboard Bargemusic in Brooklyn Heights
Since 1977, classical-music audiences have been attending concerts aboard Bargemusic, a peculiar "floating concert hall" that sits at Fulton Ferry Landing in Dumbo. Somehow, in Bargemusic's long history, it had never hosted a pop concert, rendering this tiny Brooklyn barge stuffier than Carnegie Hall or Lincoln Center. Fulton Ferry Landing, Dumbo, Brooklyn (718-624-2083, bargemusic.org). 3pm; $35.
Sit down to a traditional Sunday dinner at Tea and Sympathy
This tightly packed restaurant serves British comfort food that's a salve to homesick expats, especially a traditional Sunday evening dinner of savory roast beef with fluffy Yorkshire pudding and bubble and squeak. 108--110 Greenwich Ave between 12th and 13th Sts (212-989-9735, teaandsympathynewyork.com). $28.
Be serenaded by chamber music at Corpus Christi Church
This gorgeous sanctuary provides a stately setting for a program that concentrates on music before 1800. 529 W 121st St between Amsterdam Ave and Broadway (212-666-9266, mb1800.org). 4pm; free.
Sing your heart out at Wicked Willy's
Sunday night means free karaoke at Wicked Willy's bar. They have no private rooms, but to encourage you to sing they'll give you a free drink with your first song. 149 Bleecker St between La Guardia Pl and Thompston St (212-254-8592). 8pm; free.
Go for a great walk
Sunday is the official day of the stroll, and you've got options—18 to be exact. Whether you're a Gossip Girl fanatic or a public art buff, you'll find something to suit your style in our great walks guide.
Catch free live music at Pete's Candy Store in Williamsburg
There are few cozier performance spaces in Brooklyn than the narrow back room here. 709 Lorimer St between Frost and Richardson Sts, Williamsburg, Brooklyn (718-302-3770, petescandystore.com).