Four Adventures of Reinette and Mirabelle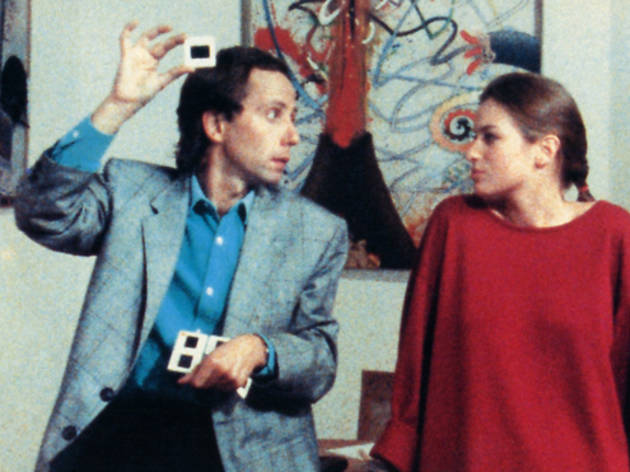 The squiggly neon titles and synth-cheese soundtrack may firmly carbon-date Eric Rohmer's four-part character study to the late '80s, but the method this French filmmaker applies is timeless: Throw chatty folks together, let the discourse dictate the story's direction and FIN. A minor companion piece to a major work---1986's The Green Ray---this country-mouse--city-mouse tale plays like its predecessor in reverse, beginning with a colorful epiphany and ending with cosmo-farcical vignettes. Jaded urbanite Mirabelle (Forde) and bumpkinish artist Reinette (Miquel) bond over a moment of predawn rural bliss known as "the blue hour." The two impulsively become roommates; once on the bustling rues of France's crown jewel, they encounter caricatures of Paris-when-it-fizzles modernity, from suspicious waiters to klepto shoppers. Beaucoup conversation ensues, but you already knew that.
Broken into quarters, Four Adventures suffers from the fits and starts of a sum-of-its-parts setup, ambling through caf dustups and train-station hustling with minimal Rohmeresque moral heft. Forde and Miquel never quite find the right odd-couple chemistry---no Celine and Julie, they---at least until the film's final segment, involving a garrulous gallery owner (Luchini) and a bet requiring Reinette to stay silent for a day. Suddenly, everything clicks; this snooty art merchant may love the sound of his own voice, but you're reminded how much Rohmer valued the sound of others' voices above all, and why going out on a whimper occasionally works wonders.
Release details
Release date:
Friday July 15 2011
Duration:
97 mins
Cast and crew