It's Kind of a Funny Story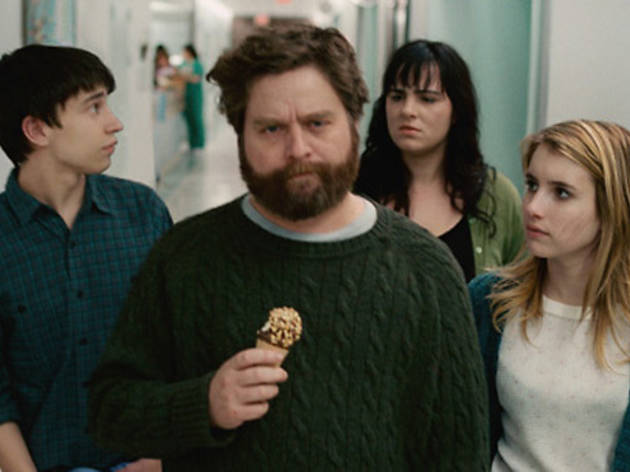 Suddenly, the dumb season feels over: The Social Network is Hollywood at its brainiest, while even the vampire remake, Let Me In, allures with pitch-perfect mood. And if you had told us that into this moment would come Ryan Fleck and Anna Boden, gifted codirectors of the keen character studies Half Nelson and Sugar, we'd only blush with the embarrassment of riches.
The reality of It's Kind of a Funny Story, their emo-poseurish latest, is far more disappointing; it's the worst kind of post-ironic, my-week-of-healing dramedy, set in an NYC mental ward in which cute patients flirt, tease and scamper around hallways like runaways in a John Hughes film. More slickly produced than Fleck and Boden's previous efforts, the comedy (based on a 2006 novel by Ned Vizzini) even infects your goodwill toward the Brooklyn duo's past: Why did they have to finally unleash their inner hipsters?
Weakly anchoring the story is charmless, suicidal Craig (Gilchrist), a high-schooler off his meds who, simply because he's the main character, attracts the gorgeous, scarred Noelle (Roberts). Acting as jester and sarcastic Cyrano is Bobby (Galifianakis, quickly becoming a bearded bore), a commentator with hidden issues of his own. He sneaks Craig onto the hospital's private basketball court (?), where they can lamely shoot hoops and practice come-on lines. Material like this doesn't require the additional strain of overnarrated freeze-frames, a Cuckoo's Nest supporting cast of adorable crazies and a Glee-ified musical number set to Queen and David Bowie's "Under Pressure." Let's hope this doesn't represent selling out for Fleck and Boden so much as buying in.---Joshua Rothkopf
Watch the trailer
See also One Flew Over the Cuckoo's Nest: Collector's Edition
Release details
Cast and crew