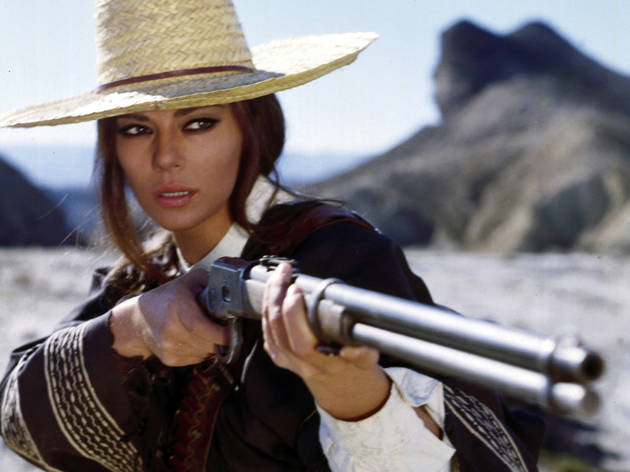 1/4
The Mercenary (1968)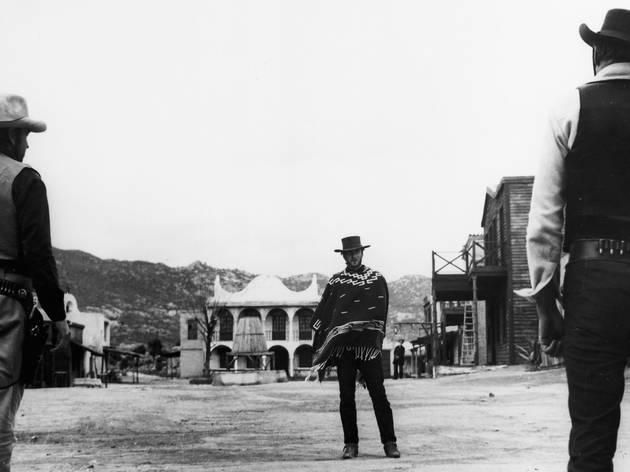 2/4
A Fistful of Dollars (1964)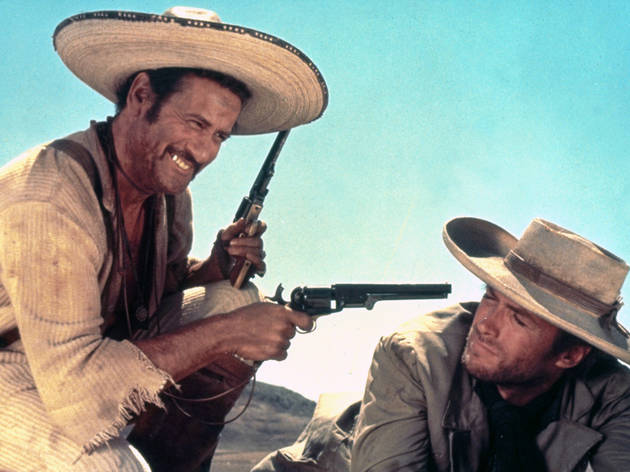 3/4
The Good, the Bad and the Ugly (1966)
4/4
Sabata (1969)
"Spaghetti Westerns" at Film Forum
Brimming with vengeance, gunplay and red sauce (it might be blood), the passionate Italian subgenre is the ultimate gift to film lovers.
When Clint Eastwood strode out of the shadows during the last Super Bowl and declared it "halftime in America," a thousand associations were made. He was Dirty Harry, Josey Wales—the fantasy embodiment of an entire nation—telling us we'd be back on our feet soon. A lot of people found this comforting. Some heard an echo of Ronald Reagan's 1984 "Morning in America" ad.

And beneath it all, there was Sergio Leone's Man with No Name, the stolid, ominous character that rocketed Eastwood to fame and redefined not only the Western but the very idea of the Old West itself. "Spaghetti Westerns," an explosive three-week series unspooling at Film Forum, pays thorough tribute to a pivotal late-'60s moment, when creative Italian filmmakers wrested away a respectable national identity and remade it in their foreign eyes (big ones, filling the widescreen).

As gloriously violent and fun as these films are, they contain a secret critique, born out of love for—and dissatisfaction with—Hollywood's heroic vision of itself, in movies like 1953's Shane. By the time of the Johnson presidency, those films bore little relation to the America that was spraying down protesters and bombing the Far East.

Leone, the prime mover of the trend, stole the plot of Akira Kurosawa's Yojimbo, flew a TV second banana—Rawhide costar Eastwood—to the Spanish desert and made A Fistful of Dollars (1964; Fri 1, Sat 2, June 10). Grungy and untethered by morality, Eastwood's instantly iconic character is an angel of death, swooping into a damaged town and resolving its long-standing feud the only way he knows how. For a Few Dollars More (1965; June 7, 8, 10) and the ferociously anarchic The Good, the Bad and the Ugly (1966; June 9, 10, 12, 21) would follow, forming a loose-linked trilogy that introduced to mainstream viewers the notion of movies—Westerns old and new—talking to each other in chatty, contentious dialogue. (Not for nothing does Quentin Tarantino call Leone his favorite director; his own spaghetti-Western-inspired "Southern," Django Unchained, is due this December.) Meanwhile, white-hatted heroism took a shot in the back from which it never quite recovered.

But the real value of Film Forum's series (coprogrammed by Giulia D'Agnolo Vallan and Bruce Goldstein) is the way it provides a deeper understanding of the sociopolitical changes afoot. In movies such as Sergio Corbucci's The Mercenary (1968; Sat 2, Mon 4, Wed 6, June 16, 17, 19) and Leone's Duck, You Sucker (1971; June 13, 19, 21), you can sense a global revolutionary fervor in their plots' Mexican dreamers that never would have gained traction in your average John Wayne horse opera. Working in an Italian studio system more accepting of horror, giallo and stylish nonsense, directors like Giulio Questi uncorked hellish hybrids like Django Kill…If You Live, Shoot! (1967; Sun 3, June 14, 19), complete with scenes of corpse raiding and torture—a brutal vision of a selfish nation in its birth throes.
If anything, though, the next three weeks will cement a pair of giants in the minds of everyday moviegoers. First, there's ravenous Lee Van Cleef, too frightening to be anything less than beautiful in Death Rides a Horse (1967; Sat 2, Sun 3, June 8, 15, 21) and the mind-melting Sabata (1969; Jun 12, 13, 18, 19). And second, open your ears to master composer Ennio Morricone (sometimes credited as Leo Nichols), lending his guitar twang to 16 of these titles.

Follow Joshua Rothkopf on Twitter: @joshrothkopf

"Spaghetti Westerns" runs Fri 1–June 21 at Film Forum.