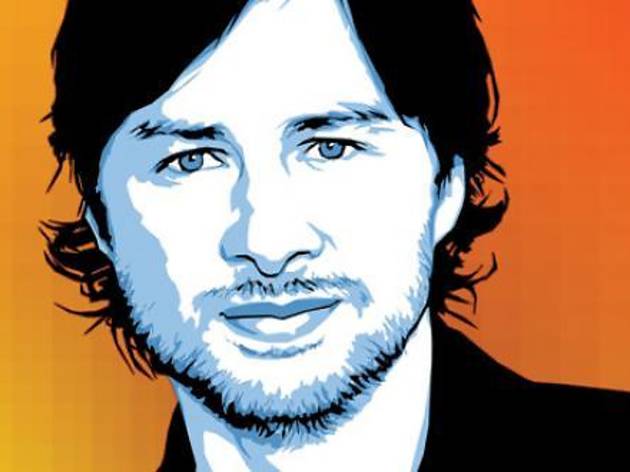 The Hot Seat: Zach Braff
Now that Scrubs is finally over, his real life can begin.
It's been six years since Garden State came out, and fans of that indie-rock-era paean are still waiting for Zach Braff to write and direct his second movie. Sadly, those fans have to hold out a bit longer. Braff's first post-Scrubs project is a new Off Broadway play called Trust, in which he portrays a rich, married guy who goes looking for happiness in an S&M club. Then, this fall or winter, Braff hopes to begin directing Swingles, a romantic comedy he rewrote about people in their thirties navigating the singles scene. All of this means that the next ZB original masterpiece is still a ways down the road. We called him to push things along.
RECOMMENDED: Full list of Hot Seat interviews
So...what's taking so long? What have you been doing all this time?
Well, I was doing this little thing called the TV show.
But you should've been able to do that in your sleep by the end, no?
I'm sorry, I know. But I wrote Garden State before Scrubs, so it was simpler. There were a couple times I tried to put together a movie, and for one delicious Hollywood reason or another, they never came to fruition. But I'm hoping to direct Swingles soon. And I'm in the midst of [writing] my first original since Garden State. I'm also writing a play, because now that I live in New York, I'm infatuated with the theater.
Do you feel pressure because of the success of your first film?
Garden State was very personal, and it was more than I want to take on every time. I'm not going to pontificate about the state of twentysomethings or thirtysomethings every time I make a movie.
What's the original thing you're working on?
[Coyly] Um, it's too early for me to talk about the plot, but that's something more in the Garden State oeuvre.
Is it a sequel?
It is not a sequel. [Laughs] Garden State 2: This Time It's Personal.
What music are you listening to these days?
Well, my girlfriend just got me into the National. People think I'm Mr. Music because of the Garden State soundtrack, but that's really not accurate at all. [Laughs]
Wait, it's a sham? We were all taken in—you won a Grammy, and everyone was listening to the Shins!
I know. When my musician friends walk by my Grammy, they give it the evil eye.
So Mr. Music, what's the first concert you ever went to?
Rush, and I left early because I got too drunk.
If you could have a superpower, what would it be? Never puking?
You know when you've lost something and it's driving you fucking crazy? I would love to be able to say to the universe, "All right, you win, where is x, y, z," and it would just appear. Or, like, something you loved as a kid, like a stuffed animal.
Did you have one?
Yeah, Harvey. There used to be this craze back when I was teddy-bear age, there were these bears dressed up as famous people and they somehow had bear in the title.
I know! We had Humphrey Beargart!
Ha! Well, this was Douglas Bearbanks! I don't know anything about Douglas Fairbanks, but apparently he liked satin robes, because Douglas Bearbanks wears a robe. But I took that off and he was just Harvey. I still have him. He's my bud.
Name one thing you can't do well that you wish you could.
It used to be fly a plane, but I got my pilot's license.
Do you have a plane?
Yeah. It's not like an Oprah plane. I have a little single-engine plane.
How do you like being back in NYC?
I love it here. I ride my bike to the theater every day, and the amount of crazy shit that I see in a 20-minute ride is worth living here. There's an old, old black man who sings "Like a Virgin" every morning outside my house. And I gotta tell you, I've heard it about 100 times, but I laugh every time. He has a really good voice.
You did some Shakespeare years ago; why come back to theater?
I grew up in Jersey, with theater a really important aspect of my family's life. We saw everything.
Do you dream of being in a musical?
I would like to. I'm doing Trust with Sutton Foster, who has probably the sickest voice ever. Every once in a while I convince her to sing with me; usually it's in the elevator when no one else is around.
Trust starts previews Fri 23 at Second Stage Theater.
You might also like
See more Hot Seat
See more in Theater