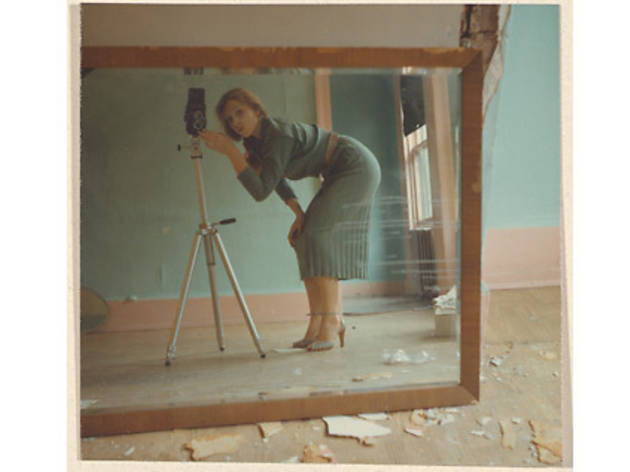 Making art is more than a pastime, a hobby or even a career, as shown in the emotional family profile The Woodmans. "Art is a very high priority," says painter-photographer and father George, "...you don't mess around." It's the lure that drew him, in the 1950s, to his hardworking wife, Betty, a ceramicist, turning them into one of those lovably intense couples that discusses process. It's what made them raise two extremely liberated children, the latter of whom, Francesca, would go to RISD, make beautiful photographs in the 1970s, flail delicately at rejection and take her own life in 1981. And evidently, it's what's helped the Woodmans move through that loss.
Nightline vet Scott Willis doesn't demean his subjects, nor does he pretend to explain the enormity of their tragedy, and for that, his doc has gotten some praise. But by trying so hard not to judge them, he does so, in a far subtler way that won't be lost on regular audiences: Francesca, swirling in her spooky body art and superimposed diary text, is presented like some sadly lost genius, not like the vaguely pretentious young person (with enormous needs) she was. Her parents dither on, quietly, about her work, and you want to scream at their ignorance. If The Woodmans has something profound to say---and it does, unwittingly---it's that art can't raise a child solo.
Release details
Cast and crew
Rating Breakdown
5 star:

0

4 star:

1

3 star:

0

2 star:

0

1 star:

0
I agree with the above review, I found the Woodmans' interviews strangely off-kilter. While they clearly loved and mourned the loss of their daughter, they seemed to be unaware of those things which had caused her to be so needy and ultimately feel so unworthy. At the heart of it is having something else higher in your parent's affection and esteem that you yourself. Their work as artists was bigger in their lives than caring for their children. To live in a house where breaking a bit of pottery was a 'dangerous thing' cannot make you feel valued and secure. I think it is much more the Father who is misguided than the Mother-he seems to have no awareness of how strange it is to say that he would not have been as interested in his daughter did she not have passion or some other qualities. How much she was shaped by what would garner his interest we cannot know. But what a terrible thing to know that you, as a child, do not come first, and that your Dad only enjoys being around you on conditional terms. All parents have some of these problems, no one is perfect. But with Franchesa's Father, particularly, and her Mother as well-this devotion to art held higher than caring for and being with their children came at a high price. Also their insistence that what art communicates about the artist is not particularly important suggests that they are not really in touch with their own or others feelings, in some aspects. I believe that all art tells us about the artist, because whether they want to or not, art always communicates what the artist's life has been like, and particularly what childhood was like. I would note that being pulled in and out of schools etc. also usually causes insecurity. My guess is that her brother is much more stable because he did receive extra attention and care due to his diabeties.....just Speculation, but there was something unsettling in the way these parents spoke of their daughter.