Tribeca Film Festival 2012: Documentaries
RECOMMENDED: Full coverage of the Tribeca Film Festival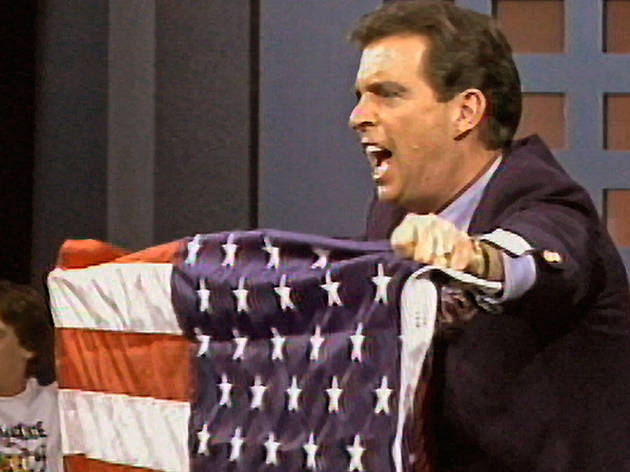 Tempers run high in this intimate doc about a former dance champion. Ten years ago, Ukrainian Slavik Kryklyvyy won the International Latin dance championships. Now he's back and determined to succeed along with young, glamorous Anna Melnikova, his partner on the floor and in bed. This quiet, personal film shows them in both situations – waking up together in a hotel room, her full of the joys of spring, him bristling with nerves and preening himself in the mirror. As they hit the competitions, it's hard to watch Anna's smile slowly fade, but this is an insightful portrait of the problems of falling from grace and working with your lover, even if the editing may throw more shade on Kryklyvyy than he deserves. A scene in which the previously unsympathetic Kryklyvyy tries to win back his girl on the rehearsal floor is heartbreaking. This is one for dance fans and voyeurs who want something less hectic than 'Strictly…'.
Read more
In most respects, Journey has followed the same path as many other arena-rock acts: Having hit big in the '70s and '80s, the group watched its future dim as internal strife made it hard to push forward, and listeners moved on to new sounds. Then came a fallow period, followed by a revival-circuit return—minus a few key members—for lucrative engagements in front of nostalgic crowds. (See also: Styx, Kansas, Grand Funk Railroad.) After reuniting with vocalist Steve Perry for a late-'90s comeback album then going their separate ways, the San Francisco band went through several prospective warblers, before their story took an odd turn. A permanent replacement was found in the form of Arnel Pineda, a Manila singer the group discovered singing Journey covers on YouTube—and sounding uncannily like the voice behind their biggest hits. Unfortunately for this rock doc, this fan-to-frontman saga is not that interesting a turn. Pineda's story—which involves extreme childhood poverty and some grown-up struggles with substance abuse—is compelling, but not compellingly told, with the new singer appearing to be little more than an affable guy who understands how lucky he's gotten. Beyond that, the film mostly features a lot of touring tedium and unspectacular concert footage, though director Ramona S. Diaz manages to wring what drama she can out of Pineda contracting a cold. Spoiler alert: He gets better. Follow Keith Phipps on Twitter: @kphipps3000
Read more
"I used to be a nobody until I discovered the Internet," says Chinese blogger Zhou Shuguang. A citizen journalist and determined self-promoter whose efforts put him frequently at odds with his government, Zhou—who goes by the immodest nickname Zola—blurs the line between reportage and narcissism: Covering the funeral of a girl who he says was raped and murdered by a public official's son, the amateur muckraker uses public clowning as a cover for filming the crowd. (During a visit home, his mother argues that country comes before the individual; he unsurprisingly disagrees.) Then there's Zhang Shihe, a.k.a. Tiger Temple, who's twice Zhou's age and takes a literally self-effacing approach, positing online videos of effluent-choked waterways with voiceovers courtesy of his cat—on the apparently valid theory that cat videos don't merit official censorship. It's not easy for critical reporting to clear China's Great Firewall, though as Stephen T. Maing's documentary proves, getting the message to the masses is not impossible. (Access to foreign DNS servers helps immensely, of course.) The film's observational approach can be frustratingly vague, however, especially when it comes to what impact, if any, his subjects' efforts have. But this dual portrait is still an engaging study of the disparate characters who are drawn to speak out when the authorities crack the whip.
Read more
Don McLeroy is an amiable man—a good dentist to his patients, an enthusiastic Sunday-school teacher and an impassioned leader of the Texas State Board of Education. He also happens to be a Young Earth creationist, one of those right-leaning religious folks who discount the theory of evolution and believe a divine being brought the planet's inhabitants to life only a few thousand years ago. Scott Thurman's scornful doc focuses on McLeroy's controversial, and somewhat successful, attempts in 2009 and 2010 to rewrite Texas science and history books with language that was more sympathetic to the intelligent-design perspective—a course of events that could potentially affect schoolchildren throughout the nation. The film takes us inside the laborious board meetings with their often eye-rolling arguments (extended discussions about the use of the word hip-hop and the loaded term strengths and weaknesses). And Thurman interviews subjects on both sides of the debate, from Liberty University law professor Cynthia Dunbar to noted anthropology instructor Ron Wetherington—whose friendly yet still subtly charged debate with the creepily cocksure McLeroy is the doc's best scene. Otherwise, The Revisionaries is strictly on the side of the secular-humanist angels; there's even a mocking score by Mark Orton that makes sure we understand that McLeroy is a deserving figure of fun. Such a feature-length bludgeoning, even in the service of basic social and scientific literacy, is truly discomfiti
Read more
What are they raising their kids on in Bekoji? The remote Ethiopian town at the end of a dirt road nearly 200 miles from the capital Addis Ababa has produced some of the world's best distance runners. How? Well, there's the altitude for starters (Bekoji is 10,500 feet above sea level). Then there's coach Sentayehu Eshetu. He arrived as a PE teacher and is now a kind of Pied Piper, stealing children out of their beds at the crack of dawn – to run, most of them barefoot. His first champion, Derartu Tulu, became the first black African woman to win an Olympic gold, at Barcelona in 1992. And they just keep on coming.This amazing story might be familiar – it's one of those tales sporadically recycled by the Sunday glossies. Filmmaker Jerry Rothwell followed two of Eshetu's star pupils for three years: 14-year-old Hawii and her best friend Alemi. Both girls are selected for elite training and the stakes high: they're running if not for their lives then their livelihoods.
Read more
See more documentaries by date