All in good Thai
Thailand's favorite spa comes to NYC.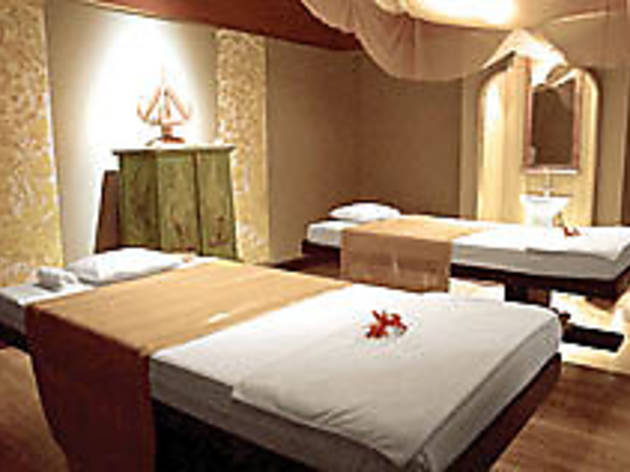 "Our therapists meditate every morning until they achieve peace of mind," says Nunnapatt Sucharit, the training director of Thai Privilege Spa. "So the whole spa accumulates that healing energy." Sucharit trains staff members at the chain's four locations in Asia, and, this month, takes residence in Soho for the company's North American debut. The Thai Privilege Spa is the first business of its kind to receive Thailand's prestigious Prime Minister's Export Award. And the stateside creation, which Sucharit describes as "every guest's inner space of calm," is a 6,300-square-foot, mahogany-and-gold-adorned loft.
Upon arrival, smiling hosts clad in raw silk welcome guests with a resounding "Sahwatdee," or "hello," before delivering ginger tea and a hot camphor-infused towel. A ritualistic foot bath follows. "This is a symbol of high respect to our clients," explains manager Surasak Nantakarat, who launched all five of the spa's locations. Next, guests are escorted down a glowing hallway to one of eight cavernous treatment rooms for the main event.
Reaped in tradition
Although a number of New York spas offer Thai massage—in which a therapist stretches the client's body into yogalike positions and applies pressure to key energy points—TPS is the only place dedicated to the technique in its most traditional form (an hour is $120). The spa ships in special beds from Thailand that offer the therapist and subject a wider range of movement than U.S. massage beds allow. TPS's therapists are trained to incorporate acupressure, and ayurvedic and yogic principles into their practice. The goal is to pass positive energy to their clients through touch. In addition to Thai massage (which you may receive in the sala, a communal pavilion built in imitation of common Thai massage venues), you can also receive aromatherapeutic Swedish varieties, warming salt rubs, and an array of other services for the face, body and soul.
It takes a village
Guests can also feed their philanthropic spirit: The space is completely furnished with items from manufacturers affiliated with One Town One Product, a program established by the Thai government to support the nation's small businesses. So those coveting the hand-painted ceramic cups that hold their tea—or any other object in the spa, for that matter—can take home a part of the experience and support a small village in the process.
"Sarahn, the inner joy of serenity, is hard to even comprehend today," Sucharit says. "But we hope all our guests will experience it." The privilege would be ours.
Thai Privilege Spa is located at 155 Spring St between West Broadway and Wooster St, second floor (212-274-8121).