Heads up! We're working hard to be accurate – but these are unusual times, so please always check before heading out.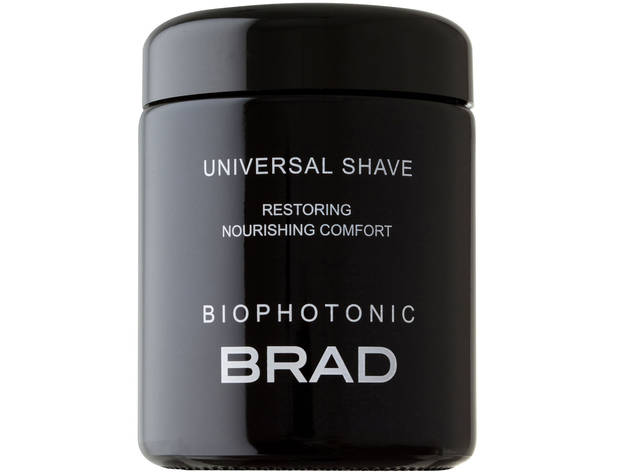 1/12
At first glance, this sleek bottle and its viscous, jellylike contents seem to have been dropped straight from the future. But the shave gel's obscure vessel isn't merely for aesthetics: The deep-purple Miron glass is designed to filter in violet rays, which stimulate active ingredients and prevent them from being damaged by light. Even if you don't completely understand the science behind it, you can still appreciate how the bio-fermented aloe, tea-tree oil and calendula leaves your face feeling supersoft after a shave. Brad Universal Shave gel, $65, at Woodley & Bunny, 196 North 10th St at Driggs Ave, Williamsburg, Brooklyn (718-218-6588, woodleyandbunny.com)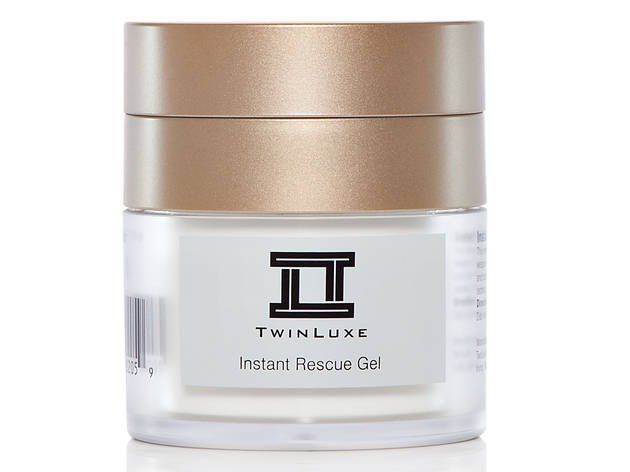 2/12
Instead of using an unsightly square of toilet paper to clot shaving nicks, dab on this cooling gel to help combat irritation and relieve redness. The botanical-rich product can also be used to soothe rashes, bug bites and pimples. TwinLuxe Instant Rescue gel, $34, at twinluxe.com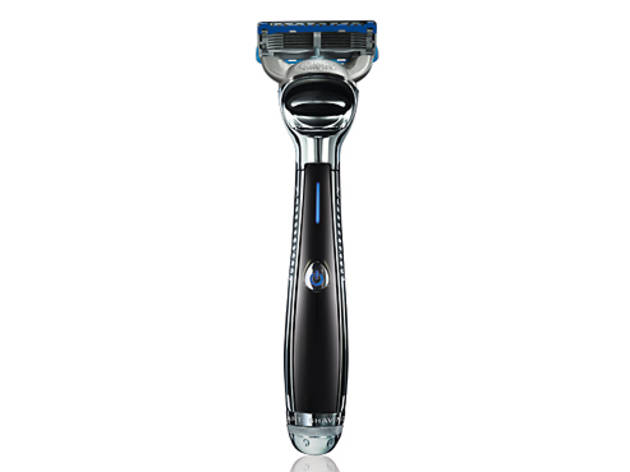 3/12
Geeks will go gaga for this technologically savvy razor, which boasts a built-in indicator light that fades from blue to white, letting you know when to change the disposable Gillette Fusion five-blade cartridge. The battery-operated tool also elicits small pulses to help reduce friction during use, and features a spotlight beneath the handle that illuminates shadowy spots. The Art of Shaving Power Shave Collection Power Razor, $175, at the Art of Shaving, locations throughout the city; visit theartofshaving.com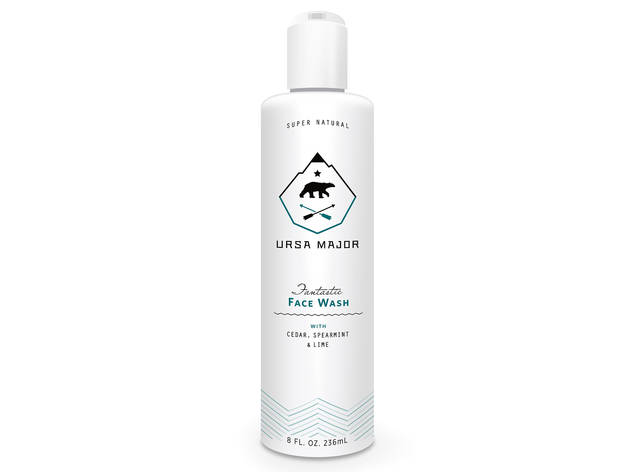 4/12
New York transplants Oliver Sweatman and Emily Doyle ditched the city's bright lights two years ago to launch their all-natural men's skin-care line, Ursa Major, out of Stowe, Vermont. The pair's bucolic surroundings have informed everything from their brand's name (taken from the bear-shaped constellation they frequently spot in the clear night sky) to their ingredient choices, such as the woodsy cedar, invigorating spearmint and refreshing lime found in this low-foaming face wash. The gentle exfoliator is so enjoyable to use, it counts as a convert our product-averse tester---who normally lathers his face with body soap in the shower. Ursa Major Fantastic face wash, $26, at Odin New York, 199 Lafayette St between Broome and Kenmare Sts (212-966-0026)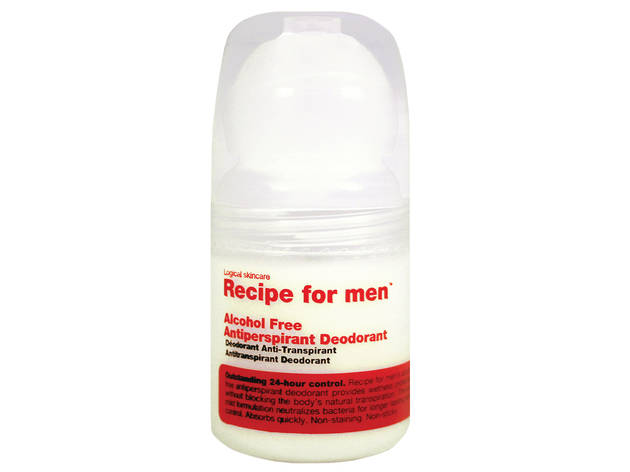 5/12
Keep first-date-jitters--induced sweaty pits at bay with the help of this long-lasting, alcohol-free roll-on antiperspirant. Recipe for Men deodorant, $19, at Woodley & Bunny, 196 North 10th St at Driggs Ave, Williamsburg, Brooklyn (718-218-6588, woodleyandbunny.com)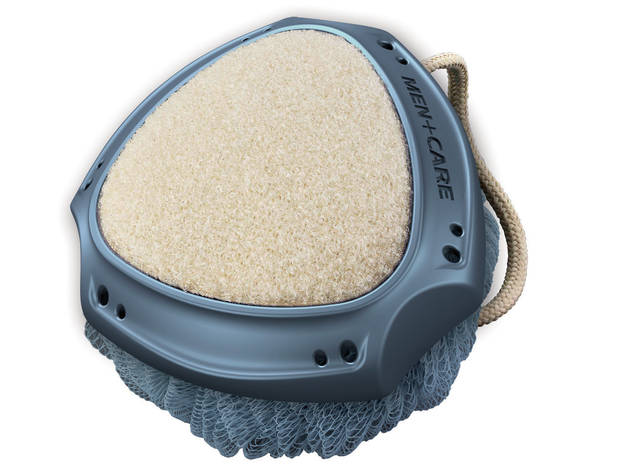 6/12
This dual-sided scrubber is the manly solution for guys who appreciate body wash but deride shower poufs as nothing more than delicate doilies. Lather up with the mesh side before flipping the easy-to-grip tool and exfoliating with the abrasive loofah. Dove Men+Care Active Clean dual-sided shower tool, $6, at Walgreens, locations throughout the city; visit walgreens.com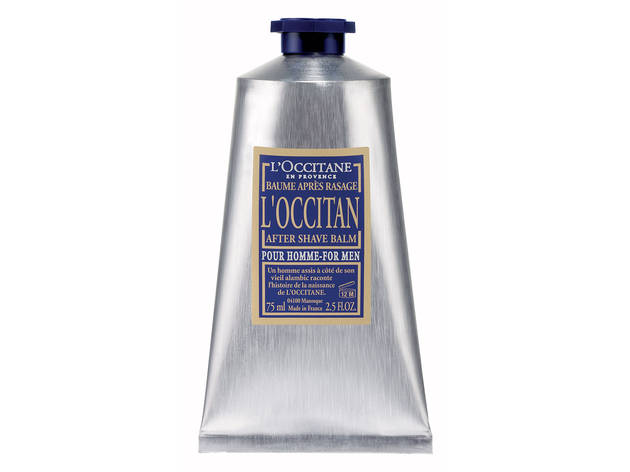 7/12
You'll never look back at the tingling aftershave splashes your father groomed you to use once you try this lightweight, nongreasy cream version. In place of a bracing bite, you'll experience profound smoothness, thanks to moisturizing shea butter and birch-sap extract. L'Occitane After Shave Balm, $30, at L'Occitane, locations throughout the city; visit usa.loccitane.com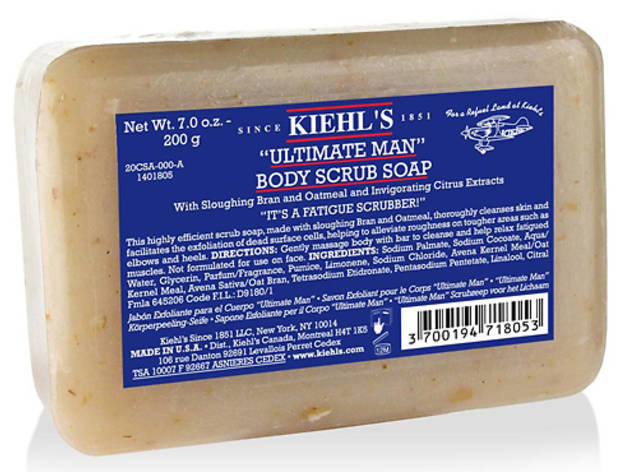 8/12
We get it: No matter how many times their lady friends extoll the benefits of exfoliation, dudes will never part with their beloved bar soap. This thick, oversize brick is a welcome compromise---it sneakily sloughs off dead skin with bits of bran, oatmeal and pumice, not to mention, it lasts for months. Kiehl's Since 1851 Ultimate Man Body Scrub soap, $13, at Kiehl's Since 1851, locations throughout the city; visit kiehls.com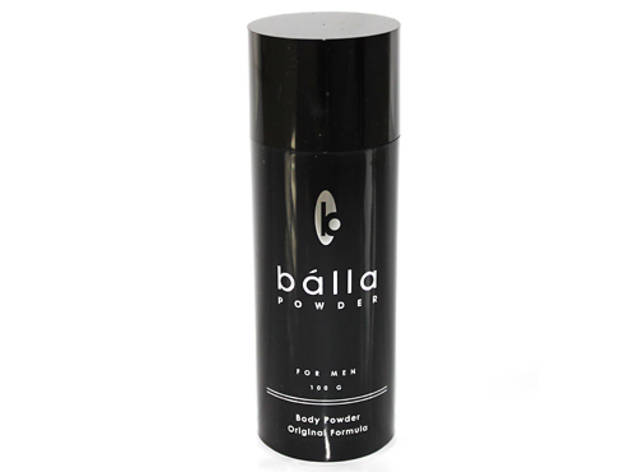 9/12
It might sound totally nuts that this talcum powder is designed specifically with your nether regions in mind. Yet it helps you stay dry and fresh through warm weather and workouts better than your basic Gold Bond. Blla Powder for Men Original formula, $15, at New York Barbers, 153 Ludlow St between Grand and Hester Sts (212-406-8494)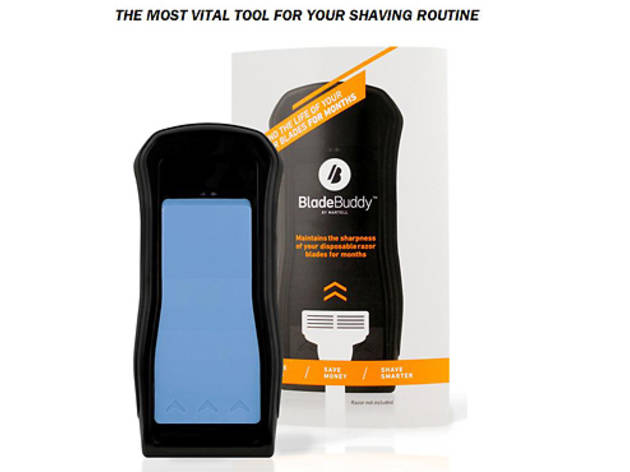 10/12
Think of this rubbery tool as a knife sharpener for your disposable razor. Simply slather a thin layer of shaving cream or soap onto the pad, then rub your blade on it in an upward motion 20 times before you shave to extend the life of each costly cartridge. It also doubles as a sanitary surface for storing your razor. Martell Blade Buddy, $20, at Bunya CitiSpa, 474 West Broadway between E Houston and Prince Sts (212-388-1288)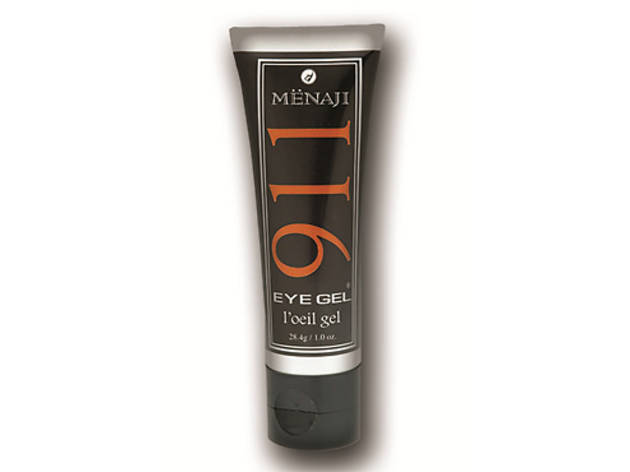 11/12
Dab this refreshing gel beneath your peepers to conceal puffiness and dark circles acquired from a late-night bender. You can even store it in your refrigerator for an even greater energizing effect. Mnaji Skincare 911 eye gel, $36, at the Bathroom NYC, 94 Charles St at Bleecker St (212-929-1449, inthebathroom.com)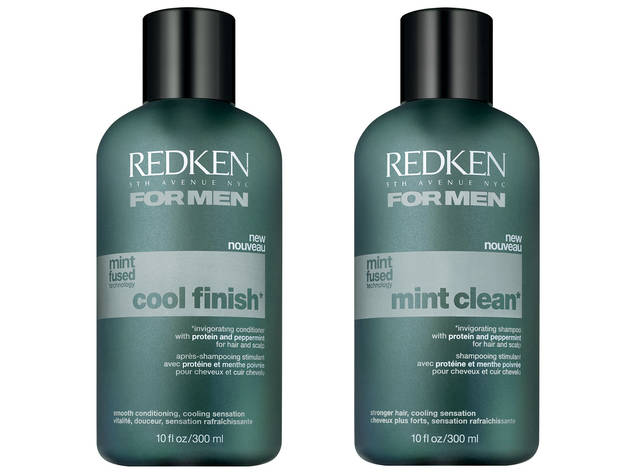 12/12
We swooned for the masculine, peppermint-fueled scent of this shampoo-and-conditioner set, which left our beau's locks silky soft, shiny and dandruff-free. Redken for Men Mint Clean Invigorating shampoo and Cool Finish Invigorating conditioner, $14 each, at Cutler Salons, locations throughout the city; visit cutlersalon.com
Great men's grooming products
These items will get you in tip-top shape for your next date.