The best gay bars in Hell's Kitchen
Gay bars in Hell's Kitchen offer something for every taste, from grungy neighborhood dives to swanky lounges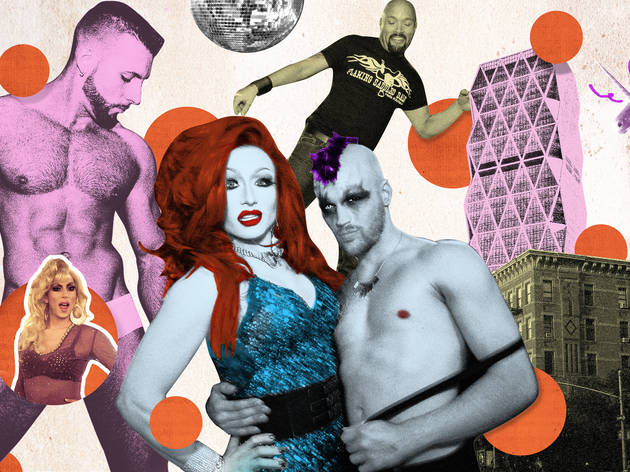 Hell's Kitchen has been the gayest of the city's gayborhoods for a decade, and the scene keeps growing and evolving. In addition to gay-bar pioneers including Ninth Avenue Saloon and Posh, stylish boy bars such as Industry and Therapy draw locals and tourists alike to the West Side 'hood. Whether you're entertaining out-of-town guests, going bar-hopping with pals, or just want to enjoy a cheap happy hour, Hell's Kitchen has got you covered.
Recommended: Hell's Kitchen neighborhood guide
Gay bars in Hell's Kitchen
1
City folk can party honky-tonk-style at this country-western gay bar. The 74-seat spot is outfitted to look like a Wild West bordello, complete with red velvet drapes, antler sconces and rococo wallpaper. Throw back a shot and wrangle yourself a mate, or chow down on hearty grub like Texas red chili or Angus beef burgers. Don't miss the entertainment—performances by bartenders dancing in cowboy boots add to the raucous vibe.
Read more
2
Gay nightlife honcho Josh Wood teamed up with veterans of Drom, Eastern Bloc and Splash to bring you this speakeasy-like homo haunt conveniently located in the middle of Hell's Kitchen's thriving gay strip. Vintage beefcake and athletic images adorn the walls, and lines can get long when popular DJs take over the back room on the weekends.
Read more
3
The men behind longstanding Chelsea haunts Barracuda and Elmo Restaurant bring you this sultry midown drinkery. Unlike cozy Barracuda, Industry is a sprawling, high-ceilinged space, featuring a long concrete bar (manned by hunky, often shirtless bartenders, naturally) a stage hosting drag and music performances and a sizeable dance floor. Those seeking a more intimate scene will find plenty of private nooks and comfy couches.
Read more
5
The 30-year-old Hell's Kitchen fixture (once known as Cleo's) is practically a clubhouse for the area's gay population. Though beloved in-house drag-queen-cum-barkeep Ginger has left her post, other entertainment comes in the form of karaoke (Wed 10pm–1am). During happy-hour (Mon–Fri 4–10pm; Sat, Sun noon–8pm), well drinks cost $4.50, so seats can be hard to come by.
Read more
6
This friendly midtown drinkery comes to you courtesy of the guys behind the Village institution Pieces. Nightly drag shows, theme parties and DJs keep things lively.
Read more
7
Drinks like the Freudian Sip (Ketel One Citron, fresh ginger and lemonade), served in a nice big tumbler, are sure to leave you feeling blissfully worry-free at this cocktailcentric space. But it's the impressive venue that draws young neurotics: two levels of slate floors connected by a dramatic staircase, crowned with a massive skylight. Mellow pop, house and techno play at the perfect level, allowing for both conversation and grooving.
Read more
8
This down-to-earth bar with a cozy back-room lounge draws an attitude-free crowd, especially post-theater and when DJs spin. A seat at the bar provides a view of the frozen-margarita machine and the mixed bag of kitsch that makes up the decor. DJs, drag shows and/or cheap drink specials can be found most nights.
Read more
9
Gay and Latino is the dominant culture, the energy is infectious, the dance floor is hot, the drinks are weak and the lines to the men's room are curiously long. You say you're not into go-go boys, papi, but you'll change your mind after a few moments in front of these platforms. On Freedom Fridays, everyone gets in free. Saturdays bring dance and live shows (2am), and such quality acts as La India and Dana International. You can't not have fun.
Read more