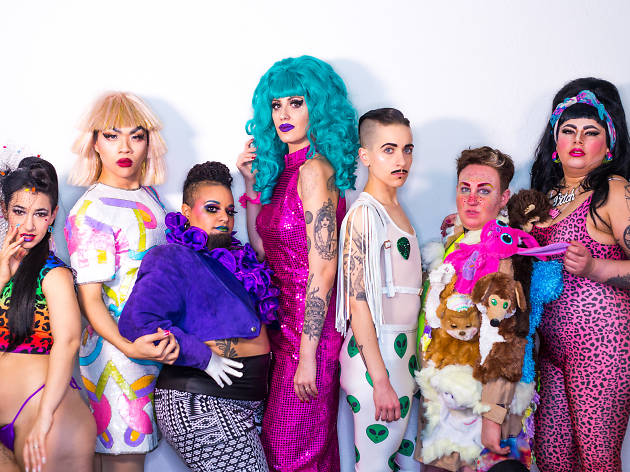 Time Out says
Brooklyn's most subversive ensemble brings their outrageous brand of drag and burlesque to National Sawdust for their annual VAMP blowout. Witness gender-obliterating, hyper-inclusive comedy and stunts from the mischievous minds of Divina GranSparkle, K.James, Miss Malice, Nyx Nocturne, Pearl Harbor, Vigor Mortis, and Zoe Ziegfeld,alongside guest artists Vander Von Odd and Miscallaneous Dom Top.
Details
Rating Breakdown
5 star:

1

4 star:

0

3 star:

0

2 star:

0

1 star:

0
After the first act, "Femmecee" Miss Malice returns to the stage and asks the audience:
"Have you said goodbye to your former selves yet? Have you come to accept that you will be changed by this show?" She's not kidding. This show is all about transformation – for the performers and for the audience. And that's art, y'all. In case anyone has forgotten, these young switch-n-players are here to remind us: Art Is Transformation. Art began with taking a stick to a prehistoric cave wall and transforming it into an imagined world of people and animals. And today art continues to transform materials into new objects and people into new personas that in turn stimulate transformation in their viewers. That's what it's all about.

It's innovative; it's radical; it's subversive; it's delightful; it's horrifying; it's fantastically fun; it's courageous; it's freeing and it's life-affirming.


In this show, we see men dressing as women, women dressing as men, people bending gender roles to the point where we are not sure who is dressing as what, someone dressing as a Twinkie, someone doing striptease, someone doing horror, all body types, all ethnicities. It's wildly entertaining, and it's much more than just weird. These performers are keenly aware of who they are and what they are doing. Whether they are on stage twirling tassels or tossing raw meat, this is some heady frivolity going on. These are ambitious and skillful performers who are using their freedom of expression to affect change.


The Switch n' Play show is seductive and invigorating. The performers manage to connect with our vital organs and take the audience beyond the "play," as we join their revelatory, thrilling, and emotional journey. At this seemingly ordinary neighborhood bar, the natural interaction between performer and audience is taken to the highest level; it's a psychic collaboration.

AND the Switch n' Play live show has recently been made into a documentary, A Night at Switch n' Play. So if you don't make the show, look for the film, which is maybe even better than the show because you get to see back-stage interviews with the performers. Read more about this film and two other documentaries that share the spirit of freedom and use art and music as a catalyst for change: Google "Freedom Films" and "HelenHighly."