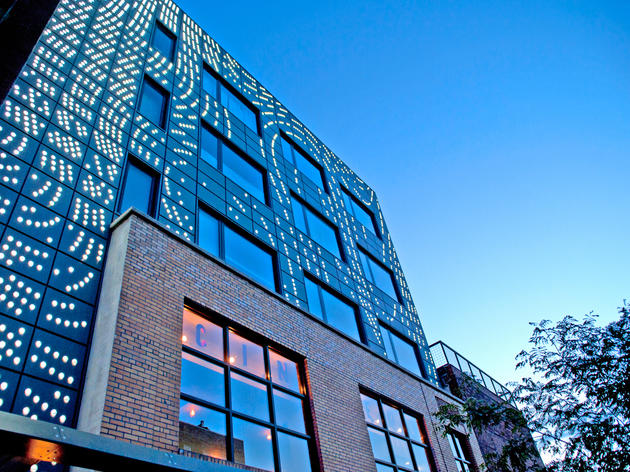 1/5
Photograph: Pedro Feria Pino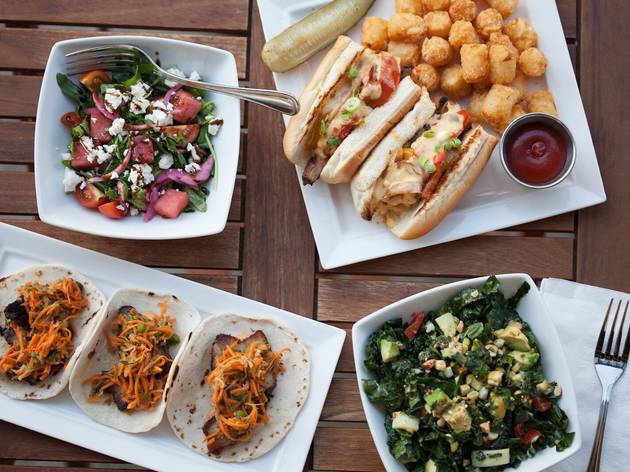 2/5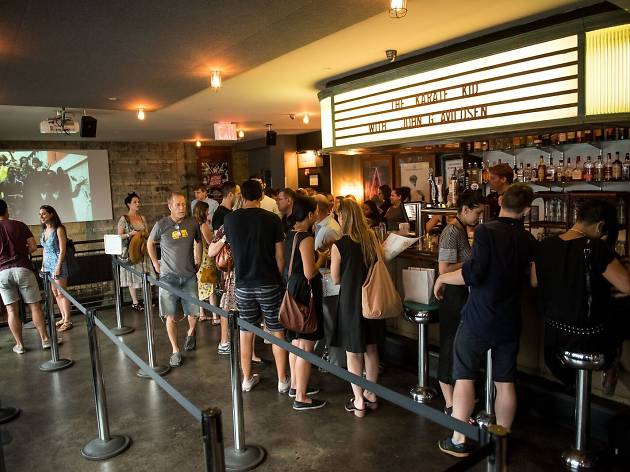 3/5
Photograph: Gabi Porter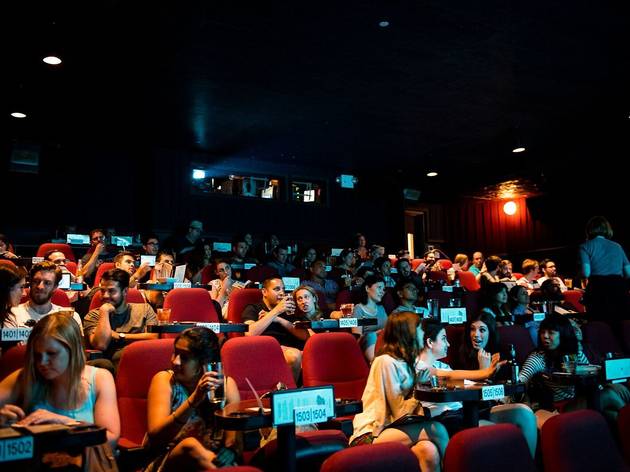 4/5
Photograph: Gabi Porter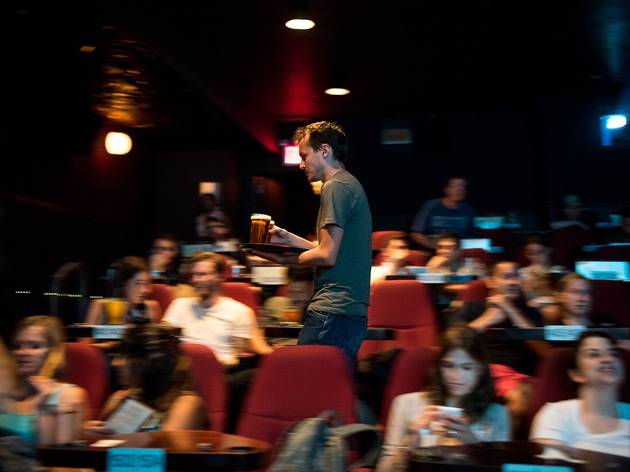 5/5
Photograph: Gabi Porter
This Brooklyn venue screens new indie releases and has a robust retro program. Each individual theater has full-service meals, plus there's the downstairs Lo-Res bar that stays open late. In 2011, Nitehawk overturned a Prohibition-era state liquor law banning alcohol in theaters, becoming the first dine-in theater to open in New York.
Venue name:
Nitehawk Cinema
Contact:
Address:
136 Metropolitan Ave
Brooklyn
11249

Cross street:
between Berry St and Wythe Ave
Transport:
Subway: L to Bedford Ave
Do you own this business?
If Jim Jarmusch's languorous, laconic style isn't your bag, his stone-faced vampire comedy won't make you a believer. Those who've already been bitten, however, will swoon like the film's toothy leads whenever their lips touch neck juice. First is...

Read more

Teen movies have long been a safe bastion for queer viewers, offering plucky heroes who exude a society-be-damned confidence—think of Clueless's Cher Horowitz stomping through her high school's halls. And while gay teens may worship the hyperstyli...

Read more

We're watching an extremely luxe pocket of 18th-century life in The Favourite, which means the bewigged fops are scheming, the ducks are running (these people don't lack for strange competitive sports) and the offscreen organist is going for baroq...

Read more

And you thought the fake schnozz in The Hours was distracting: Nicole Kidman drabs down considerably in a movie that seems to exist only to congratulate her for how unglamorous she can be—capacious bags under bleary red-rimmed eyes, desiccated ski...

Read more

"What I do is to read a story only once, and if I like the basic idea, I just forget all about the book and start to create cinema," said Alfred Hitchcock, explaining his technique for adapting novels. Writer-director Barry Jenkins, it's fair to s...

Read more

With his white-knuckle sci-fi thriller Gravity, Mexican auteur Alfonso Cuarón extracted an intimate character study from the vastness of outer space. Now he goes in reverse: In his deeply personal b&w marvel Roma, Cuarón—a director of erotic road-...

Read more

The afterlife has rarely been quiet for Queen frontman Freddie Mercury, who died young in 1991 after a flurry of creativity. First came Wayne's World, with Mike Myers head-banging to Queen's 1975 hit Bohemian Rhapsody. Then came a massive tribut...

Read more

You're not going to a movie called Vice—a chaotic, psychologically dense thicket out of which slinks the Beltway swamp creature Dick Cheney (an astounding Christian Bale, invisible under prosthetics)—expecting a revisionist perspective. That's nev...

Read more
Average User Rating
4.4 / 5
Rating Breakdown
5 star:

8

4 star:

3

3 star:

1

2 star:

1

1 star:

0
One of my favorite spots in all of New York. The vintage, original vibe of the theater makes it a unique, fun, casual spot for any kind of night out! The movie they show are always different; you can catch everything from the newest releases to 1920's horror films. So many options that are constantly changing! AND they have themed showings that revolve around the movie and special food that fits that film. I can't speak more highly of the food too - which you're served AT YOUR SEAT. It's always tasty and not skimpy portions. A glass of wine, BIG bowl of buttery popcorn and a movie - I'm in heaven. All of the food I've tried on their menu has been quite spot on as well - great burger and fries! Downfall is you won't have the most luxurious seats, BUT it's a vintage theater and that's part of the charm! I highly recommend trying out this spot for a unique day or night out!
An incredibly comfortable set up to see a movie in. The seats are pretty low and your neck cranes a bit up, but you can order food directly from your seat. This can make it a bit awkward if your in a crowded theater and you order something during through the movie, but it's a great concept. The food is a bit pricy and the portions small, so I recommend eating before you go and noshing on some popcorn and beer during the show.
Clean, comfortable, cozy, and chichi! This Brooklyn institution is a great place to watch movies, drink booze, and nosh on some good eats.
Nitehawk has it half right; they have a reasonable programming slate with cool, retro pre-show commercials and several theaters so there is a decent selection to choose from. But the theaters themselves could use an upgrade. The seating is too low (or are the tables too high?) with worn out springs and the tables are beat up with the kind of permanent stickiness that takes years to acquire.
But their biggest pitfall is the menu: a lack of healthy food and overpriced options leave you feeling guilty for not ordering anything and even guiltier for eating junk food. One would think that the veggie burger (without cheese, aioli on the side) would be reasonable but they made the ridiculous choice to deep fry it. Or pan fry it in several inches of oil but either way……you can't ask your server about it because you're in the middle of a movie! I figure the only reason they get away with such lackluster food is because you're eating in the dark and think you won't know the difference.
Watching a movie at Nitehawk is a real treat. Each month, they curate an awesome throwback flicks around a specific theme during their Brunch Screening Series, and the selections are always ace. Best of all, you can eat delicious grub and snacks like truffled popcorn—oh, and drink!—while watching the film. Tip: Just make sure to buy tickets in advance and arrive early to snag a good seat—these intimate theaters fill up fast!
Nitehawk is pretty much the only theater in NYC worth going to. Small, chill, not crowded and they play all the movies I'm into. I love going for brunch on the weekends, they have eggs benny over TATER TOTS people! So delish!! The brunch meal also comes with a drink of your choice, INCLUDED. (You can get a bloody mary, mimosa, iced coffee etc. with it.) They have delicious seasoned popcorn, queso, amazing selection of drinks. It's great to sit down and be waited on for everything too. Everything is also reasonably priced. One of the best experiences was going for a film feast here for Friday the 13th. Awesome and you need to get over to Nitehawk already!

An upscale Elgin Cinema for those that remember the Elgin.
I went to see an epic indie slasher movie called Slumber Party Massacre with some buddies here. It didn't disappoint. You're also able to order drinks and snacks from your seat, including your traditional bowl of popcorn (they offer some with truffle oil)! I wouldn't say the mixed drink I ordered was anything special, but the ambiance was so great I didn't even mind. I'll definitely be coming back.
Nitehawk is a nice little indie theater. They show the movies that you wouldn't be ale to see at the Williamsburg Cinema and feature one-offs, midnight movies, and toons and booze on weekends! The food is mediocre, but it's nice to have the option to order and enjoy dinner at your seat. At the very least, order some popcorn. It's not like typical movie popcorn, but more like what homemade popcorn would taste like if you bothered to put good stuff on it. Nice to have drinks delivered to your seat, but there are often drunk patrons in the evening showings. The tiny theaters cause the sound to carry, so if there is a drunk conversation happening in the theater, prepare to hear it all.
SO GREAT. If I had it my way, I'd go here three times a week. Their programming of retro films is amazing, they get really cool speakers...and yeah, the ability to have brews delivered to your table is like my favorite thing ever.
I live very near this theater, and it's my favorite spot in the neighborhood. Nitehawk shows indie flicks other theaters won't, plus serves you food and alcohol while you watch. The ticket prices are affordable, $11, while beers are around $6 and cocktails around $10, then there's snacks like queso and meals like burgers and fish tacos. It's a great date spot, but also somewhere I like to go alone to treat myself on a Sunday night. It feels great to spread out in their comfy chairs and have beers magically appear at your seat while you're watching a classic they've brought back for one night only, like Jurassic Park, or a new tearjerker documentary, like Amy. You MUST try the Nitehawk popcorn—two words: truffle oil.