Exclusive: Rooftop Cinema Club announces outdoor NYC screenings
Check out a classic, sip cocktails and experience a Manhattan or Brooklyn sunset at the sultriest of film series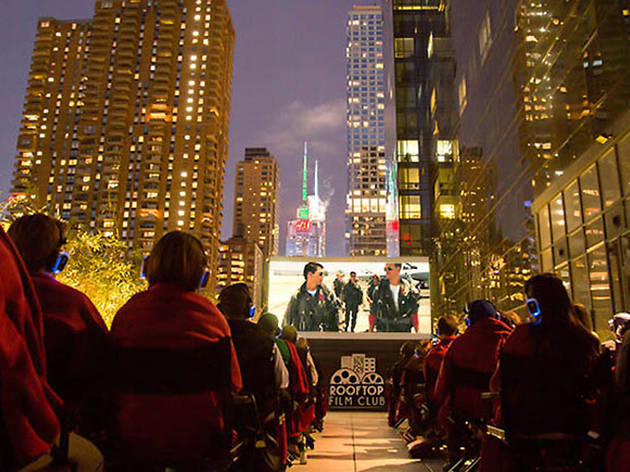 Nothing says summer more than seeing a movie outdoors, caressed by warm breezes and sipping an alcoholic beverage. London's Rooftop Cinema Club are the kings of this experience, and we're pleased to exclusively announce their second year of local summer programming. Once again, their movie screenings will be held on the terrace of midtown's ultraswank YOTEL, a site with great views of the setting sun and globally inspired street food from new restaurant Green Fig and the upcoming Social Drink and Food. Their series begins May 3 with the immortal Hollywood romance Casablanca and runs through October.
Doors open at 6pm each night. You have drinks, wait until the sun sets (generally around 8pm) and then settle into the movie with your own personal set of wireless headphones to adjust the volume as you prefer. This year, a new package rate of $30 (plus a $3 booking fee) gets you admission to the film, a bag of buttered popcorn and Bubbles—everything a human being could possibly want!
The picks are terrific, ranging from die-hard cult classics (Blade Runner, Taxi Driver, The Big Lebowski), last year's Oscar contenders (Room, The Big Short, Straight Outta Compton) and some of the most fun rom-coms ever made (Clueless, Dirty Dancing, Manhattan.) Click on each of the handy below links to buy tickets via Time Out New York.
Rooftop Cinema Club: October calendar
Sun October 2: Dirty Dancing at 6:30pm, YOTEL (Manhattan)—SOLD OUT

Sun October 2: Top Gun at 8:30pm, YOTEL (Manhattan)—SOLD OUT

Mon October 3: Vertigo at 7:30pm, YOTEL (Manhattan)—SOLD OUT

Wed October 5: American Psycho at 7:30pm, YOTEL (Manhattan)—SOLD OUT

Fri October 7: Manhattan at 7:30pm, YOTEL (Manhattan)—SOLD OUT

Sun October 9: The Breakfast Club at 6:30pm, YOTEL (Manhattan)—SOLD OUT

Sun October 9: The Goonies at 8:30pm, YOTEL (Manhattan)—SOLD OUT

Mon October 10: Casablanca at 7:30pm, YOTEL (Manhattan)—SOLD OUT

Tues October 11: Breakfast at Tiffany's at 7:30pm, YOTEL (Manhattan)—SOLD OUT

Wed October 12: When Harry Met Sally at 7:30pm, YOTEL (Manhattan)—SOLD OUT

Thu October 13: Election at 7:30pm, YOTEL (Manhattan)—SOLD OUT

Fri October 14: Ghostbusters at 7:30pm, YOTEL (Manhattan)—SOLD OUT

Sun October 16: Pulp Fiction at 7:00pm, YOTEL (Manhattan)—SOLD OUT

Tues October 25: Exclusive Screening — 3 films from Refinery29's ShatterBox Anthology at 7:30pm, YOTEL (Manhattan)—SOLD OUT