Exclusive: Rooftop Cinema Club announces outdoor NYC screenings
It's time again to watch classics, sip cocktails and take in a gorgeous sunset at summer's hottest outdoor film series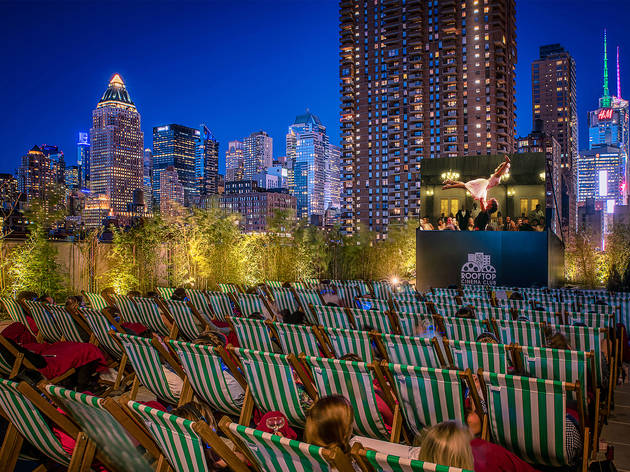 Films go down better with cocktails—you know this to be true. And the whole experience is even sweeter when you can take in a Manhattan or Brooklyn sunset. Rooftop Cinema Club has perfected the night out at the movies, and we're delighted to exclusively announce its third annual edition of summer movie screenings. Once again, the party comes to two venues: midtown's swanky YOTEL (570 Tenth Ave) and East Williamsburg's OfficeOps (57 Thames St).
At either location, expect popcorn, wireless headphones (a Rooftop Cinema Club speciality) and comfy seating. It's BYO drinks at OfficeOps, but YOTEL has a full-service bar at your disposal. They also have some special offers: A general-admission ticket includes one box of popcorn and a glass of bubbles, but a "Rooftop Love Seat" includes a shared double deckchair, bottomless popcorn and bubbles. And the films they've selected are top-notch, a killer mix of time-tested essentials (North by Northwest, Breakfast at Tiffany's), '80s favorites (Back to the Future, Raiders of the Lost Ark), snappy comedies (Clueless, Pulp Fiction) and today's Oscar-winning hits (La La Land, Moonlight).
Here's the first round of programming for May and June (expect more updates here in the coming weeks). Click through the links below for tickets:
Rooftop Cinema Club: May calendar
Note: Movies that are crossed off are sold out.
Thu May 4: Annie Hall at 8pm, YOTEL (Manhattan)
Thu May 4: Hidden Figures at 10pm, YOTEL (Manhattan)
Fri May 5: The Edge of Seventeen at 8pm, YOTEL (Manhattan)
Fri May 5: Clueless at 10pm, YOTEL (Manhattan)
Sat May 6: Beauty and the Beast (1991) at 8pm, YOTEL (Manhattan)
Sat May 6: Moonlight at 10pm, YOTEL (Manhattan)
Sun May 7: Arrival at 8pm, YOTEL (Manhattan)
Mon May 8: Moana at 8pm, YOTEL (Manhattan)
Tue May 9: Mulholland Drive at 8pm, OfficeOps (Brooklyn)
Tue May 9: Top Gun at 8pm, YOTEL (Manhattan)
Wed May 10: Moonlight at 8pm, OfficeOps (Brooklyn)
Wed May 10: Rogue One: A Star Wars Story at 8pm, YOTEL (Manhattan)
Thu May 11: Rogue One: A Star Wars Story at 8pm, OfficeOps (Brooklyn)
Thu May 11: Taxi Driver at 8pm, YOTEL (Manhattan)
Fri May 12: Twin Peaks: Fire Walk With Me at 8pm, OfficeOps (Brooklyn)
Fri May 12: Logan at 8pm, YOTEL (Manhattan)
Sat May 13: Heat at 8:15pm, YOTEL (Manhattan)
Sun May 14: Donnie Darko at 8:15pm, YOTEL (Manhattan)
Mon May 15: Arrival at 8:15pm, OfficeOps (Brooklyn)
Mon May 15: Dirty Dancing at 8:15pm, YOTEL (Manhattan)
Tue May 16: The Edge of Seventeen at 8:15pm, OfficeOps (Brooklyn)
Tue May 16: Rear Window at 8:15pm, YOTEL (Manhattan)
Wed May 17: American Psycho at 8:15pm, OfficeOps (Brooklyn)
Wed May 17: Queen of Katwe at 8:15pm, YOTEL (Manhattan)
Thu May 18: Paterson at 8:15pm, OfficeOps (Brooklyn)
Thu May 18: Raiders of the Lost Ark at 8:15pm, YOTEL (Manhattan)
Fri May 19: Logan at 8:15pm, OfficeOps (Brooklyn)
Fri May 19: Wedding Doll at 8:15pm, YOTEL (Manhattan)
Sat May 20: Goodfellas at 8:15pm, YOTEL (Manhattan)
Sun May 21: Moana at 8:15pm, YOTEL (Manhattan)
Mon May 22: Back to the Future at 8:15pm, OfficeOps (Brooklyn)
Mon May 22: La La Land at 8:15pm, YOTEL (Manhattan)
Tue May 23: Top Gun at 8:15pm, OfficeOps (Brooklyn)
Tue May 23: Lion at 8:15pm, YOTEL (Manhattan)
Mon May 29: A Few Good Men at 8:30pm, OfficeOps (Brooklyn)
Mon May 29: Sweet Smell of Success at 8:15pm, YOTEL (Manhattan)
Tue May 30: Do the Right Thing at 8:30pm, OfficeOps (Brooklyn)
Tue May 30: Pulp Fiction at 8:15pm, YOTEL (Manhattan)
Wed May 31: Reservoir Dogs at 8:30pm, OfficeOps (Brooklyn)
Wed May 31: Breakfast at Tiffany's at 8:15pm, YOTEL (Manhattan)
Rooftop Cinema Club: June calendar
Note: more Manhattan screenings to be announced
Thu June 1: Mean Streets at 8:30pm, OfficeOps (Brooklyn)
Fri June 2: Moana at 8:30pm, OfficeOps (Brooklyn)
Mon June 5: Rogue One: A Star Wars Story at 8:30pm, OfficeOps (Brooklyn)
Tue June 6: Manchester by the Sea at 8:30pm, OfficeOps (Brooklyn)
Wed June 7: The Big Lebowski at 8:30pm, OfficeOps (Brooklyn)
Thu June 8: La La Land at 8:30pm, OfficeOps (Brooklyn)
Fri June 9: Hidden Figures at 8:30pm, OfficeOps (Brooklyn)
Mon June 12: Full Metal Jacket at 8:30pm, OfficeOps (Brooklyn)
Tue June 13: The Lost Boys at 8:30pm, OfficeOps (Brooklyn)
Wed June 14: Dirty Dancing at 8:30pm, OfficeOps (Brooklyn)
Thu June 15: Predator at 8:30pm, OfficeOps (Brooklyn)
Fri June 16: RoboCop at 8:30pm, OfficeOps (Brooklyn)
Mon June 19: Raiders of the Lost Ark at 8:30pm, OfficeOps (Brooklyn)
Tue June 20: Top Gun at 8:30pm, OfficeOps (Brooklyn)
Wed June 21: Hell or High Water at 8:30pm, OfficeOps (Brooklyn)
Thu June 22: Train to Busan at 8:30pm, OfficeOps (Brooklyn)
Fri June 23: North by Northwest at 8:30pm, OfficeOps (Brooklyn)
Mon June 26: Donnie Darko at 8:30pm, OfficeOps (Brooklyn)