Heads up! We're working hard to be accurate – but these are unusual times, so please always check before heading out.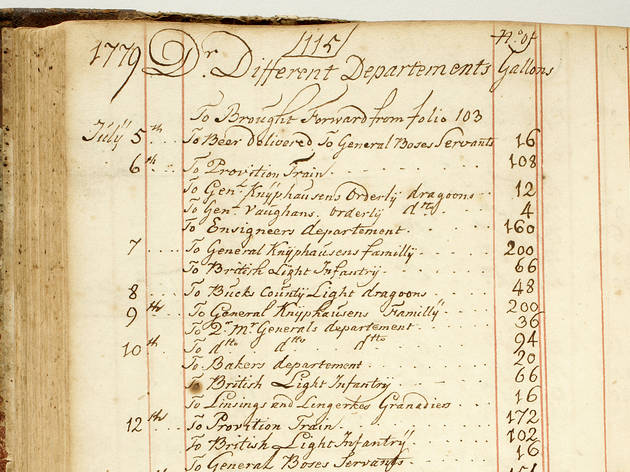 1/7
Photograph: Courtesy New-York Historical Society
Page from William D. Faulkner Account Books, 1779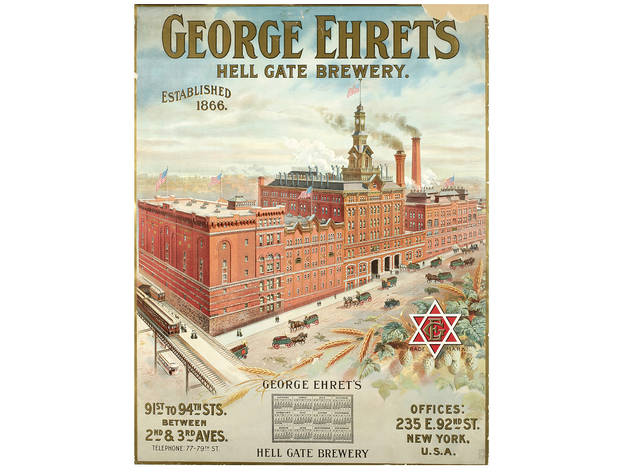 2/7
Photograph: Courtesy New-York Historical Society
George Ehret's Hell Gate Brewery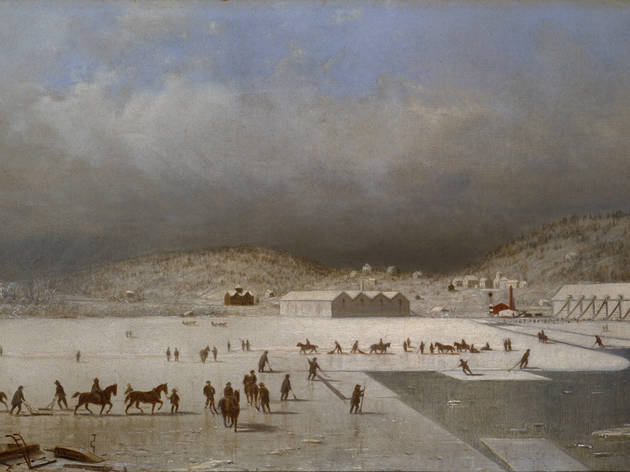 3/7
Photograph: Courtesy New-York Historical Society
Andrew Fisher Bunner (1841-1897), Cutting Ice, Rockland Lake, N.Y., ca. 1890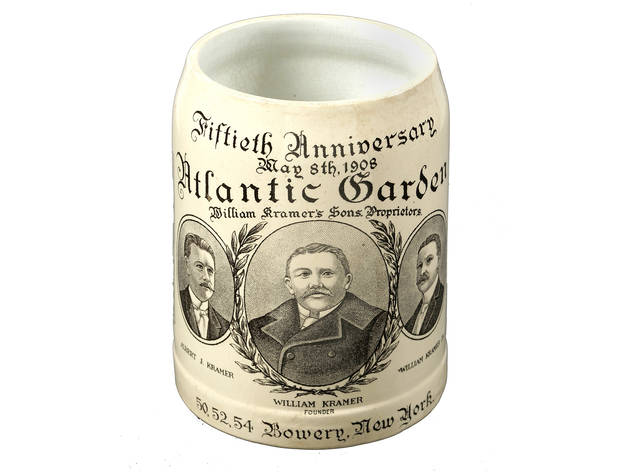 4/7
Photograph: Courtesy New-York Historical Society
Ceramic mug, 1915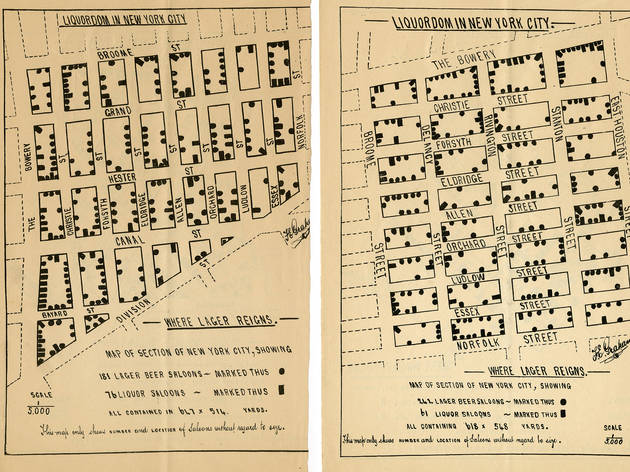 5/7
Photograph: Courtesy New-York Historical Society
"Liquordom" pamphlet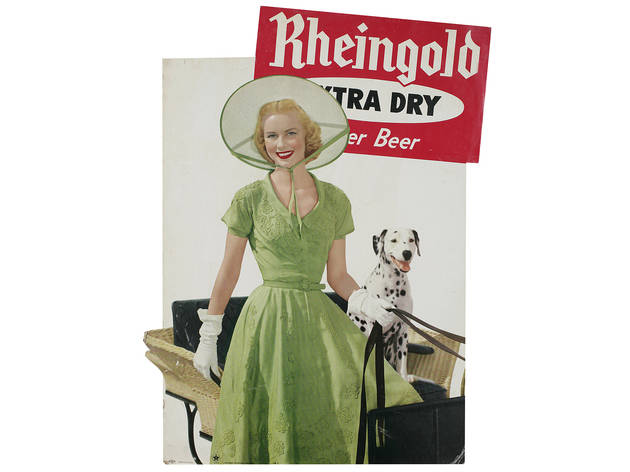 6/7
Photograph: Courtesy New-York Historical Society
Rheingold ad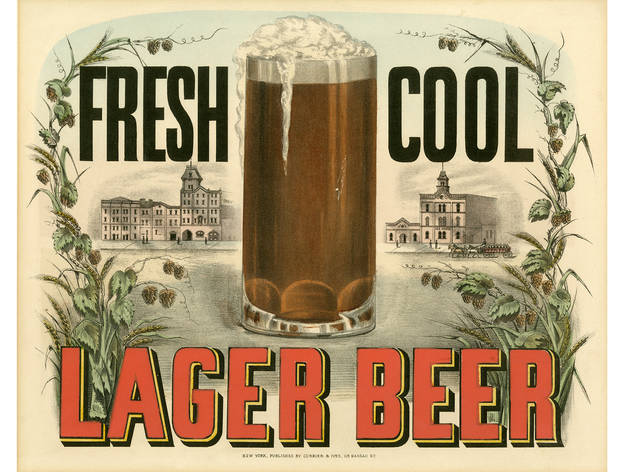 7/7
Photograph: Courtesy New-York Historical Soc
Currier & Ives, "Fresh Cool Lager Beer," 1877-1894
Crash course: New York beer history
A new exhibition at the New-York Historical Society sheds light on the city's sudsy past.
It's hard to ignore the impact of NYC's thriving craft-beer scene, when even the corner bodega is stocked with a bounty of locally made suds. But what many drinkers don't realize is that this windfall is not a revolution so much as a renaissance—a return to our rich brewing roots that extend all the way to the colonial era. A new exhibition at the New-York Historical Society, "Beer Here: Brewing New York's History" (through September 2; nyhistory.org), offers an enlightening survey of the endless ways in which beer has ingrained itself into the fabric of the city. Here, curators Debra Schmidt Bach and Nina Nazionale walk us through some of the milestones in the annals of Gotham brewing, as well as the most intriguing artifacts you can expect to see at the show.
Beer rations
The exhibition begins with a look at colonial-era tippling and the nourishing qualities of beer, which at the time was often safer to drink than water. The beverage was so important nutritionally, in fact, that it was rationed for soldiers. A key artifact from this period is brewer William D. Faulkner's daybook, used to keep track of his clients. "When you look at [the manuscript], you see evidence that he was providing beer to both the Continental Army and the British [during the Revolutionary War]," says Bach.
Water and waterways
One of the show's most jaw-dropping images is a painting by Andrew Fisher Bunner depicting ice-harvesting operations on Rockland Lake, about 15 miles northwest of Manhattan, in the late 1800s. New York breweries—particularly those producing German-style lagers that require cold fermentation—were a major consumer of ice, which, prior to the advent of the mechanical refrigerator, had to be cut from lakes in massive sheets and transported down the Hudson River. In a section detailing the relationship between brewers and water, you'll also see early-19th-century pipes made from hollowed-out pine logs, and learn how the 1825 opening of the Erie Canal amplified the cooperation between NYC brewers and upstate agricultural producers. "We want to show how things we take for granted today were not readily available in the city's early history," says Bach. As a major business interest, breweries were able to drive technological advancements and civic improvements that had implications beyond their walls.
New York's hops supremacy
Today there's a burgeoning movement toward local hops production in New York—Bronx Brewery is currently growing Cascade hops plants in community gardens in the borough for one of its beers, and shoppers at the Union Square Greenmarket can buy farm-to-glass home brews from Tundra Brewing's Mark VanGlad, who grows all his own ingredients on a farm near Stamford, New York. Boosters of the revival will be heartened to know that New York was the country's biggest hops-growing region throughout much of the 19th century. Here, you'll see early hops-harvesting machinery on loan from the Cooperstown Farmers' Museum and read stories about seasonal workers who tended to the crop—including a 14-year-old girl who kept a diary of her hops-picking adventures.
The arrival of lager
If you're wondering how brands like Schaefer and Rheingold came to dominate the New York beer scene, look no further than the mass influx of German immigrants that arrived here in the late 1830s and 1840s. "Within 20 to 30 years of the Germans arriving, the predominance of beer being produced were in the lager family," says Nazionale. Reproductions of fire-insurance directories from the time reveal the scope of the takeover: By the 1850s, breweries dotted Manhattan and Brooklyn. Many congregated around Yorkville and Williamsburg, and they were largely owned by Germans such as George Ehret and Jacob Ruppert. A New York Times trend piece in 1877 noted not just the supremacy of "lager beer," but also the culture surrounding it. Beer halls and beer gardens were common, including the massive Atlantic Gardens at the corner of Bowery and Canal Street ("it was like an airplane hangar," says Nazionale).
Temperance and taxation
The city's cocktail nerds are well versed in the effects of Prohibition on tippling culture in Gotham. But despite its lower alcohol content than distilled spirits, beer didn't escape the wagging fingers of local temperance movements in the 19th century. Downtown drinkers will get a kick out of a pamphlet from 1893 called "Liquordom," in which one group mapped sections of the city "where lager reigns" (you'll see 181 "lager beer saloons" between the Bowery and Norfolk Street alone, suggesting that the Lower East Side of the 1890s was every bit as sloppy as it is today). In addition to Prohibition, the exhibition details the history of taxation on beer in New York, which extends all the way back to the early Dutch settlers. A beer-specific excise tax levied in 1862, designed to raise funds during the Civil War, spawned the creation of the United States Brewers' Association, to act as an advocate for the increasingly powerful industry. The charter membership was so dominated by lager brewers that German remained the official language of USBA conventions until 1875.
The age of Miss Rheingold
The breweries that managed to survive Prohibition—often by selling products such as near-beer (less than 0.5 percent ABV), malt syrup and ice cream—kept New York's brewing clout alive into the postwar era, but the landscape was as homogenous as ever. This was the reign of big brewers and light lager, as well as the beginning of the beer marketing wars we're familiar with today. One of the most famous campaigns was the Miss Rheingold contest, run by Rheingold Beer between 1942 and 1964. At the exhibition, check out Miss Rheingold posters, an ivory-satin gown worn by 1956 winner Hillie Merritt, and banners that hung in bars and stores promoting the competition. "The whole thing has a real Mad Men feel to it," says Nazionale. Though it was meant to be nationwide, the contest was a huge source of hometown pride, as hotly discussed as a mayoral election. In addition to taking home a $50,000 prize, the winners were featured in ads that depicted them as wholesome girl-next-door types—preparing a rotisserie chicken, perhaps, or enjoying a day of waterskiing.
A craft-beer revival
The recent creation of the NYC Brewers Guild speaks to the growing strength of the city's suds resurgence, which began with the now-defunct Manhattan Brewing Company in 1984. While the exhibition doesn't directly address this recent boom, the museum does one better, offering a sampling of local varieties in a communal beer hall that serves as the show's final stop (open Tue–Thu, Sat 2–6pm; Fri 2–8pm; Sun 2–5pm; $8 per beer). Throughout the summer, you can also check out weekly tastings (Saturdays at 2 and 4pm; $35), led by brewers from brands such as Kelso (Sat 2), Keegan Ales (June 9) and Captain Lawrence (July 7).
Those who want to delve deeper into New York brewing history, particularly in the context of its most recent act, can join the curators on July 10 for a panel discussion with Edible editor Gabrielle Langholtz and two of the city's most treasured beer experts, Steve Hindy and Garrett Oliver—the cofounder and brewmaster, respectively, of Brooklyn Brewery. After the talk, enjoy a tasting of Brooklyn Brewery selections. Get tickets at nyhistory.org. 6:30pm; program and tasting $49, program only $24.
Related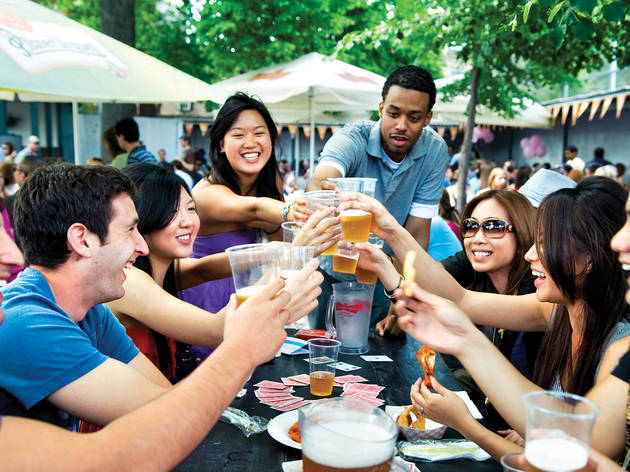 Booze a sunny day away at one of these outdoor drinking destinations. Berry Park This Williamsburg beer hall is a bi-level behemoth, with a 3,500-square-foot ground floor and a roof deck that's almost as large. Choose from one of 14 brews on tap (mostly German and Belgian drafts), then take in views of Manhattan and nearby McCarren Park. Bohemian Hall and Beer Garden This authentic Czech beer garden offers plenty of mingle-friendly picnic tables, where you can sit while you sample cheap platters of sausage and a solid lineup of European and domestic beers (pints $6, pitchers $16). Though the huge, tree-canopied garden is open year-round, summer is the prime time to soak up some rays over a pint. Prost! d.b.a. The OG beer-lover's mecca provides 250 brews, from the expensive (a Belgian kriek, or sour-cherry beer, goes for $25 per bottle) to the unpronounceable (Schlenkerla Rauchbier). Paralyzed by indecision? Think it over in the back garden (it's open year-round). Also check out d.b.a.'s Williamsburg outpost, which offers a similarly excellent lineup of craft brews, plus a spacious back patio for warm-weather drinking. Der Schwarze Kölner Fort Greene's first German beer garden has the essentials in order. There are 18 brews on tap (crisp Radeberger Pilsner, easygoing Hofbräu Lager) and many more by the bottle. There are plenty of affordable, satisfying small plates to soak it all up, like Berlin's classic currywurst, plus sidewalk seating. The Diamond In a beer scene dominated by hoppy, high-alcohol brews, credit this madcap watering hole for championing session beers (most $6), a family of brews whose lower booze content makes them ideal for extended drinking. Unlikely picks such as the three-percent-ABV Berliner Weisse (Budweiser, by comparison, is 5 percent) will keep you buzzed but standing through an evening of rubber ring quoits in the back garden. Fourth Avenue Pub Generous happy-hour deals make this craft-beer haunt an inviting spot to play hooky. On weekdays from 3 to 8pm, the pub shaves $1 off any of its 27 drafts and its cask ale (normally $6), as well as all of its other booze. Explore options including small-batch releases from Long Island's Greenport Harbor and San Francisco's Speakeasy Ales and Lagers, then take your brew out to the hops-clad patio. Franklin Park There's a handsome bar made from oak and subway tiles inside this former mechanic's garage, but the real scene is outdoors, where picnic tables packed with locals fill a concrete garden. Join them to sip one of a dozen drafts, like He'Brew's crisp Coney Island Lager. The Gate Beer just seems to taste better at this laid-back, bring-your-pet kind of joint—especially on the huge street-level deck. There's a good chance your favorite brew will be on tap: Look out for frequent additions, as well as standbys like Brooklyn Lager and Guinness. Hallo Berlin This midtown German gem boasts one of the best beer gardens in Manhattan. Grab a table and wash down heaping platters of schnitzel and sausage with your choice of exotic beers, such as the smoky Köstritzer Black. Too crowded? Hallo also has a smaller outpost a few blocks away. Hot Bird Twelve rotating beers flow from the taps at this former auto-repair garage. Go when it's sunny and stake out a spot in the spacious front garden (a corner lot that, until recently, was home to several rusty old junkers). La Birreria Biergartens are traditionally Bavarian, but Eataly's retractable-roof-rocking brewpub is resolutely Italian. Drinkers can choose from nine Italian and American draft microbrews, unfiltered house brews made on the premises, nearly 30 bottled beers and a selection of wines on tap. Enjoy suds from Birra del Borgo and Birra Balading while savoring views of the Flatiron and Empire State Buildings. Loreley Communal wooden tables and a well-shaded garden make Loreley an ideal day-drinking destination. A dozen German drafts are served in bulky liter steins ($14–$16) or in smaller glasses for those who sip a little slower. Its sister location, in Williamsburg, offers a similar list of Teutonic brews on draft and by the bottle. Mission Dolores Wait, a desolate stretch of Fourth Avenue isn't your ideal location for a gorgeous, alcohol-soaked afternoon? It doesn't matter; after a few pints at this airy converted auto shop, you won't want to leave. Canines and smokers are welcome in the courtyard. And the craft-beer labels—primarily American, with some European cameos such as Rodenbach Grand Cru—are uniformly excellent. Spuyten Duyvil The rotating list of more than 100 mostly European quaffs here could confound even the nerdiest of microbrew mavens. Flag down a bartender to help you navigate the menu, then take your brew—and a charcuterie snack—to the lush back garden. The Standard Biergarten Don't let the Standard Hotel's chic pedigree fool you. Everything on the menu here—from traditional German brews to brats, currywurst and pretzels—clocks in at an affordable $7. Claim a picnic table and get to work. The Garden at Studio Square NYC Encompassing 20,000 square feet of outdoor space and with a capacity well above 1,200, Studio Square is more of a beer city than a beer garden. Patrons pack the sprawling yard, all guzzling half liters ($7), liters ($13) and pitchers ($18) of mostly German and American brews. Bear Republic Racer 5 IPA (half liter $7, pitcher $18) is a solid all-season refresher. Clouds or not, brats, burgers and other bites ($6–$11) are in order. Zum Schneider Beer lovers and German expats from all over the city flock to this Bavarian party house, where the most hotly contested seats are out on the sidewalk under blue umbrellas. This prime people-watching spot—smack in the middle of Alphabet City—is tough to beat, especially when you've got a liter stein of beer in hand. Choose from a dozen German brews on tap plus more than ten bottles. After knocking back a few, you too will be shaking a tail feather. See more of New York's best bars Rooftop bars in NYC Best beer gardens Best Irish pubs Best fireplace bars Birthday bars Best craft-beer bars 5 great dive bars Best happy hours for good beer Ten great drinks for $10 or less