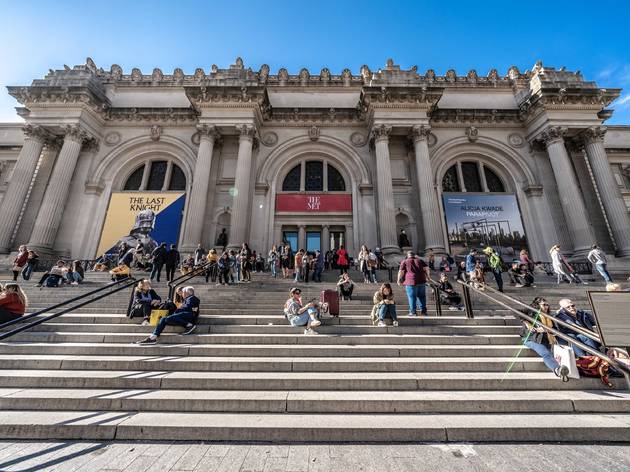 Here's when your favorite NYC museums are reopening
New York City museums are finally announcing when they'll open their doors to the public.
New York City's museums are a big part of its identity—and after three months of waiting, they were beginning to announce when they'd reopen.
Unfortunately, city and state officials don't think NYC is ready for indoor activities to return.
On Friday, Mayor Bill de Blasio said indoor activities would not be allowed to restart under Phase 4 like it had originally called for.
Previously, Phase 4 had allowed low-risk indoor arts and entertainment—museums, historical sites, aquariums—to reopen. The Empire State Building had announced its reopening for July 20, the Museum Of The City Of New York had planned to re-open on July 23 and Fotografiska was planning to open on July 29. Now, they can't.
While there is no Phase 5, both the mayor and Governor Andrew Cuomo said the city and the state would work together going forward to determine when they'd be ready to reopen indoor arts and entertainment.
"We don't have anything else to do; there's nothing else to phase except in New York City—the cultural institutions and malls in New York City," Cuomo said. "For that, we're going to watch the data."
RECOMMENDED: Everything you need to know about Phase 4 reopening plans in NYC
That being said, many museums are being cautious and opening at later dates. Because of this, we're rounding up the most recently announced museum opening dates here, so you can start planning your first time out to a museum.
Make sure to keep checking back for more.
And as always, be careful—wear a mask and keep your distance.
The American Museum of Natural History announced that it'll be reopening its doors on September 9, pending approval from New York State.
The beloved kids' museum revealed that its procedures will be different come September: The pay-what-you-wish tickets (which will be non-refundable) must be reserved online and they will be for a timed entry. Hours are going to be the typical 10am–5:30pm, however, it's only for Wednesday–Sunday. Plexiglass is been installed at ticketing counters and new ventilation systems are being put in place. (Check out all of the safety measures online.)
According to a press release, the museum will keep its theaters (including the Hayden Planetarium), certain halls with a high proportion of touchable interactives (such as the Ross Hall of Meteorites, the Gottesman Hall of Planet Earth, and the
Cullman Hall of the Universe), and the Museum's public education laboratories closed.
The Museum Of The City Of New York's plans to re-open on July 23 have been postponed.
"The Museum of the City of New York trusts the experts and supports the Governor's decision," it said in a statement. "While we are disappointed to postpone our re-opening, our primary goal is for New Yorkers to be as safe as possible. To that end, we will continue to follow all of the guidelines and look forward to welcoming people back inside of the Museum when it is deemed safe to do so."
It'll still open an outdoor installation of photographs culled from #CovidStoriesNYC and #ActivistNY called "New York Responds." The first photographs will be on view as of July 23 on its Fifth Avenue facade.
"New York Responds" is an effort to document and collect experience of New Yorkers revolving the pandemic and the uprising against systematic racism.
All social distancing precautions and mask requirements will be in place.
Fotografiska is no longer reopening on July 29, according to a statement it released on Thursday.
"Due to the recent announcement that New York City's Phase 4 plan will no longer include the reopening of Indoor Arts & Entertainment Venues, Fotografiska New York's reopening has been postponed. The museum will announce a new reopening date as soon as possible and in accordance with city and state regulations."
Those who purchased tickets will be contacted by the museum for refund or a credit to reschedule their visit.
Governor Andrew Cuomo on Thursday said the state is reconsidering whether indoor museums would be allowed to reopen under Phase 4 and would announce its decision on Friday.
New York City's shining gem, the Empire State Building, is finally reopening on July 20.
The Empire State Building is, of course, known for its observatories but underwent a $165 million redevelopment that includes a museum for visitors as they make their way up. The museum covers all aspects of the iconic building: from the moment it was built to its place in pop culture today. Galleries focus on the construction, opening day and everything in between with 70+ screens depicting the building's place in the NYC skyline and a fun interactive element with King Kong. His giant ape fingers pierce the wall of a 1930s-themed office.
For the first few weeks, hours of operation will be reduced to 8am to 11pm with capacity reduced by more than 80 percent with only 500 guests allowed in the observatories at a time. Groups will be separated by at least 18 feet with this protocol in place.
Guests will also have to have their temperatures taken before entering and wear a mask throughout their visits. Interactive exhibits that run on automatic and binocular viewers will be closed.
"Our work has been thorough with new training guidelines and customer service standards. We have taken measures with signage, distancing markers, hand sanitizers, and cleaning; beyond anything any retailer or public space we have surveyed," Observatory President Jean-Yves Ghazi said in a statement. "As leaders, we have posted our complete reopening program on esbnyc.com for the public to view, both to give our guests confidence and to help guide other attractions in best practices."
On Friday, a rep confirmed it would go forward with the July 20 opening.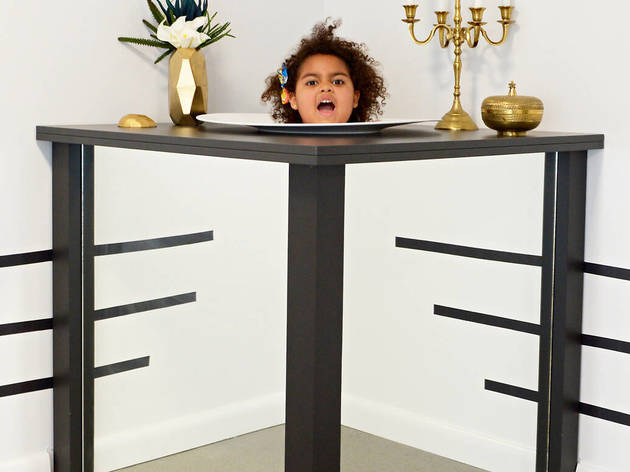 Photograph: Courtesy Kenroy Lumsden
Museum of Illusions, an interactive museum that offers an interesting visual and educational experience, had been planning to open its doors on July 20, but that has now been postponed.
The museum has installed new MERV-13 air filters and UV lights to eliminate the virus, added a dozen hand sanitizing stations, limited capacity to only 34 people at a time, and changed business hours to Monday to Thursday: 9am to 10pm and Friday to Sunday: 8am to 11pm.Senior Citizens will have priority entrance, in the morning hours and essential workers will geta special 15% discount for the next 2 months. The museum will do on-going enhanced, deep cleaning and disinfecting and numbered its exhibits to help visitors social distance. Everyone will have to wear a mask and get their temperatures taken before entering.
The Met is planning to open on August 29.
When it first reopens, the days and hours it'll be open will be reduced "given the need to provide an environment that respects social distance requirements" and the museum won't have tours, talks, concerts or any other events through the end of 2020.
There has been no word yet about the Cloisters reopening.
The NYHS has a planned August 14 opening date with an exhibition mounted outdoors — "Hope Wanted: New York City Under Quarantine" will be installed in the museum's rear courtyard, located at West 76th Street between Central Park West and Columbus Avenue. Admission will be free, and social distancing measures (masks are required) will be in place.
The museum is scheduled to officially reopen its building on September 1.
The Bronx Museum announced that it would be closed until September 9.