Heads up! We're working hard to be accurate – but these are unusual times, so please always check before heading out.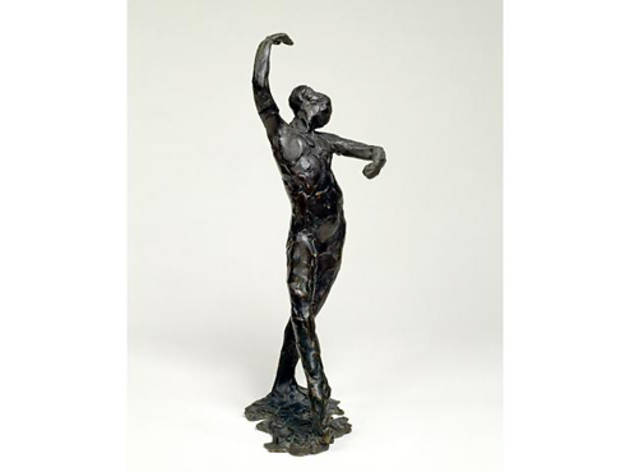 1/3
Photograph: Courtesy Guggenheim
Edgar Degas; Spanish Dance; 1896–1911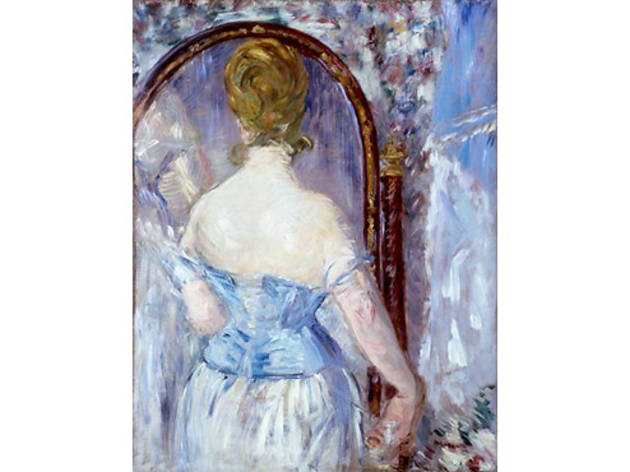 2/3
Photograph: Courtesy Guggenheim
Édouard Manet, Before the Mirror, 1876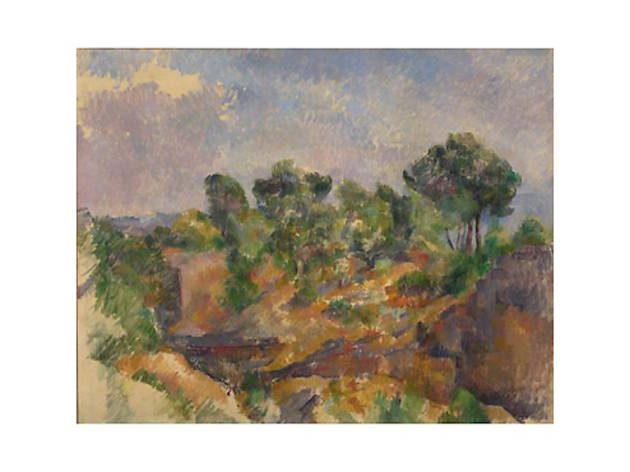 3/3
Photograph: Courtesy Guggenheim
Paul Cézanne, Bibémus, ca. 1894–95
Ten must-see works at the Solomon R. Guggenheim Museum
Good for: Contemporary-art lovers
Edgar Degas,Spanish Dance
Degas loved dancers, and they became one of his favorite motifs. This tiny sculpture of a graceful nude figure midmove, which appears alongside two other Degas sculptures, was actually cast from the artist's model posthumously under the supervision of one of his friends, Albert Bartholom. Unlike most 19th-century sculptures, which, according to associate curator Karole Vail, were academic and monumental, Spanish Dance represents something more expressive, vivid and lively.
Where to find it: Thannhauser Gallery, level two
douard Manet,Before the Mirror
Fascinated by societal shifts in France in the late 19th and early 20th centuries, Manet often painted the working class and the underclass—especially prostitutes. Using large, loose brushstrokes (his signature style), he portrays a courtesan from the back while she looks at herself in the mirror, perhaps just a moment before she turns around and catches you peeking at her. "You have the impression of openness and great freedom of paint," says Vail. "At the same time the psychological mood is more restrained. The picture is actually very private."
Where to find it:Thannhauser Gallery, level two
Pablo Picasso,Woman Ironing
During Picasso's Blue Period, he famously depicted peasants, laborers, beggars and other downtrodden folks in shades of blue. Though this long-limbed, hunched woman is shown in grays and blacks, she represents that same period of gloom. "This is not so much a portrait of a particular woman," says Vail. "It's a kind of metaphor for the poor in general, the forever oppressed." Perfect viewing for jaded New Yorkers, this.
Where to find it:Thannhauser Gallery, level two
Henri Rousseau,The Football Players
Here, four disproportionately tall men wearing what appear to be pajamas play a jolly game of rugby in an autumn field. But curators have a hard time describing what it is about this piece—and Rousseau's paintings in general—that makes them so happy. "They're quite quirky, they're very humorous, and you can't quite pin them down," says Vail. The self-taught "Sunday painter," who worked as a clerk, didn't make art seriously until he was in his forties. "There's something quite naive about his work," says Vail. "But that is precisely what so many admired about it."
Where to find it:Thannhauser Gallery, level two
Paul Czanne,Bibmus
Czanne frequently painted the Roman Bibmus sandstone quarry in Southern France. His nature paintings of the burnt-orange rocks, covered by green brush, helped turn the remote mine into a tourist destination. "I guess he had a kind of obsession with landscapes," says Vail. "He painted some of his most famous landscapes over and over again." This piece demonstrates Czanne's use of light and color, as well as his deftness at creating volume.
Where to find it:Thannhauser Gallery, level two
Lee Ufan,Relatum (formerly language)
This sculptural installation, part of the Korean-born artist-philosopher's first North American retrospective, represents Lee's Mono-ha period, a Japanese art movement that explores the relationship between natural and synthetic materials and their correlation to space. One gallery houses seven large, actual boulders, each seated on a cushion. "Lee is very interested in bringing objects from raw nature into the language of the museum, and juxtaposing them with materials from our industrial, urban society," says exhibition curator Alexandra Munroe. "It's combining the modern with the timeless."
Where to find it:"Lee Ufan: Marking Infinity," annex level four, through Sept 28.
Paul Gauguin,In the Vanilla Grove, Man and Horse
In 1891, Gauguin left France to immerse himself in nature in the French colony of Tahiti (he laterreturned to France and then escaped again, to French Polynesia, where he died). "There was some kind of wish to reject Western culture and go back to some kind of primitivism, which was of course a very romantic desire," says Vail. The result was several paintings like this one—depicting a muscular man leading his horse into the Tahitian woods—which combined elements of Greek architecture with the breathtaking beauty of the island's landscape.
Where to find it:Thannhauser Gallery, level two
Georges Seurat,Farm Women at Work
As the inventor of Pointillism—a series of short brushstrokes that combine to create pixelated images much like an old dot-matrix printer—Seurat spent his short life studying the science behind color, line, optics and how light plays out on a canvas—"unlike the Impressionists, who were more spontaneous," says Vail. Seurat often worked outdoors to explore the effect of light on his subjects, as he did in this depiction of agrarian life.
Where to find it:Thannhauser Gallery, level two
Vasily Kandinsky,Several Circles
Kandinsky is the backbone of the Guggenheim, which has an entire gallery devoted to rotating works by the Russian artist. And this piece is one of his most famous: The colorful, overlapping circles on a black background, like a solar system made of candy, is a highlight of Kandinksy's Bauhaus years. "It speaks of a harmonious cosmic order," says Vail, "and for Kandinsky, there was some kind of inner force about the circle that endlessly inspired him."
Where to find it:Thannhauser Gallery, level three
Lee Ufan.Dialogue—space
For this site-specific installation, Lee has painted three large gray-blue brush marks directly onto three walls of an empty room. "As you enter this emptiness, the three brush marks begin to almost vibrate," says Munroe. "Lee's [notations] in this empty field are marking infinity, thereby activating a larger continuum of space and time. It's like the piano notes in a Chopin piece that are [broken] by the silence between the notes."
Where to find it:"Lee Ufan: Marking Infinity," annex level seven, through Sept 28.
Solomon R. Guggenheim Museum, 1071 Fifth Ave at 89th St (212-423-3500, guggenheim.org). Mon--Wed, Fri, Sun 10am--5:45pm; Sat 10am--7:45pm. $18, seniors and students with ID $15, children under 12 accompanied by an adult free. Sat 5:45--7:45pm pay what you wish.
While you're there...
Head for the gift shop, which is stocked with items like a Frank Lloyd Wright pop-up book ($24.95) and a 1,000-piece puzzle zoomed in on Chuck Close's face ($17.95).
You might also like
See more in Art