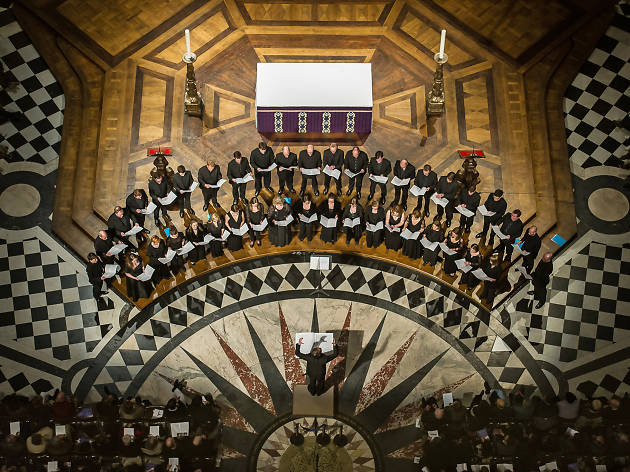 11 classical Christmas music concerts to see in NYC
Celebrate the holiday season by catching one of these sure-to-be festive classical Christmas music concerts
New York City's churches and concert halls have plenty of beloved year-end performances, some of them even spilling out into the streets. This year marks the Chamber Music Society's 25th annual playing of the Brandenburg Concertos (Alice Tully Hall at Lincoln Center, Upper East Side; chambermusicsociety.org. December 14 at 7:30pm, December 16 at 5pm, December 18 at 7:30pm; $45–$92). It's also the 27th anniversary of the boom-box parade Unsilent Night, which marches from Washington Square Park to Tompkins Square Park (unsilentnight.com. December 16 at 5:45pm; free). We've gathered some additional off-the-beaten-path holiday concerts to give your season a different sort of sparkle.
RECOMMENDED: Full coverage of concerts in NYC
Classical Christmas music concerts
1. Dec 1: Nutcracker Dance Party
Experiential Orchestra's Nutcracker Dance Party invites attendees to sit among and dance around the orchestra members as they play Tchaikovsky's perennial favorite. Catch the family matinee or hit up an evening concert with a cash bar.
Bohemian National Hall, Upper East Side (experientialorchestra.com). Saturday, December 1 at 3:30, 7:30pm; $25–$100.
2. Dec 1: Tallis Scholars - A Renaissance Christmas
Britain's preeminent early-music vocal ensemble breaks with tradition by including a new work by the ever-popular Nico Muhly among its Renaissance offerings.
Church of St. Mary the Virgin, Times Square (millertheatre.com). Saturday, December 1 at 8pm; $40–$55, students $7–$33.
3. Dec 3: Distinguished Concerts International New York: Ode to Joy
The DCINY is joined in Beethoven's rapturous Ode to Joy and Fantasia in C minor by 12 choirs from around the world.
Carnegie Hall, Stern Auditorium, midtown (carnegiehall.org). Monday, December 3 at 7pm; $10–$100.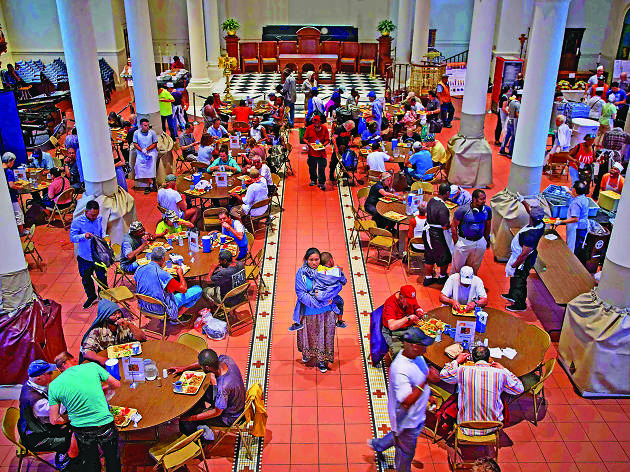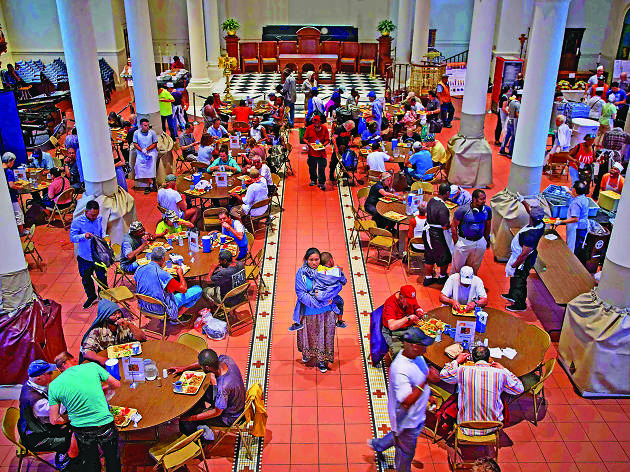 Photograph: Courtesy Brad DeCecco
4. Dec 6–8: Amahl and the Night Visitors
Composer Gian Carlo Menotti tells the story of the Nativity in a 45-minute, one-act opera. This performance, presented by On Site Opera in a functioning soup kitchen, features a chorus of community members who have experienced homelessness alongside esteemed professionals.
Holy Apostles Soup Kitchen, Chelsea (holyapostlesnyc.org). Thursday, December 6, Friday 7 at 7:30pm; Saturday 8 at 2, 6pm. Free with nonperishable food items.
5. Dec 6: Songs of Feasting and Flames - A Sephardic Celebration of Hanuka
Singers Nell Snaidas and Daphna Mor present a program of ancient love ballads, morality tales and even sung recipes as passed down through generations of Jewish women.
The Chapel at St. Bart's, midtown east (stbarts.org). Thursday, December 6 at 1:15 pm. free.
6. Dec 15: Handel and Lang
Bang on a Can composer David Lang's The Little Match Girl is fast becoming another holiday tradition. Tonight, the Choir of Trinity Wall Street and Trinity Baroque Orchestra pair it with Handel's Dixit Dominus for a guaranteed moving concert experience.
Metropolitan Museum Grace, Rainey Rogers Auditorium, Upper East Side (metmuseum.org). Saturday, Dec 15 at 7pm; $65.
7. Dec 15–25: Colonial Christmas
Early Music New York presents a different sort of early music with a concert of 18th-century American shape-note hymns written in simplified form for congregants who couldn't read music. The vocal ensemble is accompanied by fiddle, flute and bass.
Cathedral Church of St. John the Divine, Upper West Side (stjohndivine.org), Saturday, December 15 at 7:30pm; December 16, 23 at 2pm; December 25 at 2, 5pm; $40–$50, $20 students.
This trippy musical performance piece, dreamed up by composer Phil Kline, is downtown's decidedly arty, secular answer to Christmas caroling. Boombox-toting participants gather under the Washington Square arch, where they are given a cassette or CD of one of four different atmospheric tracks; you can also download the Unsilent Night app and sync up via smartphone. Everyone presses play at the same time and marches through the streets of New York together, blending their music and filling the air with a beautiful, echoing 45-minute piece.
Meet at Washing Square Park, Greenwich Village (unsilentnight.com). Sunday, December 16 at 5:45pm; free.
9. Dec 21: Where Are We Going? And What Are We Doing?
The Tenth Intervention ensemble is joined by pianist Adam Tendler in a meditation on the passing of time with music by Olivier Messiaen and John Cage for a winter solstice celebration.
Rubin Museum, Chelsea (rubinmuseum.org). Friday, December 21 at 7pm; $35.
10. Dec 21: Six Hours of Music and Film
Phill Niblock's annual solstice extravaganza is an immersion into extended tone and repeating images for the shortest night of the year.
Roulette, Boerum Hill (roulette.org). Friday, December 21 at 6pm; $18.