Braid and Shiner serve up an emo twofer in NYC
In separate shows this week, emo trailblazers Braid and Shiner offer a vital genre primer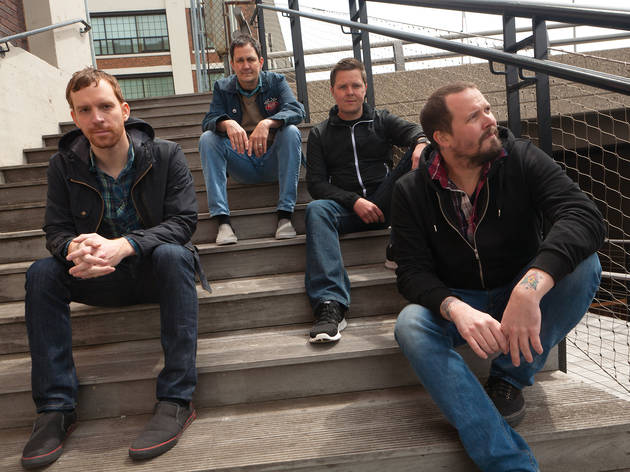 Few genre tags are as ill-defined as emo, a three-letter word that stands in for a clunky phrase ("emotional hardcore") and a Ken Burns–worthy progression of scenes and styles. An attempt to reconcile the movement's modern exponents—such as the prog-metalish Sleeping with Sirens or the anthemic, techno-juiced Breathe Carolina—with consensus originators like mid-'80s D.C. quartet Rites of Spring could result in cerebral short-circuit. Zero in on a specific time and place, though, and this hodgepodge of an aesthetic takes on a more tangible shape.
A clutch of shows this week serves as a primer on—or, for many attendees, a nostalgia trip back to—what's been called emo's second wave, a sound that flourished in the Midwest in the early-to-mid-'90s. Gigging Thursday and Saturday is Braid, a Champaign, Illinois, quartet that came up playing arty post-hardcore, cathartic yet determinedly insular, in the vein of Chicago forebear Cap'n Jazz (whose Mike Kinsella opens here with his solo project, Owen). Expect a set packed with vintage faves, as well as tracks from a nicely streamlined 2011 reunion EP, Closer to Closed. Also on Saturday, Kansas City, Missouri's Shiner brings its muscular, melodic alt-rock—comparable to that of better-known contemporary Jawbox—to Gramercy Theatre, where it celebrates a new reissue of its 2001 LP, The Egg. An emo twofer, then? Sure, but more important, a summation of the regional spark that helped light a nationwide blaze.—Hank Shteamer
Braid plays Bowery Ballroom Thu 9 and Music Hall of Williamsburg Sat 11; Shiner plays Gramercy Theatre Sat 11.
Follow Hank Shteamer on Twitter: @DarkForcesSwing
Buy Closer to Closed on iTunes
Buy The Egg on iTunes
You might also like
See more in Music