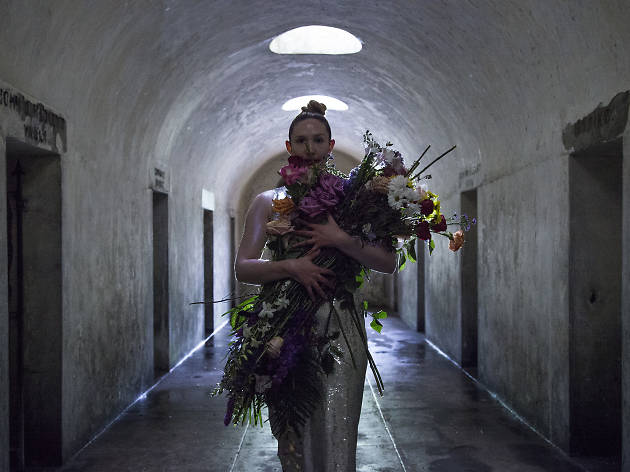 See a concert inside Green-Wood Cemetery's hidden catacombs
With the new Angel's Share series, Green-Wood Cemetery brings a new meaning to underground music.
Twenty years older than Central Park and 30 years older than nearby Prospect Park, Green-Wood Cemetery once provided a peaceful respite for busy, still breathing New Yorkers (yes, back in the day normal people hung out in cemeteries). These days, we're less at ease walking among the dead, but Andrew Ousley, curator of The Angel's Share, a new classical concert series in the cemetery's catacombs, is looking to bring people back to the graveyard.
As something of an expert in "underground" classical music, Ousley's Unison Media company also curates The Crypt Sessions in the depths of Harlem's Church of the Intercession. "The atmosphere is definitely intense and charged, but not creepy in a 1950s horror-schlock way. I think it serves as a powerful reminder of our mortality as well as the importance of appreciating the beauty of life's shared moments," says Ousley. "I choose artists and ensembles who intuitively understand the kind of focused, transcendent musical experience we're trying to create."
In June, the first concert—a production of the new opera The Rose Elf—attracted a sold-out crowd, including many classical-music newbies drawn in by the usually closed-to-the-public setting. (A tour of the grounds and the pre-show whiskey tasting didn't hurt.) There's still plenty more to come, though. Here's our guide to the rest of this season's concerts, which continue through October.

Photograph: Courtesy Kevin Condon
August 6, 7 The Sacred and the Profane
Harp virtuoso Bridget Kibbey joins a string quartet for a program that includes Debussy's Sacred and Profane Dances, works by Britten and Saint-Saëns, and an arrangement of that most funereal of themes, Bach's Tocatta and Fugue in D minor.
August 25, 26, 27 An American in Paris
Pianists and twin sisters Christina and Michelle Naughton play a program of Debussy, Ravel, Conlon Nancarrow and Leonard Bernstein, who is buried right in Green-Wood.
September 24 Modern Medieval
One of New York's finest string ensembles, the JACK Quartet descends into the catacombs to play a far-reaching program that ranges from centuries-old plainsong right up through contemporary works, including pieces by Brian Ferneyhough, Chaya Czernowin, Thomas Morley and Marc Sabat.
October 10, 11, 12 Sketches from Frankenstein
Spend a chilly autumn evening attending the world premiere of Gregg Kallor's Sketches from Frankenstein, a new suite of operatic sketches based on Mary Shelley's famed novel, marking its bicentennial this year.
October 20, 21 Season Finale
To close the season, the angels will escape the confines of the catacombs to hold a free-for-all that includes musicians performing throughout the cemetery alongside film projections and specially designed lighting. Audience members will be free to explore the grounds and mausoleums, if they dare.
The Angel's Share takes place at Green-Wood Cemetery, South Slope (green-wood.com). 7pm; $80. Buy tickets.
Looking for more music?
Are you ready to fall head over heels with the best love songs of all time? Cupid has you in his sights, people.