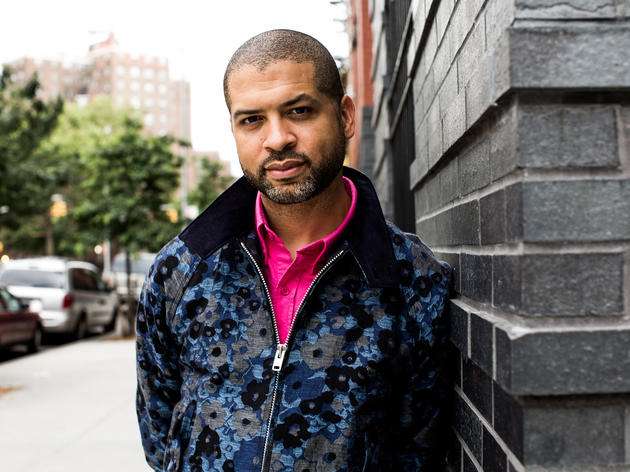 Jason Moran discusses the legacy and lore of the Village Vanguard
The piano star and Selma scorer helps the iconic West Village jazz spot celebrate its 80th anniversary
The idea of a 40-year-old musician curating an iconic jazz club's 80th-anniversary celebration might seem iffy. But when the artist is Jason Moran and the venue is one of the best jazz clubs in NYC, the Village Vanguard, the match makes more sense. A virtuoso with an uncanny knack for animating history, Moran's work nods to his influences while rethinking their context. (Last year, in addition to contributing an original score to Selma, Moran also issued All Rise, a Meshell Ndegeocello collaboration that gave the work of stride-piano legend Fats Waller a sleek R&B makeover.) Likewise, the Vanguard is a club aware of yet not weighed down by its illustrious past. Portraits of greats such as Sonny Rollins and Bill Evans who made classic recordings at the West Village fixture still adorn the walls, but in recent years, the club's has welcome staunch avant-gardists such as Henry Threadgill and John Zorn.

We visited Moran's Harlem work space to talk through the eclectic 80th-anniversary program he's put together for March 10–15, which features not only his signature trio, the Bandwagon, and various guest musicians, but also comedians and poets—an homage to the Vanguard's rich multimedia history.

I've seen you play with the Bandwagon before, but there was something special about seeing you at the Vanguard last year, during your annual Thanksgiving residency. Even more than usual, it was like you were inviting the audience into your living room.
The music continues to evolve, and its place in society continues to evolve, so sometimes at these places like a Vanguard or a Birdland or even a Blue Note, [jazz] continues to be the art form, but it also continues to be the commerce, the business aspect. But when I watch early videos [of Vanguard performances], and I watch the detail that musicians played with, and when I would go to the Vanguard and watch and listen to people, it never felt like the tourist jazz room. It always felt like, this is the most serious but also the most profound space to listen to music in.

What were your impressions of the Vanguard before you played there? When did you first see a show there?
When I was in high school, I spent a lot of time transcribing McCoy Tyner's solos from John Coltrane's Live at the Village Vanguard. That was probably when it got in my head: This kind of magic happens here. But then, the first time I set foot in there, my father took me in '91 or '92. I was at Eastman summer camp, and then on the way back to Houston, we stopped in New York for a couple days and went to the Vanguard, and David Murray was playing there with a quartet. That was really wild. From all the time listening to, say, Trane and then hearing David Murray, it was like, Oh, so this is the kind of energy that this place helps produce. The architecture—the low ceiling, the triangular shape—helps people get active on that small stage. Sitting there, you kept looking through other people's heads to the stage. Extremely tight quarters. That just wasn't how I experienced the music up to that point. It's not a religious space, but it's definitely a spiritual space.

Yeah, I think there's something iconic about the steep stairs down from Seventh Avenue. It's a whole experience. Out on the street, aside from the awning, it's pretty unassuming, with the pizza place next door. And they have those little hand-drawn signs. What was it like when you first saw your name on one of those?
I was like, "Can I take that home with me?" And they're like, "No." Somewhere, Deborah, the daughter [of Vanguard owners Lorraine and Max Gordon], has it—the archive of all the signs. They're pretty iconic. Because I look at images from the '50s and 52nd Street, seeing all those names in all those lights: Art Tatum, Erroll Garner, Coleman Hawkins. The Vanguard is very quirky, how they make their signs; it's just a little rectangular red box. It's not typed on an inkjet printer, or it's not like an LED thing that scrolls. Somebody just drew this. It's just gestural; it's not formal at all. That aesthetic, and then the red awning. That's the invitation of what happens in there.

What does it feel like to play a week at the Vanguard?
It's exhausting, one. Because it's not a normal room, because of the history that it has. I could never just treat it as, Oh, I'm just going to go play this show. So for me, it always weighs a little bit heavier because of what you're adding to the sonic history of the room. So the way we've generally thought about it is like, Okay, so Tuesday night we're getting warm; Thursday night, it may be the night that you start to invite people—"Yo, come down; hear where we are," whether it's musicians or other artists and collaborators, or friends and family, you're like, "Come on the weekend and feel this." Because you know by the time the weekend comes, there's going to be a throng of energy, of people who've worked all week and now, [their] nighttime activity starts here or ends here. That's pressure. I like to think of it as pressure, because you want to satisfy that experience for those people who come, whether they're inducted already into the history of the band or the room, or this is their first time.

And so recently, I've been recently thinking about the room. [Hurricane Sandy] happened in early November, and then two or three weeks later, we were at the Vanguard. After the Hurricane, most of Nasheet's [i.e., Bandwagon drummer Nasheet Waits] drum sets were lost. He was able to salvage the drum set he [used] that week. So I started flashlighting the room again, because it's a place that we're lucky we didn't lose, considering what happened. So for people who come into the space, like, "Okay, so what do you think about all these faces on the wall?" Besides them being beautiful portraits by great photographers. "Who the hell is that? Who's Hank Jones? Who's Thelonious Monk?" I shined the light on Nasheet's drum set. I shined the light on the mural behind him in the corner. I shined it on Thelonious Monk. I shined it on John Coltrane. I would just talk about the people. "Okay, so we're in a room; let's also remember that, as a listener." Because I'd never done that as a performer. Like, okay, I'm aware of it because it's also part of my history, but at that moment, I wanted to reawaken not only myself but the people who were in the space. This ain't no normal place, and recognize it's special. People don't do that at Carnegie Hall, but they totally could. [Laughs]

Yeah, when I go there, I'm also always struck by all the portraits.
At the piano, there's like five piano players on the wall right behind you. Tommy Flanagan is right there; Bill Evans is right there. Like, at some places, they have jazz photographs on the wall, and it's decoration; at the Vanguard, it ain't decoration. You know what I mean? Most of them have passed away, and most of them have left significant sweat on that stage.

You were talking about the quirkiness of the signs, and it made me think about the Village in Village Vanguard. It's an old school downtown vibe, and I think that ties into the programming you've chosen for this 80th-anniversary week, with poetry and comedy as well as music. Can you talk about why you structured the week the way you did?
I'd always been hearing those things about comedy and poetry there, especially comedy. Even Louis C.K. will show up there, and Jerry Seinfeld. So I was always aware of that long history of Lenny Bruce, Woody Allen, all those people. Elizabeth Alexander is a really great close friend and also a really great poet, and also really understands the work. She comes down every November to see [the Bandwagon], and we've just known each other for a long time but actually have never worked together in this kind of official way. And Yusef Komunyakaa—one, he has this phenomenal speaking voice, and then he has this rich poetry that deals with jazz history, but also deals with American history. The comedians are pretty simple. David Alan Grier knows a lot of jazz. A lot. Keith Robinson, I'm a fan of because he's fuckin' brilliant. [Laughs] This'll be our first time working together. Marina [Franklin] and David and I—we've done work together before. So the poetry and the comedy are really about the words, what the word meant to the Vanguard.

Having played all over the world, does any other club compare?
No. Not at all. And bless their hearts, there are other countries and cities that say, "This is the oldest jazz club we have." I dig that too, and you do feel the history there too, whether you're in Vienna or Barcelona or Lisbon. So there are great places out there. But I also think about [the Vanguard] as a room for therapy. It's a place that a lot of musicians going through a lot of shit got a chance to express themselves. I feel that. That residue comes off when you step in there.

America—we like to destroy our old shit. [Laughs] It's awful. So that a place that has supported the music in this way and held to its mission, that's important. So for 80 years, I can't imagine. That's a very long time. [Trumpeter] Clark Terry just passed away—he was 94 years old. The Vanguard has been around and seen a lot of people come through those little doors. That's important for America—kind of like, some of these musicians decided not to go really be destructive because they had a place to play, a room to play in.

Right, and putting it in the context of Selma—the Vanguard had been open for 30 years even at that time.
Yeah, I'm sure we can look in the log and see who was playing [there] in 1965, what bands. It's New York, but people are very conscious. That stuff reads. When we played there this past year, it was right after the Mike Brown verdict. That was heavy on the city. It was palpable. And we couldn't help but acknowledge [the verdict] that week. So it's a place where people still work out their music, but they also work out their issues. For musicians, it's like our therapist's couch.
See the show!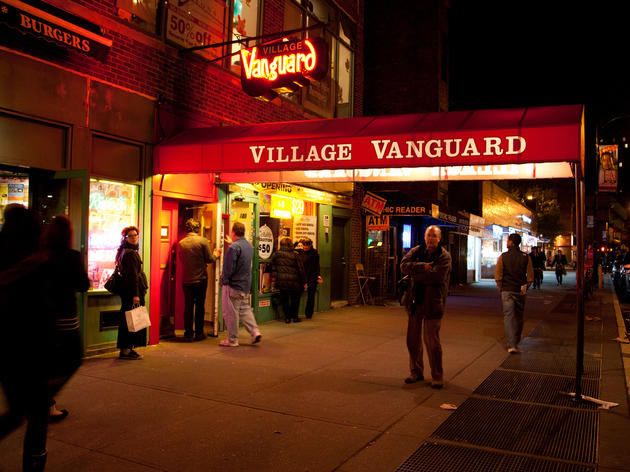 The idea of a 40-year-old musician curating an iconic jazz club's 80th-anniversary celebration might seem iffy. But when the artist is Jason Moran and the venue is the Village Vanguard, the match makes more sense. A virtuoso with an uncanny knack for animating history, Moran's work nods to his influences while rethinking their context. Likewise, the Vanguard is a club not yet weighed down by its illustrious past. This fascinating Moran-helmed series features a night of solo piano (Mar 10), an all-Monk evening (Mar 13), collaborations with poets and comedians (Mar 11 and 12, respectively), guest turns from vocalist Alicia Hall Moran and guitarist Bill Frisell (Mar 14), and a rare club appearance from saxist Charles Lloyd's New Quartet (Mar 15), which features Moran on the keys.