Live music: Best rising-star venues
See 'em without binoculars, while you still can.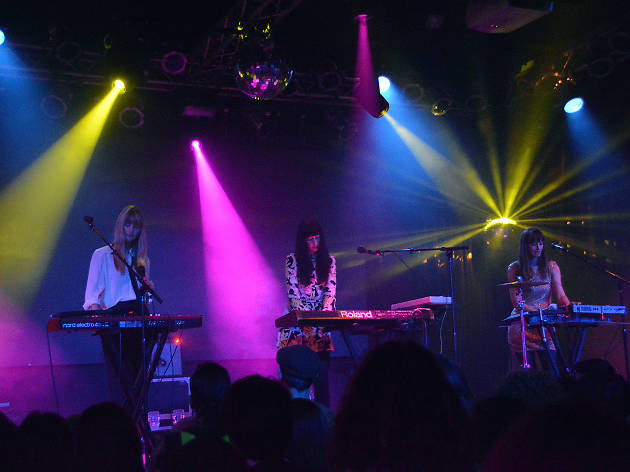 There's something special about NYC's midsize rooms. We love a good arena show now and again, and the city's many DIY venues have a certain charm. The spaces below act as a midpoint between those two poles: Catch a show at one of these spots, and there's a good chance you're seeing an artist on their way to stardom. We'll never forget seeing Frank Ocean at Bowery Ballroom before the Channel Orange days, or Kim Gordon and her fellow Sonic Youth–ers playing experimental solo sets at the same club. Occasions like these are why these establishments are an indispensable part of the New York music landscape.
When, in 2007, the local promoter Bowery Presents found itself in need of a Williamsburg outpost, it gave the former Northsix a face-lift and took over the bookings. It's basically a Bowery Ballroom in Brooklyn—and rising indie-rock, hip-hop, R&B and metal stars turn up here frequently, often on the night after they've played that prestigious LES staple.
Book now
Read more
The Bowery Ballroom is probably the best venue in the city for seeing indie bands, either on the way up or holding their own. Still, the Bowery also manages to bring in a diverse range of artists from home and abroad. You can expect a clear view and bright sound from any spot in the venue. The spacious downstairs lounge is a great place to relax and socialize between (or during) sets.
Book now
Read more
With its table service and sterile furnishings, this Chelsea club is a bit blandly slick. But the Highline has a lot going for it: The sound is excellent, and sightlines are reliably good. The bookings are also impressive, ranging from hip-hop heatseekers to punk, singer-songwriter pop, prog, world music and burlesque.
Book now
Read more
The Gramercy Theatre looks exactly like what it is, a run-down former movie theater; yet it has a decent sound system and good views. Concertgoers can lounge in raised seats on the top level or get closer to the stage. Bookings have ranged from baby-boomer underdogs to the occasional hip-hop luminary, but tilt toward niche metal and emo bands.
Book now
Read more
Lying just east of Union Square, this midsize rock venue has served as a Democratic Party lecture hall (in the 19th century), a Yiddish theater and a burlesque house (Gypsy Rose Lee made an appearance). Its name received a Fillmore addition in 2007 but has since reverted to its original moniker, Irving Plaza. Phew. Most importantly, it's a great place to see big stars keeping a low profile and medium heavies on their way up.
Book now
Read more
Unabashedly grown-up and yuppie-friendly, this slick club launched by oenophile Michael Dorf is New York's only fully functioning winery—as well as a 350-seat concert space. Acts tend to be on the quiet side—this is, after all, a wine bar—but that doesn't mean the shows lack bite. Younger singer-songwriters such as Keren Ann and Diane Birch have appeared, but the place is dominated by older artists (Steve Earle, Los Lobos).
Read more
One of the city's premier small spots for sit-down audiences, Joe's Pub brings in impeccable talent of all genres and origins. While some well-established names play here (Steve Martin's bluegrass crew, the Steep Canyon Rangers, to give an example), Joe's also lends its stage to up-and-comers (this is where Amy Winehouse made her U.S. debut), drag acts and cabaret performers (Bridge Everett is a mainstay). A small but solid menu and deep bar selections seal the deal.
Read more
A great-sounding alternative for bands (and fans) who've had their fill of the comparably sized Irving Plaza, Webster Hall presents high-caliber indie-rock, metal and punk gigs. Be sure to show up early if you want a decent view.
Book now
Read more
This large, corporate club is about as intimate a venue as you'd expect given its Times Square locale. Those who wish to look into a musician's eyes can stand in the ample front section; foot-weary fans can sit in the cinema-like section at the back. It's a comfortable place to see a well-known band that hasn't (yet) reached stadium-filling fame
Book now
Read more