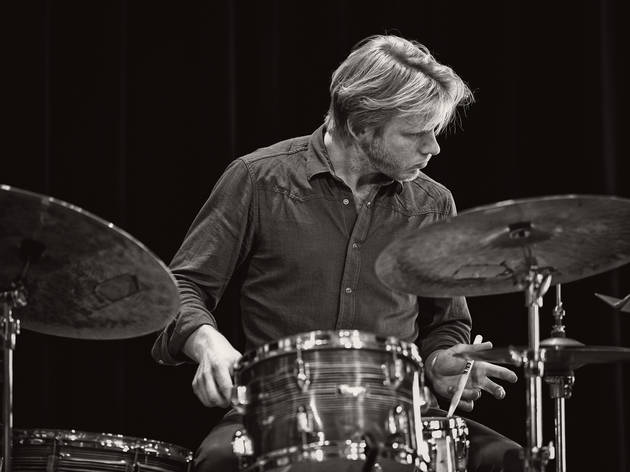 New York jazzers serve up a pair of unconventional tribute shows
Michaël Attias, Sean Conly and Ted Poor offer fresh takes on milestone albums by Ornette Coleman and Sonny Rollins in concerts this week
Jazz tribute projects often roll out a threadbare welcome mat, promising an all-Ellington or -Monk program, or a rundown of a canonical staple LP such as Kind of Blue or A Love Supreme. But in recent years an alt-repertory movement has bubbled up, with artists reframing the work of underappreciated outliers like Andrew Hill, Steve Lacy and Paul Motian (the subjects of tributes spearheaded, respectively, by Nels Cline, Josh Sinton and, in the case of Motian, both Joel Harrison and Russ Lossing). Other projects have tightened the focus to a single deep-catalog LP: See Harris Eisenstadt's take on Wayne Shorter's The All Seeing Eye, Cline and Jeff Parker's reframing of Paul Bley's Turning Point or Mike Reed and Jason Adasiewicz's meditation on a 1961 Sun Ra rehearsal tape with their Living by Lanterns group.
RECOMMENDED: Full coverage of concerts in NYC
Two gigs this week find local jazz progressives burrowing into similarly snug historical rabbit holes. First up are saxist Michaël Attias and bassist Sean Conly, who perform Friday as part of the Sound It Out series. Their first set focuses on pieces from 1977's magical Soapsuds Soapsuds, an album of duets by Ornette Coleman (playing both tenor saxophone and trumpet) and bassist Charlie Haden, which captures the pair's earthy lyricism in a boldly stripped-down setting. For set two, Attias and Conly switch to free improv, as documented on Think Shadow, their 2012 release marked by both outré textural exploration and sparse, songlike dialogue.
On Tuesday, at Korzo's weekly Konceptions showcase, drummer Ted Poor convenes a band to celebrate another Ornette-related one-off: Our Man in Jazz, a superbly cooking 1962 live set that teamed Sonny Rollins with Coleman comrades Don Cherry and Billy Higgins. Poor and his bandmates here—saxist Bill McHenry, trombonist Josh Roseman and bassist Ben Street—are all players well accustomed to that record's free-flowing exuberance.
To attempt to re-create a session as loose and conversational as Our Man in Jazz—or, for that matter, Soapsuds Soapsuds—would be pointless, something the aforementioned participants surely grasp. We might know where these tributes will start; as for the rest, there's only one way to find out.—Hank Shteamer
Michaël Attias and Sean Conly play Greenwich House Music School Fri 21.The Ted Poor Quartet performs at Korzo Tue 25.
Follow Hank Shteamer on Twitter: @DarkForcesSwing