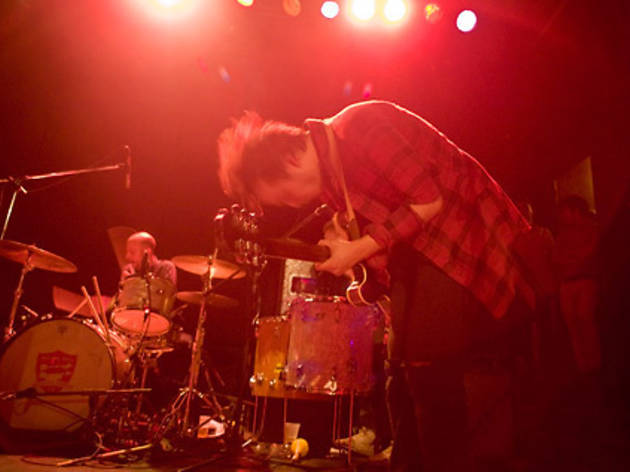 SXSW: 10 NYC bands to root for
A booster's guide to local on-the-rise acts performing in Austin. Plus, where to see them in New York.
RECOMMENDED: All SXSW coverage
Devin
Devin Therriault, the charismatic leader of this eponymous three-piece, looks a little. like James Dean and has called Iggy Pop his biggest musical influence. Romancing, the outfit's first full-length, is a hip-thrusting, beer-sloshing record that fairly drips with swagger—a fine contrast to all of Brooklyn's indie-pop sighs and whispers. Therriault sings stories about pining over girls: one in white leather putting on eye makeup in front of him, another shaking it on the dance floor, and the ruthless sort who make him cry. No matter which lady he falls for, the tales are always drunken, joyous and worth repeating.—SS
---
Tim Fite
It's tough to pin down just what this genre-hopping singer-songwriter is about. Within the same song, he'll shift from the cadence of a bling-bragging rapper to a Hank Williams--like twang. Some of his cuts feel custom-made for a montage in a coming-of-age Sundance film, while others sound like exercises in mashing up disparate styles. That he often dresses like Little Rascal Alfalfa from Our Gang doesn't help to clarify his image, but trust us: His odd aural combos are consistently alluring.—TL
Next NYC show: Galapagos Art Space, 16 Main St at Water St, Dumbo, Brooklyn (718-222-8500, galapagosartspace.com). May 2 at 8pm; $15.
---
Habibi
This garage-rock-leaning girl group has released only a couple of demos since forming last year. We say "-leaning" because while the band certainly parks in the same, er, garage as bands it's opened for in Williamsburg over the last few months (rising pop-punk Cali outfit Bleached and gloomy-cool locals Royal Baths, among others), it explores a softer side of the genre, sounding something like the Shirelles, if that group's backing band only aspired to play as well as the Sonics.—TL
Next NYC show: Big Sky Works, 29 Wythe Ave at North 14th St, Williamsburg, Brooklyn (bigskyworksbrooklyn.com). Apr 20. Time and price TBA. * Spike Hill, 184 Bedford Ave at North 7th St, Williamsburg, Brooklyn (718-218-9737, spikehillmusic.com). May 19. Time and price TBA.
---
Hospitality
"Watch the computer, sit by the telephone / Waiting for hours, video games, books on the bed." So goes "Eighth Avenue," Hospitality's universally specific track from its self-titled album about killing time when you've got nowhere to be but your apartment. The Brooklyn three-piece is led by frontwoman and songwriter Amber Papini, who nails that sweet spot between sensitive lyrics starring strange NYC characters and jangly, taut pop hooks. A lonely afternoon in Kings County never sounded so sweet.—SS
Next NYC shows: Webster Hall, 125 E 11th St between Third and Fourth Aves (212-353-1600, websterhall.com). Apr 1 at 8:30pm; sold out * The Bell House, 149 7th St between Second and Third Aves, Gowanus, Brooklyn (718-643-6510, thebellhouseny.com). Apr 18 at 8pm; $12.
---
The Men
This ferocious rock outfit turned heads last year with its fuzz-laden LP Leave Home. Slathered with buzzing amps, shouts from dudes with smoker's coughs and a late-night-in-the-practice-space immediacy that sucks you right in, the album recalls Spacemen 3 at its loudest and most uninhibited. Its just-released follow-up, Open Your Heart, tempers the raucousness and nods to the Stones' county-tinged classics, bar-rock cuts by the Replacements and Sonic Youth's mad riffs. As rave reviews for that record continue to pour in, the group seems bound to break big—or as big as an outfit with a lot of instrumentals can break. We say cheers to that: In a Brooklyn music scene that often feeds on hyped singles or movements, a band's band like the Men making waves is something to celebrate.—TL
---
Royal Baths
Once part of San Francisco's fruitful garage-rock scene, this group now calls Brooklyn home. They kind of sound more East Coast, too, with a smoky, Velvet Underground--obsessed vibe that differentiates them from Bay Area brethren. It's decidedly dark stuff, a cool mix of down-strumming guitars, primitive beats and repetitive call-and-response vocals, peppered with a few sonic curveballs like pleasing high-pitched harmonies.—TL
---
Tanlines
This Brooklyn duo's debut, Mixed Emotions, due March 20, should be the first addition to New Yorkers' summer barbecue playlists. Jesse Cohen and Eric Emm trade in ebullient synthesizers, driving drum lines and tropical guitars that feel drenched in hazy afternoon sunshine.—SS
Next NYC show: Bowery Ballroom, 6 Delancey St between Bowery and Chrystie St (212-533-2111, boweryballroom.com). Apr 12 at 9pm; $15, advance $13.
---
We Are Augustines
Those who continue to mourn the breakup of Pela, look no further than the new project from guitarist Billy McCarthy and bassist Eric Sanderson—alums of the local indie-rock band. We Are Augustines make music that sounds as if it could come from the across the pond—a fact helped along by their debut's olde title, Rise Ye Sunken Ships—but these boys still call Kings County home (even if they're telling NYC to "go to hell" in "Augustine," one of the album's standout tracks). Brawny guitars and dirty drums are the ideal backdrop to McCarthy's muscular vocals.—SS
Next NYC shows: Webster Hall, 125 E 11th St between Third and Fourth Aves (212-353-1600, websterhall.com). Mar 22 at 7pm; $20. * Music Hall of Williamsburg, 66 North 6th St between Kent and Wythe Aves, Williamsburg, Brooklyn (718-486-5400, musichallofwilliamsburg.com). Mar 27 at 9pm; $20.
---
White Rabbits
Two drummers enhance the swirling, psychedelic textures in this Brooklyn-by-way-of-Missouri band's sound. The five-piece has toured with the Walkmen, Interpol and Spoon, among others, and is primed for breakout status with the release of its third full-length, Milk Famous.—SS
Next NYC show: Webster Hall, 125 E 11th St between Third and Fourth Aves (212-353-1600, websterhall.com). Apr 12 at 7pm; $20.
---
Widowspeak
These young signees to the always solid indie-rock label Captured Tracks bring to mind Wye Oak's more tender side and Beach House's warmer, less hazy songs. Still, the trio avoids sounding like knockoffs of those two female-fronted bands of the moment, offering an infectious blend of sweet melodies and shimmering guitar lines that feels all its own.—TL